Reliance to exit Oil & Gas Industry in Near Future?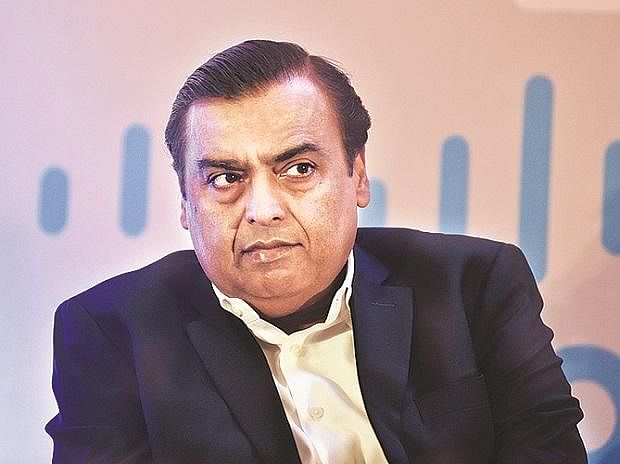 The Story
Recently, Mukesh Ambani was spotted speaking to economist and business journalist Omkar Goswami during a book launch event. In the conversation, the chairman of Reliance Industries revealed he is working towards these three things:
Transforming India into a digital society.
Transforming the education sector in India.
To move India away from fossil fuels to renewable energy.
We have seen Reliance already putting a lot of efforts in the digital transformation of India. We did a separate write-up "Reliance Jio: The driving force behind India's digital transformation". Here, you can read how the company has built itself as one of the leaders of digital change in the country.
Coming back to the interview, the point which surprised us was the thought process of Mukesh Ambani to aid India in shifting from fossil fuels to renewable energy. He said "the third thing that we are working towards is really the transformation of energy. And we think again that the world is right and India is in the right mindset to completely, in the next few decades, move away from fossil fuels to completely renewable energy."
The core business of Reliance is oil. They came to the global map with unimaginable success in the oil & gas industry. Oil and hydrocarbon are two of the primary fossil fuels. So if Reliance wants to drive the change to renewable energy, doesn't it counters their own business? What does this statement really signal?
Reliance has grown exponentially this year. They have expanded and received several investments from foreign firms. During the last few months, Nifty 50 rallied mostly due to the heavy presence of Reliance. But all the developments have come either in the Jio front or in the retail domain of Reliance. Its oil & gas business has not expanded much. In fact, a deal with Saudi Aramco in the oil & gas business is pending even after one year of announcement. This situation is completely opposite to what they are facing in different business verticals like telecom and retail, where investors are waiting in line to throw money at Reliance.
How has the business' numbers changed?
Reliance has operated in several spaces since their inception. From trading yarn to oil to telecom and now to digital transformation and retail segment. One of the key aspects of any business is how they adapt to the changing times. Reliance is a perfect example of how a company should evolve with the market. "Data is the new oil". We are sure that you have heard this several times in the last few years. It seems like Reliance would accept this literally and think of moving their business line in the future.
The numbers show a downtrend in the oil & gas business for Reliance in the last four years. Also, it shows massive growth in retail and Jio segment. The table below shows the revenue contribution from the different segments in the last four years.
| | | | | |
| --- | --- | --- | --- | --- |
| | 2017 | 2018 | 2019 | 2020 |
| Refining | 63.7% | 56.4% | 50.9% | 47.8% |
| Petrochemicals | 23.5% | 23.1% | 22.3% | 17.9% |
| Crude Petroleum | 2.7% | 2.3% | 2.9% | 5.2% |
| Digital Services | 0.2% | 4.4% | 6.3% | 8.4% |
| Organized Retail | 8.6% | 12.8% | 16.9% | 20.1% |
(Segment-wise Revenue Contribution)
The table shows how the revenue contribution from the refining and petrochemicals segment has been falling. At the same time, digital services and retail has been on a continuous uptrend. The Compounded Annual Growth Rate, CAGR, (2017-20) for the digital services segments, which stands at 226%, beats all other four segments. It is followed by Organised Retail (49%), petrochemicals (11.9%) and refining (11.4%).
We find a similar pattern when we compare the profits from the oil & gas business with other business. From 2017 to 2020, the profit contribution of the refining segment has been halved from 65% to 30%. Profit generated from petrochemicals has remained constant at around 35%. Contrary to them, organised retail and digital services has jointly contributed more than 30% of the profits in 2020. This percentage was even below 2% in 2017.
No long-love for fossil fuels
Crude oil, hydrocarbon, natural gas or other fossil fuels are limited in nature. Earth does have them in abundance quantity but the rate of its depletion has been very rapid in recent years. In future, there will be a time when oil becomes a scarcity. How would the oil firms conduct exploration then?
The main work of an exploration & production (E&P) company in the oil & gas industry is to search and extract oil and gas. This requires heavy machinery and very high use of technology. Thus, it is no surprise that the companies working in this industry are highly leveraged.
Reliance's primary work is not in the E&P horizontal (or the upstream segment) but in the downstream segment (Refining and marketing). But if the E&P companies find the level of oil in the surface very low, they won't be able to sustain their cash inflows. If the E&P companies fail to find oil, how will the Refining and Marketing (R&M) companies like Reliance survive in the long-run?
Again, this is not something which will happen in the next 2-5 years. But, there are high chances of depletion of fossil fuels in the long-run (10-30 years). When this happens, what is left for the core business of Reliance?
Decreasing oil portfolio
Currently, the company holds two shale gas joint-ventures with Ensign Natural Resources and Chevron. Three years back they exited two oil blocks it held in Myanmar. In 2016, they exited their Peru's oil and gas block. These move to sell off blocks signalled their aspiration to leave the upstream segment and rely more on the downstream segment.
At one time, the company had 42 oil & gas blocks domestically. Currently, they hold only 5 of these domestic oil & gas blocks. Also, only two of these blocks are fully owned by the company. BP holds almost 33% of the stake in each of the remaining three domestic blocks.
Leading the change
Not once, but many times, Reliance has voiced their desire to lead India's change to renewable energy. According to Mukesh Ambani, "Energy is an essential requirement for all 8 billion people on this earth. There is a need to provide efficient, clean, affordable energy. And we have to do it in a responsible way. That's the business. We should not confuse that between clean and unclean."
India has pledged to decrease the emissions concentration of its GDP by 33%-35% by 2030 from the levels of 2005. On those lines, Reliance also declared its plans to become net-carbon zero by 2035. The government of India also wish to double their consumption of renewable energy to 20% by 2025. Transforming the energy business of the country will give new growth opportunity to the company.
It is also crucial to mention that entering into renewable energy business does not mean leaving fossil fuels instantly. The use of fossil fuels can be decreased by huge amounts but completely replacing them is not possible. So does Reliance wants to lead the fight in both the domains? Or they want to leave one for another? This is something we have to wait and watch in the next two years. But surely, India is geared for a big change in the renewable energy sector and Reliance could be a very big part of that. Until, next time.
Post your comment
No comments to display