Reliance Retail Acquires Urban Ladder - All You Need To Know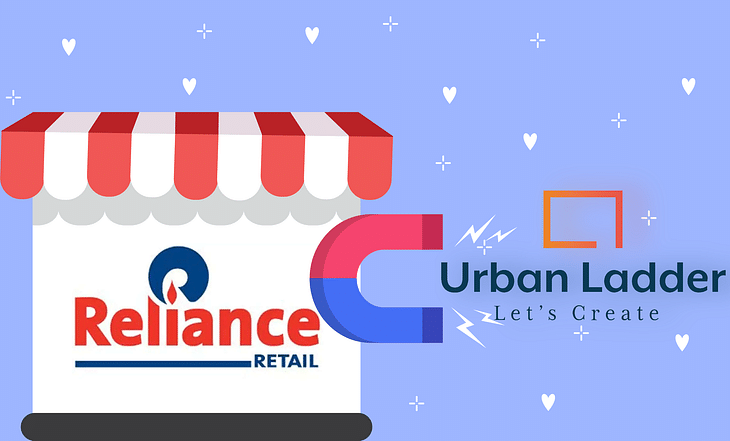 As most parts of India were celebrating Diwali last weekend, there was major news from Mukesh Ambani's Reliance Industries. Its retail arm, Reliance Retail Ventures Ltd (RRVL), has bought a 96% stake in the online furniture retailer Urban Ladder. The cost of the acquisition was estimated at Rs 182.12 crore. At a time when most retail companies are trying to prove their dominance in India, we can be sure that the largest retailer has no plans to slow down their operations. Let us take a closer look into the deal, and what it would mean for both companies.
Company Profile - Urban Ladder
Urban Ladder was established in July 2012 as a furniture and decor retailer based out of Bengaluru. You may remember this company from its witty and eye-catching advertisement campaigns since its inception. The concept of buying furniture through digital channels was highly appreciated by the people of India, especially those living in metro cities. It currently has 3 stores in the city and distributes its products across 75 cities in India through its website. The company offers over 5,000 designs across 35 categories such as living, dining, bedroom, study, and much more. Urban Ladder has earlier been recognized as one of the best digital start-ups in India.
The 182 Crore Deal
For the past few months, Reliance Retail had been in serious discussions with the e-furniture marketplace Urban Ladder. On November 15, the company announced that it has bought a 96% majority stake in Urban Ladder for Rs 182.12 crore (~$24.4 million). RRVL also has the option of acquiring the balance 4% stake, as per a regulatory filing to the BSE. This would be the company's fourth acquisition this year. Reliance Retail had acquired Kannan Departmental Store in March, and e-pharmacy Netmeds and Future Retail's assets in August.
The retail arm of RIL has bought a 96% stake in Urban Ladder from its existing investors which include SAIF Partners, Sequoia Capital, Kalaari Capital, and Steadview Capital. Ratan Tata was also one of the early investors in Urban Ladder. These firms had collectively invested around Rs 770 crore into Urban Ladder since the company's launch in 2012. At the peak of its growth in 2019, the startup had a valuation of Rs 1,200 crore. From this, we can clearly understand how Urban Ladder had a significant markdown in valuation. Reliance was able to acquire it at almost 1/6th of what it was actually worth in 2019. Reliance Retail has stated that it would further invest Rs 75 crore in the furniture retailer by December 2023.
What the Deal Means for Urban Ladder
As per the company's records, Urban Ladder had reported a profit of Rs 49 crore in 2018-2019. This was the first profit since its inception in 2012, which is a very impressive milestone. The company had posted net losses of Rs 118.66 crore and Rs 457.97 crore in 2017-18 and 2016-17, respectively.
The acquisition by Reliance Retail means that the company does not have to worry about raising more funds to cover its losses. According to sources, the company would continue to operate as a separate brand within the Reliance ecosystem. The CEO and co-founder of the furniture retailer, Ashish Goel, will continue to hold his post for the time being.
With this deal, Urban Ladder's competitor Pepperfry will be the only independent large player in the online furniture segment.
How would it help Reliance Retail?
As you may have noticed, Reliance is currently on a massive buying spree. Over the last three months, its retail arm has raised over Rs 46,925 crore from various investment firms across the globe. In November, the company had also received Rs 9,555 crore from the Public Investment Fund (PIF) of Saudi Arabia, for acquiring a 2.04% stake in the company. After this stake sale, Reliance Retail Ventures has been valued at Rs 4.59 lakh crore.
It should be noted that Reliance has a strong portfolio of digital services such as telecom, e-payments, content streaming, and much more. With the latest acquisition of Urban Ladder, RIL will be able to provide a further boost towards all its e-commerce platforms. With the furniture retailer, there could be an integration of all these services, which would allow customers to obtain benefits from using the same ecosystem.
The online furniture retail business in India is witnessing massive growth, especially as a result of lockdown restrictions this year. Many people were confined to their own homes and believed in making their environment more positive with new furniture and décor. This deal also gives Reliance Retail greater access to this rapidly growing market.
Conclusion
As we can see, the deal would be helpful for both companies, but more so for RRVL. Urban Ladder had been struggling to cover the losses that it had accumulated over the years. With this deal, the company can focus on improving its operations and get relief from worrying about finances. At the same time, we can state that this acquisition is just a part of Reliance's plan to restructure its already massive retail portfolio.
The deal comes at a time when Amazon, Reliance, and Walmart-owned Flipkart are all in a tough retail war to obtain a greater market share in India. It has been estimated that India's retail market was worth Rs 60 lakh crores in FY 2019-20. It is also expected to grow at a CAGR of 10% over the next 5 years to reach Rs 90 lakh crores by FY 2024-25. There is no doubt that the retail space would get more competitive in the months to come.
Let us look forward to seeing how Urban Ladder will help Reliance to continue its retail domination in India. Will the acquisition be enough to support or boost the retail giant? Or will the furniture retailer turn out to be a burden for Reliance by making losses? We will have to wait and watch.
Post your comment
No comments to display