RIL's Net Profit Rises 19% YoY to Rs 19,299Cr - Top Indian Market Updates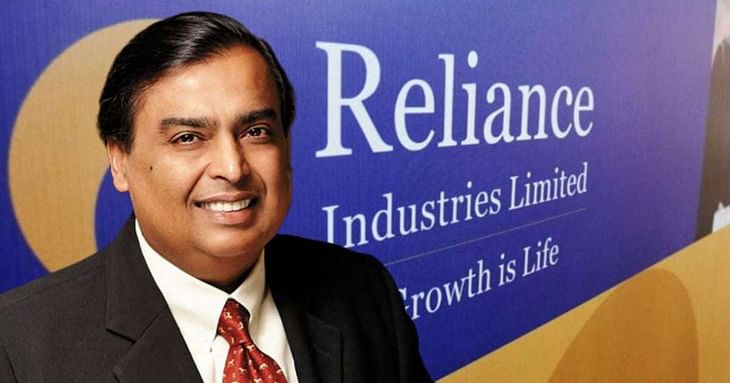 Here are some of the major updates that could move the markets on Monday:
Reliance Q4 Results: Net profit rises 19% YoY to Rs 19,299 crore
Reliance Industries announced a 19% YoY increase in consolidated net profit to Rs 19,299 crore. Revenue is up 2% YoY to Rs 2.16 lakh crore. The company's EBITDA in Q4 reached a record high of Rs 41,389 crore, rising 22% YoY.
However, due to an expanded asset base across all businesses, depreciation surged 43% YoY to Rs 11,456 crore. Finance costs rose 64% YoY to Rs 5,819 crore on account of higher interest rates and loan balances. RIL's gross revenue in FY23 rose 23% YoY to Rs 9.76 lakh crore, indicating continued growth momentum across all businesses.
Read more here.
India's forex reserves rise $1.65 billion to $586.41 billion
India's forex reserves increased to $586.41 billion, up by $1.65 billion for the week ended April 14. The rise in foreign currency assets (FCA) was the main contributor, which increased to $516.63 billion. The rupee appreciated against the US dollar by 8 paise to close at 82.09. This was supported by softening crude oil prices in the international markets.
Read more here.
SBI to raise $500 million via dollar bonds
State Bank of India (SBI) is in talks with international banks for a potential $500 million fundraise via a global bond issue. Investment banks are expected to be engaged next week for the proposed issue, which could increase in size depending on investor response. European, Japanese, and American banks are expected to be chosen as arrangers for the issue.
Read more here.
RBI gives HDFC Bank selective regulatory relief post HDFC merger
The Reserve Bank of India (RBI) has granted HDFC Bank and HDFC regulatory relief to ease the merger between the two firms. The RBI has allowed the bank to meet priority sector lending requirements in stages over three years, instead of immediately complying with the 40% lending requirement to agriculture, micro and small enterprises, education, housing, export credit, and advances to weaker sections.
Read more here.
Hindustan Zinc Q4 Results: Net profit falls 12% YoY to Rs 2,583 crore
Hindustan Zinc's net profit fell 12% YoY to Rs 2,583 crore in Q4 FY23. Revenue dropped 4% YoY to Rs 8,281 crore due to lower zinc, lead, and silver prices, partly offset by higher metal and silver volumes. The company reported a 16% YoY decline in EBITDA to Rs 4,208 crore. It recorded the highest-ever PAT of Rs 10,511 crore for the full year (FY23) on the back of record production of over 1 million tonnes of metal.
Read more here.
Reliance Capital lenders not to accept offers outside of auction
Reliance Capital has reportedly decided to negotiate only with the highest bidder and not accept any topping offer outside the proposed auction process. The committee of creditors discussed concerns from potential bidders regarding the auction of the distressed financial services company that is undergoing a corporate insolvency process. Hinduja group entity Torrent Investments and Oaktree Capital have indicated that they will likely participate in the proposed auction scheduled on April 26.
Read more here.
Torrent Power forms subsidiary for power generation, transmission biz
Torrent Power Ltd has formed a new subsidiary named Torrent Urja Pvt 10 (TU10) for power generation and transmission. The new subsidiary was registered in Ahmedabad on April 21, 2023, and is yet to begin its business operations. The company has stated that TU10 will generate, transmit, distribute, sell, or deal in all forms of electrical power and energy, including non-conventional and renewable sources of energy.
Read more here.
PNC Infra gets LoA from road ministry for project worth Rs 819 crore
PNC Infratech has received a Letter of Acceptance (LoA) from the Ministry of Road Transport & Highways (MORT&H) for a construction project in Uttar Pradesh worth Rs 819 crore. The project involves the construction of a 4-lane highway from Singraur Uphar to Baranpur Kadipur Ichauli of NH-731A. The operation period is 15 years after construction. PNC Infratech has promised to execute the work in 24 months.
Read more here.
Bank of Baroda to raise up to $7 billion via bonds
Bank of Baroda's board has approved the raising of foreign currency funds through the issuance of bonds up to $1 billion under the bank's medium-term note (MTN) program and through the issuance of certificates of deposit (CDs) up to $3 billion in single or multiple tranches. The bank has also approved raising funds through bilateral/other borrowings up to $3 billion.
Read more here.
Power Mech bags new projects worth Rs 720 crore
Power Mech Projects Ltd has won multiple projects worth Rs 720 crore. This includes a Rs 362 crore contract to construct a government medical college and hospital for Uttarakhand Pey Jal Nigam Ltd, a Rs 162 crore contract for the Revamped Distribution Sector Scheme for MPPKWCL, Khargone Circle in Madhya Pradesh, and railway electrification of 25 KV OHE Works in Mysuru Division, Karnataka.
Read more here.
Credit Suisse takes SpiceJet to Supreme Court over unpaid dues
Credit Suisse has moved the Supreme Court (SC) against SpiceJet, alleging contempt of court over the failure of the domestic carrier to comply with a court-approved settlement plan for payment of dues. SpiceJet told SC on April 21 that it would pay a tranche the same day and the next in May.  The Supreme Court put the contempt plea on hold and will now hear the case on May 17.
Read more here.
Post your comment
No comments to display