Reliance NextGen: Who after Mukesh Ambani?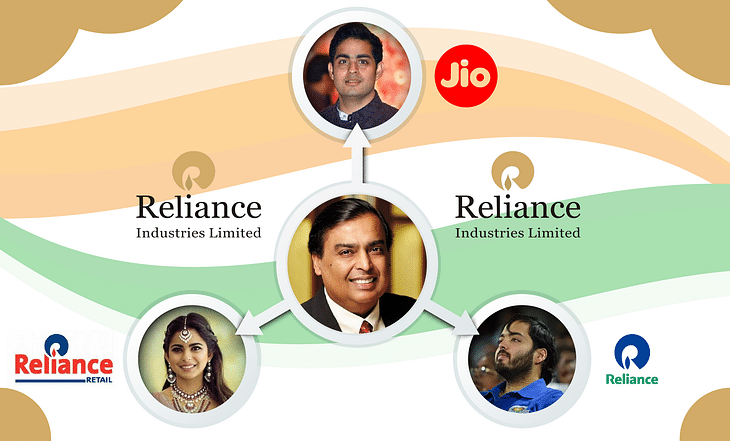 Reliance has turned into an empire within a span of a few decades. Mukesh Ambani, the Chairman of Reliance Industries, is now the world's 6th richest man. At the age of 63, he has taken Reliance to the heights one can only dream of. The oil-to-telecom company has a strong grip in several sectors, thus becoming a very important entity from the nation's perspective. That is why the question of who after Mukesh Ambani is important.
Mukesh Ambani will be hoping that his family has a shared vision for Reliance's future. Thus, learning from the lessons he learnt from the rivalry with his brother after the death of their father, Dhirubhai Ambani at the age of 69 years. He will be hoping that nothing of that sort happens in his family. To make this happen, it is important for him to process a seamless transition of Reliance into the new hands. Before that, let's have a look at the family of this Indian business tycoon and try to understand the possible heirs of his business.
Mukesh and Nita Ambani have three kids. Anant Ambani (25) is the youngest of three children. Akash Ambani (29) and Isha Ambani (29) are the older twins who were born in 1991. All three children are working at Reliance in senior posts. Probably, Mukesh Ambani will be passing the baton to them as he prepares Reliance for the NextGen.
Isha Ambani and Reliance Retail
Isha received her undergraduate degree in Psychology and South Asian studies from the prestigious Yale University. She went on to do her MBA from Stanford University. She also has experience of working at McKinsey & Company in New York before joining Reliance.
Isha joined the family's telecom and retail businesses as a director in 2014. As per the rumours, she is the one who gave her father the idea to launch Reliance Jio in 2016 after facing problems of slow internet speed. It is widely believed that she has been a central figure for the latest developments in the Jio and Reliance Retail segment from the past two years.
She was one of the lead negotiators in the deal through which Facebook acquired a 9.99% stake in Jio for Rs 43,574 crore. Along with her brother, Akash Ambani, she flew to the US in December last year for the negotiations. The trust in Isha's leadership can be seen from the fact that it was she and not her father who announced Reliance Retail's deal with Future Retail. She is likely to lead Reliance Retail in the future.
Akash Ambani and Reliance Jio
After doing his schooling from India, Akash went to the US to get his undergraduate degree in Economics. Just like Isha, Akash also joined his father's company in 2014. Currently, he is the Director and Head of Strategy and a member of the Executive Committee at Reliance Jio.
Akash played a key role in completing Jio's recent mega-deals with big tech companies like Google, Qualcomm and Intel. He is more involved in the digital services applications' side of Reliance Jio and Reliance Retail. Apart from business, Akash has a keen interest in sports. This can be seen by his huge involvement in the Indian Premier League (IPL) and Indian Super League (ISL).
Reliance's 43rd AGM showed how the two twins were launching the new Jio products. This tells that the future of tech-related Reliance adventures will be in the hands of these youngsters. Recently, Isha and Akash Ambani debuted in the technology list of Fortune's '40 Under 40' list of influential people around the globe.
Anant Ambani and Petrochemicals
Anant is the youngest of the three siblings. He followed his elder brother Akash and went to Brown University in the US to pursue his graduation. He made headlines after losing 108 kg in 18 months.
Anant Ambani currently serves as an Additional Director on the board of Jio. More of his contribution has come in social and foundational work at the Jamnagar refinery. He was the one to represent the Ambanis when they handed over Rs 5 crore towards Maharashtra flood relief work. After taking care of his health in recent years, Anant might now be pushed to work at significant roles at Reliance, just like her other two siblings.
Interestingly, Reliance's annual report 2019-20 consists of pictures of all the three siblings in Reliance Retail and Reliance Jio domain but Refining & Marketing (R&M) and Petrochemicals segments consists only of Anant's image. This might be due to the more involvement of the youngest one in the core business of Reliance, which is oil & gas.
At the Reliance at 40 years celebration, Anant Ambani also presented himself as one who deeply loves the environment. We can't help but wonder if Anant Ambani is the force behind Reliance shifting to renewable energy from Petrochemicals. You can read all about it here.
Reliance and India's Future
The Indian business tycoon, Mukesh Ambani, has huge faith that his children will be taking Reliance even higher. Trusting and bestowing responsibility to the youth in their 20s shows that the power decisions of Reliance will be taken by the Ambanis in the future as well. These NextGen stars are well aware of the changing environment of the world. They are expected to come up with more innovative ideas and execute them with more efficiency to maintain the legacy of Reliance in future years.
Reliance Industries is at a crossroad. They are venturing rapidly into different sectors. Also, they are planning to expand massively in the technology segment. Another domain where Reliance will move is into the renewable energy sector. These changes will be led by the three children of Mukesh and Nita Ambani. Will they be able to match the legacy of their father? Can they take the Reliance brand to even higher highs? It has also been made clear that Reliance will be playing an important role in the growth of the Indian economy, as well. Can these three youngsters handle the pressure of running the business and taking up the country's economy? All to be seen!
Post your comment
No comments to display