Reliance Jio : The driving force behind India's digital transformation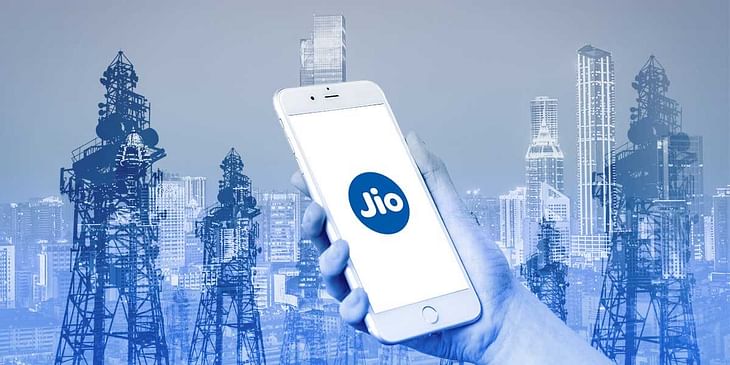 marketfeed always delivers on its promise. Last month we promised you to bring insights into individual segments of Reliance, and today we read up about Reliance Jio.
The world around us is changing at a very rapid pace due to advancements in technology. Like other countries, India has also undergone a lot of changes. One of the major reasons of this transformation in India is Mukesh Ambani-led Reliance Jio. Ever since Reliance Communications (RCom), Mukesh Ambani's brainchild, was snatched away from him by his younger brother, Asia's richest man was planning his comeback to telecom. Today, we are going to dig deep into what could be one of the most exciting businesses in Indian history.
Brief
Reliance, through Jio, aims to transform India into a digital society. Their mantra is quite simple: connect everyone and everything, everywhere. Jio's services span across various sectors. From cloud and media to gaming, healthcare, education and much more.
Jio came into the market in 2016 with only 4G services. Yes, no 2G, no 3G, just 4G. Before its launch, they made sure that they have a robust and stable infrastructure to support future growth. It came to the market by offering customers three months of free services followed by free calls and various data plans. With this disruptive move, they were able to start a price war in the telecom sector. But this disruption was easier than you think. Internet Service Providers (ISPs) do not incur any additional cost if you use 100MB of data or 1GB of data, so Jio came in by offering high data plans but did not lose out any money because of it, which is the best kind of disruption. Their infrastructure was strong enough to back the large number of users who joined their network.
Reliance Jio has was India's first telecom operator to offer the 4G Voice over LTE (VoLTE) services. This essentially meant that voice calls were placed through the internet, and hence no seperate infrastructure was needed for calls. They were able to offer free national roaming as well, with their pan-India license.

On the other hand, Bharti Airtel and other Telcos stuck to their 2G and 3G services and hardly ventured in the 4G market. Their weak strategy towards the investment in new infrastructure created several obstacles for them to move into 4G completely. If Airtel wants to setup a tower in a village, it has to first setup their 2G tower, then install 3G towers, then maybe install 4G towers. But Jio only installs 4G towers and provides high quality data, very efficiently.
Also remember, neither did Jio invent 4G nor did they invent VOLTE. These were widely used technologies in international markets that old players did not implement due to less flexibility of high debt and old-school thinking. Even now, companies like Airtel and Vi have failed to move into 4G services completely.
According to the Telecom Regulatory Authority of India (TRAI) data, Jio's total number of subscribers has steadily increased over the years from zero to 38.8 crore in March, making it the market leader. Airtel and Vi have 28.36 crore and 29.11 crore respectively in their March quarter earnings numbers respectively.
Jio's average per capita data consumption was 11+ GB per month for the previous financial year. With rising population and more awareness and requirement of a smartphone will only increase Jio's customer base. Unlike other players, Ambani had the game-changing idea of providing cheap data and charging for other services like the ones below.
Who rules the market?
Telecom Regulatory Authority of India (TRAI) stated that the top five telecommunication operator in India are Reliance Jio, Bharti Airtel, Vodafone Idea, BSNL and MTNL. Reliance Jio dominates the industry with a 33% market share. They are followed by Bharti Airtel and Vi with 28.35% and 28.05% market share respectively. (Data as on February 2020)
Jio's Performance
In 2017, Reliance Jio had a mere share of 0.2% in RIL's total revenue. That year, they were making losses for the company. Fast-forward three years, Reliance Digital Services are booming at neck-breaking speed. Their share in Reliance's total revenue has increased to more than 8%.
Biggest positive has been noticed on the bottom line side. Reliance Jio was the reason for more than one-fifth (20.5%) of the total profits to the company this year. It recorded a revenue worth Rs 5,990 crore in 2016. This increased to Rs 6,84,620 crore in 2019-20. A mighty increase of 226% in CAGR terms for the last four years.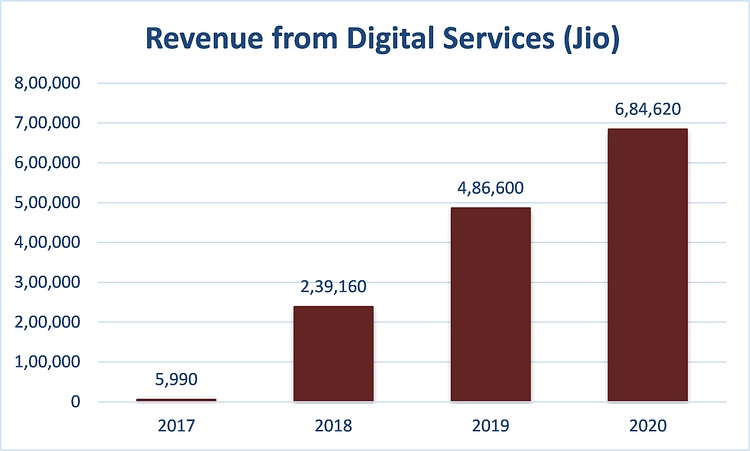 Jio recorded an Average revenue per user (APRU) of Rs 130.6 per month for the quarter ending March 2020. Their APRU increased to Rs 140.3 for the first quarter of FY21 which ended in June. Average data per usage increased to 12.3 GB per month per user in Q1FY21. This number was 11.3 GB per month per user for the quarter January-March 2020. In fact, Jio had the highest user engagement last year in the world with 5 hours spent by each subscriber per day on the Jio ecosystem.
The founder of Airtel, Sunil Mittal has mentioned multiple times that the company needs an average revenue per user (ARPU) of Rs 300 or more to survive from its current level of Rs 147. Yes, he says that this metric should double for Airtel to survive! Meanwhile, Jio is looking comfortable at its current levels and making profits while Airtel and Vi are facing huge losses. This is again tied into the logic of selling data for cheap, and charging for other services.
Acquisitions by Reliance Jio
Saavn
Saavn is one of the most popular music streaming platforms in India. In 2018, Reliance merged its product, JioMusic, with Saavn by acquiring nearly 80% stake. The merged entity was named JioSaavn so that the audience can know still associate themselves with Saavn as well as understand the presence of Jio. This backed Jio to directly compete with their telecom rival, Bharti Airtel's Wynk, in a different sector.
Embibe
Reliance Jio ventured into the EdTech sector by acquiring almost 73% stake in Embibe in 2018. Bengaluru-based Embibe is an artificial intelligence-based education technology provider and a competitor to Byju's. Embibe is a very powerful entity which depends on AI and analytics to find the weakness of students.
It points out where the students are lagging whether is it time management, stamina, knowledge, confidence, accuracy or speed. In the middle of the pandemic, when companies were finding a way to survive, Reliance Jio invested Rs 500 crore in Embibe in April. This was the second investment in the EdTech startup in 2020. Early in February, Embibe has raised a funding of nearly Rs 90 crore from Reliance Industries.
Haptik
In the first half of 2019, Reliance Jio announced that will hold about 87% of Haptik by investing Rs 700 crore over the next five years. Out of this Rs 700 crore, Rs 230 crore has already been paid. This acquisition was another move from the company to expand itself into voice-based and AI-enabled conversational products. If you were a Samsung user in 2014, you would have noticed the Hand logo of Haptik. The company has some big clients in the form of Future Retail (which is bought by Reliance Retail now. Click here to read more about it), KFC, Coca-Cola, Oyo Rooms, Samsung and more.
Reverie
In the same year, Reliance acquired Bengaluru-based technology service startup Reverie. Approximately 83.3% of the startup's equity stake was acquired by Reliance Jio. Reverie is another company which offers voice-based products. It offers voice assistant 'Gopal' in 12 Indian languages like Hindi, Bengali, Marathi, Gujarati, Telugu, Tamil and more.
Tesseract
Reliance acquired a stake of 80-85% in Mumbai-based VR startup Tesseract in August of 2019. At RIL's 43rd AGM, Isha Ambani unveiled the JioGlass which was built by Tesseract. This JioGlass is designed to enable 3D virtual rooms and conduct holographic classes. Thus, building a completely different and exciting virtual experience.
Hathway Cable and DEN
Reliance Jio acquired a 51.3 % stake in Hathway Cable & Datacom and 66 % stake in Den Networks. This deals went through in 2019 when Reliance received Competition Commission of India's nod to proceed. The main reason behind this move was to procure a substantial market to launch its ambitious high-speed broadband network under JioGigaFiber. This Jio product is a fibre-to-the-home (FTTH) broadband service. It aims to provide ultra-high-definition experience on television sets, voice-activated virtual assistance and virtual reality gaming.
Shaping India's digital future?
There are 45 crore unique smartphone users in India until March 2020. Jio has successfully become the face of Indian digital transformation.
India is still finding it very hard to contain the corornavirus. While global sentiments are weak, big players like Google, Facebook, General Atlantic, KKR, Abu Dhabi Investment Authority, and other companies are investing in Reliance Jio. This shows the high level of confidence of global leaders in the Jio model. It's not only the investment or the funds which are coming in. But, also the guidance and suggestions from the top global leaders which are running these companies. Jio has now four strategic partners Facebook, Intel, Qualcomm and Google.
Now, Reliance Jio is coming up with plans to get 2G subscribers from Airtel and Vi to convert. An ultra-cheap Rs 4,000 smartphone is in the works to get more people in India familiarised with the internet, and other services. If this happens, the user base of the Jio will expand further and market share of other telcos might shrink again. An India-made 5G solution is also ready for testing from Jio.
With Jio already being the market leader, and showing no plans to slow down, it has surely cemented its position in Indian telecom space within 4 short years. Will it turn out to be the only player, and make the sector a monopoly? Will have to wait and watch for that.
Post your comment
No comments to display