Reliance Industries: The Media Industry Giant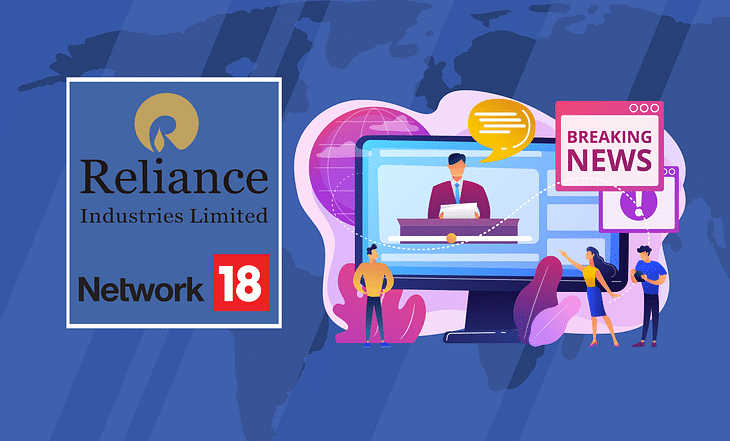 As a stock market participant, you may have often examined products and services that are readily available around all of us, and checked whether it was manufactured or offered by a listed company. It is a great trait that makes our stock market journey more exciting. Most of the products that you use on a daily basis could be made by companies that you have invested in (or may invest in the future).
Most of us are aware of the rich heritage and massive growth of India's largest conglomerate— Reliance Industries Limited (RIL). The group has excelled in the fields of oil, petrochemical, textile, organised retail, telecommunication, and digital services. There would not be any household in India that hasn't used a product or service of Reliance. However, not many are aware that RIL has significant control over the media networks we consume daily. Let us find out how.
RIL's Entry Into India's Media & Entertainment Sector
RIL's Mukesh Ambani has a knack for turning (almost) everything he touches into gold. He has ensured in providing the best products and services to all consumers in India and abroad and earning their trust. The Reliance Group had already established a strong presence in India's media and entertainment sector through Reliance Entertainment and Reliance MediaWorks. However, these were pet projects of Anil Ambani, who was very unlucky in scaling up his business empire.
Almost a decade ago, Mukesh Ambani and his conglomerate decided to try their luck in the media industry. They approached the best in this field— Network18 Media & Investments Limited (also known as Network18 Group). In 2012, RIL unveiled a very complex agreement to raise funds to help Network18 reduce its debts and expand. On the other hand, the network would provide content for the company's 4G telecommunications business. After intense negotiations, Reliance Industries announced the strategic takeover of Network18 in 2014 for around Rs 4,000 crore. This entity has now become the largest media company in our country. RIL currently holds 75% in Network18 & Investments.
Subsidiaries of Network18
Network18 Media & Investments owns a majority stake in TV18 Broadcast. This company operates news channels in several languages under the News18 brand. It has a franchise agreement with CNN Worldwide for CNN-News18. The main business channels viewed by Indians, such as CNBC-TV18, CNN-IBN, and CNBC Awaaz, are operated by TV18 Broadcast under a franchise agreement with US-based NBC Universal.
Viacom18 Media is another subsidiary of the Network18 group. It is the parent company of around 50 channels, which operate through the brands of Colors, MTV, Nickelodeon, VH1, and Comedy Central. To meet the changing requirements of consumers, Viacom18 has launched an over-the-top (OTT) platform known as Voot. It has also produced many award-winning Bollywood movies over the years.
Web18 Software Services is the digital media and e-commerce arm of the group. The website used by a large number of stock market participants, Moneycontrol.com, is a part of Web18. The e-commerce platform BookMyShow and news website Firstpost are also operated by the company. They also own the license for Forbes India.
Cable and D2H Companies:
DEN Networks Limited is engaged in the distribution and promotion of television channels through digital cable distribution networks in India. The company also offers cable TV, over-the-top (OTT) entertainment, and broadband services. The firm serves approximately 1.3 crore households across 13 states in our country.
Hathway Cable & Datacom Limited (HCDL) provides cable television, internet, and allied services. The company has 2 main segments— Broadband and Cable Television. It offers digital cable TV services, including standard definition (SD) and high definition (HD) cable TV channel services. It also provides home and business broadband services. In addition, HCDL operates several shopping and entertainment channels. The company offers its cable TV services across 350 cities and towns in India.
These companies were initially acquired by Reliance Industries in 2018 and later merged into Network18 as part of a consolidation process in 2020. Thus, DEN Networks and HCDL are subsidiaries of Network19. Both companies posted a very promising increase in revenues and profits for the quarter ended March (Q4).
Financial Performance of Network18
After posting huge losses in the past four years, Network18 & Investment Ltd reported a net profit of Rs 32.27 crore for the financial year ended March 31, 2021 (FY21). It posted a 9-fold year-on-year (YoY) jump in consolidated net profit to Rs 205.80 crore in Q4 FY21. However, revenue from operations fell slightly by 3.40% YoY to Rs 1,414.70 crore during the same period. There has been a steady growth in subscription and ad-based revenue from their TV channels and digital media platforms.
Over the past 5 years, the company's revenue has grown at a CAGR of 11.04%, whereas the industry average stood at 6.21%. Network18 has been able to secure a market share of 54.2%.
RIL's 'Control' Over Indian Media
Around two years ago, Mukesh Ambani announced that Reliance Industries owned a total of 72 television channels, which were viewed by over 80 crore Indians. This represents ~95% of the total TV-viewing universe. Currently, Network18 has emerged as the top digital media player in the country with around 69 crore views per month. Close to 10 crore people use its websites or apps (including Moneycontrol, Firstpost, Voot, and News18.com) every month. Through its other subsidiaries and offerings, it is clear that Network18 has immense reach across the country. Apart from Network18, all apps under Jio Platforms are also widely used by consumers.
According to the Broadcast Audience Research Council (BARC), Network18 is the #1 news network in India in terms of viewership. Other prominent Indian news media companies, such as NDTV, News Nation, India TV, and News24, are indebted to Mukesh Ambani and his associates. As per reports, they have infused hundreds of crores into these media firms through instruments such as Optionally Fully Convertible Debentures (OFCDs). The OFCDs can later be converted into shares as per the discretion of the investor.
While most people oppose the idea of losing independent journalism to large corporations, Reliance Industries seeks to benefit from its strategic investments in media houses. RIL has more or less used this large platform to portray its brand image, which has surely played a pivotal role in its business growth. It has supported the launch of Reliance Jio and other digital services, while driving more customers into their ecosystem. Let us look forward to seeing how Network18 plans to further expand and grow in the media sector. Moreover, let us witness how it would cater to the future objectives of RIL.
Post your comment
No comments to display