Reliance in Talks for $2 Billion Loan - Top Indian Market Updates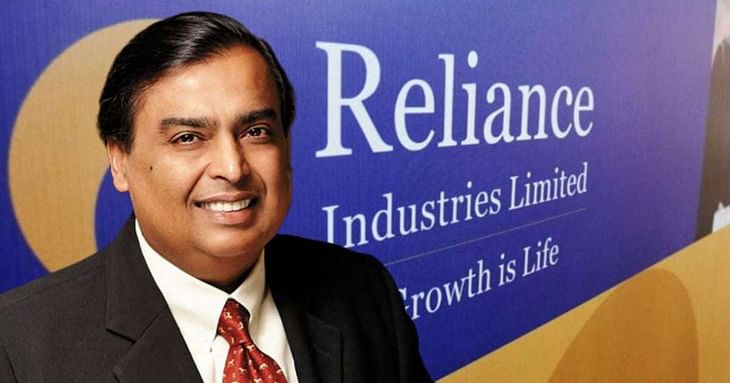 Here are some of the major updates that could move the markets tomorrow:
Reliance in talks for $2 billion loan to fuel expansion
According to a Bloomberg report, Reliance Industries Ltd is in discussions with lenders to secure a foreign-currency loan of up to $2 billion. The company plans to utilise India's dedicated external commercial borrowing route to obtain the loan. The maturity period of the facility is expected to be between 3-5 years, with the funds intended for capital expenditure and refinancing an existing loan set to mature in September. Notable lenders involved in the talks include Bank of America Corp, Citigroup Inc, and Standard Chartered Plc.
Read more here.
India's goods trade deficit hits a 5-month high in May
According to government data, India's trade deficit for May FY23 narrowed to $10.35 billion, compared to $12.20 billion in the same period in FY22. The trade deficit declined 35.41% for April and May combined. However, the merchandise trade deficit widened to $22.1 billion in May from $15.2 billion in the previous month. This is primarily due to a surge in goods imports, which reached a five-month high.
Read more here.
Godrej Properties to buy land for a luxury residential project in Kolkata
Godrej Properties Ltd has acquired a 7.44-acre land parcel in the premium residential locality of New Alipore, Kolkata, from West Bengal Housing Infrastructure Development Corporation Ltd. The land has a developable potential of approximately 9.8 lakh square feet, with an estimated revenue potential of nearly Rs 1,200 crore. This marks Godrej Properties' second luxury development in the city.
Read more here.
Cochin Shipyard wins Rs 580 crore order for cargo vessels
Cochin Shipyard's subsidiary Udupi Cochin Shipyard Limited (UCSL) has secured an international order from Norway-based Wilson Shipowning AS. The order is for the design and construction of six new-generation diesel-electric 3800 DWT general cargo vessels. The contract includes an option for an additional eight vessels. Wilson Ship Management AS is one of the largest short-sea fleet operators in Europe, with a fleet of around 130 vessels.
Read more here.
Titagarh Wagons-BHEL consortium signs ₹24,000 crore contract with Indian railways
A consortium of Titagarh Rail Systems Ltd (TRSL) and Bharat Heavy Electricals Ltd (BHEL) has secured an order worth ₹24,000 crore from Indian Railways to manufacture and supply 80 Vande Bharat sleeper trains. They are responsible for manufacturing fully assembled trains by 2029 and maintaining them for 35 years. The trains' final assembly, testing, and commissioning will occur at the Indian Railway facilities in Chennai. Each train will consist of 16 coaches, accommodating over 880 passengers.
Read more here.
Dilip Buildcon Completes Highway Upgrade Project
Dilip Buildcon has announced the completion of the Chandikhole-Bhadrak Section of National Highway 5 (NH5) in Odisha. The project involved the rehabilitation and upgrade of the highway to a six-lane highway. The subsidiary, DBL Chandikhole Bhadrak Highways Ltd, executed the Rs 1,522 crore project under the hybrid-annuity model as part of the National Highways Development Project Phase V.
Read more here.
TVS Motor Company sells 43.54% stake in Emerald Haven Realty
TVS Motor Company Ltd has announced the sale of its entire stake of 43.54% in Emerald Haven Realty Ltd. The company sold its holding of 11.12 crore equity shares on June 14, 2023.
In other news, the Indian Navy has partnered with TVS Motor Company for a motorcycle expedition in Ladakh as part of the 'Azadi ka Amrit Mahotsav' celebrations.
Read more here.
Jindal Stainless signs deal with Germany's Dassault Systemes
Jindal Stainless Ltd (JSL) has entered into a partnership with Germany-based Dassault Systemes to enhance its production and operational functions at its Hisar and Jajpur units. The agreement aims to strengthen JSL's production planning, scheduling, and execution processes by leveraging Dassault Systemes' expertise. With the recent merger and capacity expansion, JSL seeks to seamlessly manage end-to-end production and operations between its facilities in Hisar, Haryana, and Jajpur, Odisha.
Read more here.
Ashok Leyland partners with Aidrivers for autonomous electric terminal trucks
Ashok Leyland has partnered with Aidrivers to manufacture autonomous electric terminal trucks. This collaboration aims to address the port industry's requirements for net-zero emissions. By combining their expertise, both companies will work towards sustainable autonomous transportation in ports. The initial fleet of vehicles will be manufactured at Ashok Leyland's facilities. The fleet is projected to be operational for terminal operations by early next year.
Read more here.
ONGC signs MoU with IndianOil for petrochemicals
ONGC has partnered with Indian Oil Corporation (IOC) to explore opportunities in the petrochemicals sector. The Memorandum of Understanding (MoU) aims to investigate downstream prospects, including greenfield projects and acquisitions, in the petrochemical industry. ONGC already operates two downstream petrochemical plants through its subsidiaries.
Read more here.
Tata Steel, Germany's SMS group to explore low carbon steel-making technology
Tata Steel has partnered with Germany's SMS group to collaborate on the development of a low-carbon steelmaking process. Under a Memorandum of Understanding (MoU), the two companies will engage in technical discussions and take steps towards conducting a Joint Industrial Demonstration of the EASyMelt technology, created by SMS group. Tata Steel plans to demonstrate at its Jamshedpur plant's E Blast Furnace, aiming to achieve a CO2 emission reduction of over 50% compared to the furnace's current operation.
Read more here.
Coal stock grows 44% to over 110 MT
The Ministry of Coal has reported that the total coal stock has increased by 44% YoY to 110.58 million tonnes (MT) . This significant rise in coal stock demonstrates the commitment to ensuring an abundant supply of this essential fuel, which is crucial for electricity generation. The current stockpile at mines, thermal power plants, and in transit has substantially increased compared to the stock of 76.67 MT on the same day last year, emphasizing the improved availability of coal resources.
Read more here.
Post your comment
No comments to display