Rejection from the Top! More Fall Incoming? - Post-Market Analysis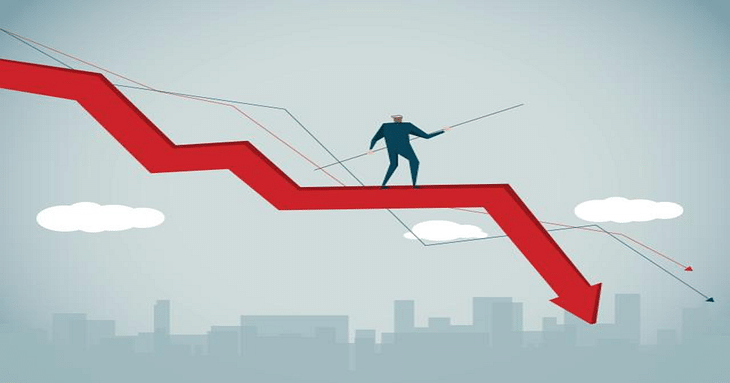 NIFTY started the day at 19,232 with a gap-up of 92 points. There was an immediate sell-off till the previous swing or support zones of 19,100. Then, Nifty consolidated with a bit of volatility and gave a negative closing at 19,079, down by 61 points or 0.32%.
BANK NIFTY (BNF) started the day at 43,356 with a gap-up of 317 points (near the 50% Fibonacci rejection levels). It quickly came under selling pressure and fell to yesterday's breakout levels of 42,800. Then, the index tried moving up but 43,000 round levels acted as resistance and pushed the index down. BNF closed at 42,845, down by 193 points or 0.45%.
All indices except Nifty Realty (+1.27%), Nifty Media (+0.91%), Nifty FMCG (+0.19%), and Nifty PSU Bank (+0.14%) closed in the red.

Major Asian markets closed mixed. European markets are currently trading up to 1.4% in the green.
Today's Moves
SBI Life (+3.14%) was NIFTY50's top gainer. The stock has been moving up after the company reported strong Q2 earnings; a 45% YoY rise in its net profit and a 19% growth in net premium income.

FACT (+10%) surged on the back of long volumes.

Piramal Pharma (+9.48%) rallied up to 13% on positive guidance for the second half of FY24.

Mahindra & Mahindra (-2.62%) was NIFTY50's top loser. Shares of the company's subsidiary, M&M Financial Services, have tanked on the back of poor Q2 results.

DCM Shriram (-4.8%) fell sharply after the company posted weak Q2 results today.
Shares of Butterfly Gandhimathi (-7.04%) fell after public shareholders of the company voted against its merger with Crompton Greaves Consumer Electricals.
Markets Ahead
As discussed earlier, major indices are taking proper rejection from Fibonacci levels. The rise in India Vix and selling pressure from the top is indicating some bearishness in the markets. So even if today's lows are breached, markets can fall further. The up-move in the last two trading sessions (Friday and Monday) can be considered a retracement.
Nifty: The immediate support for the index is near 19,075 (where the markets closed today). If there's a flat or gap down opening, the index could move down— giving us targets of 19,000 and 18,940 again. On the other hand, the important resistance to watch out for will be today's high of 19,250. If the index crosses 19,150, we can expect Nifty to test 19,250 again.
Bank Nifty: The index is looking weak. BNF is currently at yesterday's breakout levels of 42,800. If there is a flat or gap down opening tomorrow, BNF could achieve targets of 42,400 and 42,200 on the downside. If the resistance at 43,075 is taken out, 43,300 can be tested again.
Markets are facing rejections at the top. The rise in India Vix also indicates the markets to be bearish. So you could look for sell-on-rise opportunities, which will be ideal till major resistance zones are breached in Nifty and Bank Nifty.

How was FIN NIFTY expiry? Are you in net profit or loss? Let us know in the comments section!
Please join The Stock Market Show at 7 PM on our YouTube channel.
Post your comment
No comments to display