Reasons Behind the Rise in Steel Prices in India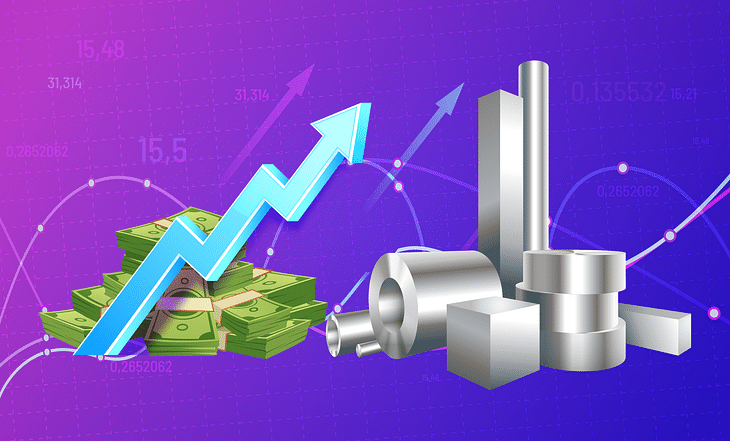 Steel prices in India and across the globe have been rising exponentially since July 2020. After surging ~55% in the previous financial year (FY21), it was confirmed that major Indian steel players had hiked rates by a further 10% in April alone. A Rs 4,000 per tonne hike has taken domestic prices of hot-rolled coil (a steel product) to a 13-year high of around Rs 60,000 per tonne. While companies such as JSW Steel, SAIL, Tata Steel, and Jindal Steel & Power continue to benefit from higher prices, other sectors of our economy face huge difficulties.
What could be the reasons behind the surge in steel prices? Let us find out.
Why are Steel Prices Rising?
China Cuts Import Tariffs on Steel to Zero
Last week, China announced the suspension of import taxes on steel. This is part of the country's multi-year campaign to use market pressures to force its steel manufacturers to shrink and become more energy-efficient and profitable. Thus, it is in line with China's ongoing drive to reduce steel capacity. Duties on crude steel, pig iron, and recycled steel will be suspended from May 1 onwards.
China has also removed a rebate (partial refund or tax relief) of 13% on the value-added tax (VAT) it offered on exports of 146 steel items. The rebate is now applicable on 28% of Chinese steel exports as compared to 98% earlier. These rebates would force Chinese steelmakers to concentrate on domestic markets and not produce extensively for overseas markets. This would lead to a general increase in global steel prices (as China produces more than 50% of the world's steel).
On the other hand, Chinese export prices would no longer be the lowest in the world. It would also reduce the competitive pressure on suppliers particularly in the Asia Pacific region, including Japan, South Korea, Taiwan, Vietnam, and India.
Was China Hoarding Steel?
China had been the largest producer of steel for more than a decade and was known for dumping its steel products across the globe. It produces more than half of the world's steel. Due to discounted prices, major foreign steelmakers found it very difficult to compete with their Chinese counterparts.
Despite this, China had turned into a net importer of steel almost a year ago. Even when their steel plants were operating at 90% capacity in June 2020, the country began importing large quantities of steel. Through a well-defined fiscal and monetary stimulus package, China shifted its focus on creating demand and promoting development activities. Do bear in mind that this was during a period when other nations had been under strict lockdowns amidst the outbreak of the Covid-19 pandemic. As a result of these policies, China was able to control the global demand and supply of steel and thereby control prices.
Other Factors
Global steel prices have also skyrocketed due to a steep increase in the prices of iron ore. The decline in iron ore exports from countries such as Australia and Brazil had led to a surge in its prices. At the same time, the iron and steel industry has been witnessing strong growth in demand from China, India, Europe, and the United States. The reduction in global Covid-19 cases and strong vaccination drives have allowed economic activities to resume. However, the magnitude of this increase in demand is much greater than the supply.
In the Indian context, steel companies had just started ramping up their production capacities in the last few months. There had been a greater demand for steel from the real estate and infrastructure sectors. Due to the surge in Covid-19 cases and the devastating impact associated with it, steelmakers (including JSW Steel, Jindal Steel & Power) have now reduced production to ramp up their supply of medical oxygen to hospitals.
The Impact of Rising Steel Prices
The Indian automobile sector has been heavily impacted due to the surge in steel prices and other essential metals. The rise in input costs had affected their operating profits and revenues. We saw that companies such as Maruti Suzuki, Tata Motors, Mahindra & Mahindra, and others had raised the prices of their vehicles in January 2021. Major automakers had to introduce a further hike in rates on select models in April as well.
The real estate and infrastructure sectors will also be affected in the long term as steel and cement prices keep increasing at a rapid pace.
The rise in steel prices has also lead to an increase in inflation in India. This is on account of a considerable rise in inflation in the manufacturing sector. According to industry experts, steel prices are expected to remain at elevated levels in 2021 due to high demand. Major companies such as JSW Steel have stated that domestic steel prices are still much below the international rates. The rates are very likely to go up further in the coming months.
Stocks Benefiting from Rising Steel Rates
Over the past few months, we have been witnessing a significant rally in steel stocks due to the prospects of better margins. The shares of Steel Authority of India Ltd (SAIL), Tata Steel, and Jindal Steel & Power Ltd (JSPL) have surged by more than 65% so far since January 2021. JSW Steel has rallied by 85% during the same period. Tata Steel has crossed an important mark of Rs 1,000 and is rising further every day.
Indian steelmakers are likely to show significant growth in EBITDA in their upcoming financial results. The policy changes introduced by China were well received by investors last week. A further hike in steel products is expected in May, and thus, we could see a potential upside in these stocks.
However, with the prevailing Covid-19 situation in India, the steel industry is unsure whether it can ramp up production to meet the requirements of the automobile, construction, and other sectors. With most states in India imposing restrictions or lockdowns, production is most likely to be impacted. Let us look forward to seeing how the situation unfolds in the weeks to come.
Post your comment
No comments to display