What are The Best Ways to Generate Passive Income?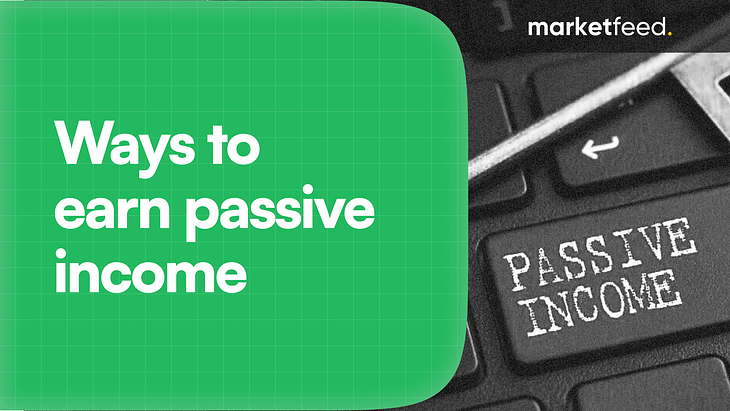 Passive income is what you earn when you don't actively work or put forth constant effort on a task/job. It includes regular earnings from a source other than your employer. Simply put, it is an income source that will make you money while you sleep. In this article, we will explore a few reliable ways to generate passive income, ranging from investing in real estate to creating digital products. So, let's dive in and explore some of the best ways to generate passive income:
1. Investing in Dividend-Paying Stocks
High-quality stocks that pay consistent dividends can be a source of passive income. When a company makes a profit, it may choose to distribute a portion of those profits to its shareholders in the form of dividends. As a shareholder, you will receive those dividends based on the number of shares you own. Some companies pay dividends quarterly, while others may pay them annually or semi-annually. More importantly, you can generate good passive income over the long term by investing in shares of top Indian companies.
Dividend yield mutual funds and dividend smallcases are a great way to invest in dividend-paying stocks!
2. Creating a YouTube channel
YouTube channels that meet the platform's eligibility criteria can monetize their videos through Google AdSense. Advertisements will be displayed before, during, or after the video, and you earn a percentage of the revenue those ads generate. Channels with huge viewerships can attract sponsors who'll pay considerable sums of money to promote their products or services. The amount of revenue you can earn from YouTube depends on various factors such as the number of views, engagement levels, type of content, etc.
3. Renting Out Properties
Renting out unoccupied properties or homes can help you generate passive income. You can either rent out properties privately or through platforms like Airbnb. The rental income depends on the type, location, size, and demand of the property. On Airbnb, you can rent out your whole property or just a few rooms. Maintaining the property periodically can generate maximum revenue.
4. Creating and Selling Online Courses
If you have good subject knowledge in any topic, you can plan a curriculum and record classes that can then be sold online on platforms like Udemy. You can add assignments, quizzes, and exercises to the course for a rich learning environment. The payout depends on the number of courses sold and learner engagement.
5. Starting a Blog
A blog is an informational website published on the internet, consisting of discrete, often informal diary-style text entries. Posts are typically displayed in reverse chronological order so that the most recent post appears first, at the top of the web page. You can run ads and affiliate links on your website that creates revenue. Sponsored posts are also another great way to generate income from blogs.
6. Affiliate Marketing
It is a performance-based marketing strategy that pays the affiliates for the visitors or customers brought by them to the business. Affiliate links are placed often on banners on the website or in the form of affiliate links. When a reader clicks on the affiliate link and purchases a product or service, the affiliate earns a commission from the business. The amount of commission varies depending on the agreement between them. Affiliate marketing can be done through various mediums such as websites, social media platforms, emails, podcasts, etc.
7. Selling on Amazon and Other Marketplaces
E-commerce platforms such as Amazon and Flipkart are great places to sell your products. You list your products on these platforms and sell them by paying a small commission to the e-commerce operator (Amazon, Flipkart, etc). This is highly economical compared to traditional commerce as the infrastructure needs are minimal.
8. Investing in REITS
A Real Estate Investment Trust or REIT allows you to invest in real estate companies and earn income. A REIT owns, operates, or finances income-generating real estate. These trusts take money from small and big investors and put it into real estate companies. A REIT can possess several properties like complexes, infrastructure, healthcare units, apartments, and more.
REITs can be a reliable source of passive income as they are legally required to pay out a minimum of 90% of their income to shareholders. Brokers such as Zerodha and Groww allow you to buy and sell REITs like shares.
9. P2P Lending
Peer to Peer or P2P lending is a form of lending directly between individuals without a bank. The banks charge a high-interest rate from borrowers and return a low-interest rate to depositors. The absence of banks results in a higher yield to depositors. Most P2P facilitators diversify the deposits and lend to multiple borrowers to mitigate default risk.
You could look into platforms like Lendbox, a Reserve Bank of India-certified P2P-lending NBFC. One can earn up to 11% returns per year with daily or monthly interest credits.
10. ATM Franchise
Like starting a Mcdonalds' or KFC franchise, you can start an SBI ATM franchise. The Reserve Bank of India (RBI) has allowed companies to set up ATMs on behalf of the bank through a franchise model with the mission to provide ATM facilities to all corners of India. Tata Indicash is the most popular of the four companies authorized to give franchises.
For the installation, you need at least an 80-sq.ft ground floor commercial space with a minimum of 100 footfalls a day. A refundable security deposit of ₹2 lakhs and an additional ₹3 lakhs of working capital should be maintained. The revenue generated depends on the transactions. A monthly revenue of ₹45,000 to ₹50,000 can be expected if there are 300 transactions per day. SBI pays ₹8 per cash transaction and ₹2 per noncash transaction. You can apply for the ATM franchise from the Indicash website.
11. Royalty from Books, Music, and Podcasts
Royalty refers to the payment by one party to another for the ongoing right to use an intellectual asset.
Authors can earn royalties from the sale of books that they write. It can either be based on the number of books sold or the number of books printed.
Artists can earn royalties by publishing music on various platforms like Apple Music and Spotify. The royalty will be based on the platform's average pay per stream.
You can stream podcasts on platforms such as YouTube and Spotify. Content with high engagement and popularity can attract sponsorships and paid advertisements, which can be an additional revenue stream. The number of listeners and engagement affects the pay scale.

We have mentioned a few methods by which you can generate passive income. You can earn an extra income without putting in continuous effort! However, it's crucial to approach such opportunities with caution and ensure that they are legitimate and trustworthy. Explore platforms that leverage your skills, expertise, or hobbies so that you can enjoy the process while earning!
Disclaimer: This article is only for educational purposes.
Post your comment
No comments to display