RBI Pauses Interest Rate Hike - Top Indian Market Updates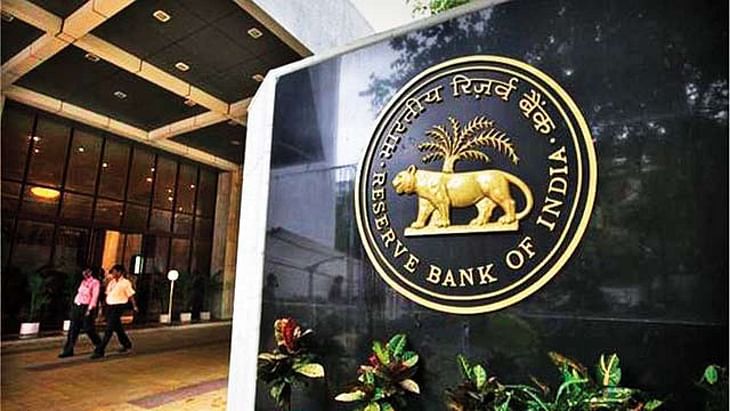 Here are some of the major updates that could move the markets tomorrow:
RBI keeps repo rate unchanged at 6.5%
The Reserve Bank of India (RBI) has kept the repo rate unchanged at 6.5%. The RBI's Monetary Policy Committee (MPC) unanimously decided to maintain the repo rate at its current level, with a majority of five out of six members focusing on "withdrawal of accommodation" to align inflation with the target while supporting growth. RBI expects GDP to grow 6.5% in the current financial year. Retail inflation is expected to moderate to 5.2% in FY24. The repo rate has been raised by 250 basis points (bps) in the last 11 months, starting from May 2022.
[The repo rate is the key lending rate through which the RBI lends money to commercial banks against government securities.]
Read more here.
SP Group looks to raise $1.75 billion against Tata stake
Shapoorji Pallonji (SP) Group is reportedly in talks with lenders to raise $1.75 billion by pledging half of its stake in Tata Sons. The funds raised would be used to repay part of SP Group's debt obligations and inject cash into its operating companies. The group has already pledged close to 9% of its 18.37% stake in Tata Sons. If the latest transaction goes through, its entire stake (valued at around Rs 94,000 crore) would be pledged to lenders, including foreign banks and overseas hedge and credit funds.
Read more here.
HPCL may soon launch ethanol cooking stoves
Hindustan Petroleum Corporation (HPCL), in collaboration with the Indian Institute of Technology (IIT) Guwahati, has developed a cooking stove that runs on bio-ethanol, a green fuel produced by the fermentation of sugar or food grains. HPCL is planning a pilot launch of the ethanol-fueled stove soon and the introduction of ethanol ATMs where users can procure ethanol in canisters for the stove. These ATMs may be positioned at HPCL's retail outlets, as per industry executives familiar with the development.
Read more here.
Tata Steel saw record operational performance in FY23
Tata Steel achieved a record operational performance in the last financial year, producing 19.87 million tonnes (MT) of steel compared to 19.06 MT in the previous year. Sales also increased to 18.87 MT from 18.27 MT. Despite facing challenges, the company's CEO & MD, T V Narendran, attributed the success to a strong marketing network and agile business model. In the January-March period, Tata Steel India's production rose to 5.15 million tonnes from 4.90 million tonnes in the same period the previous year.
Read more here.
General insurance industry premium grows 16% in FY23
The general insurance industry in India grew at a healthy pace of 16% in FY23, with total premiums reaching Rs 2,56,920 crore. The standalone health insurance sector also showed robust growth with premium growth of 26% to reach Rs 26,242 crore. ICICI Lombard's premium grew by 17% for FY23, while New India Assurance's growth was 6% due to sluggish performance in the first half of the year. Star Health Insurance reported premium growth of 11% in March and 13% for the year.
Read more here
Promoter group companies fully repaid loan against shares: Jindal Steel & Power
Jindal Steel and Power Ltd's (JSPL) promoter group companies have fully repaid all outstanding loans against shares of the company. The promoter group companies, namely OPJ Trading Pvt Ltd, Opelina Sustainable Services Pvt Ltd, and Gagan Infraenergy Ltd, have paid off the loan liabilities, resulting in the loan against share (LAS) for the Naveen Jindal group now standing at Nil. This repayment is part of JSPL's deleveraging strategy.
Read more here.
Rail Vikas Nigam Ltd emerges as lowest bidder for Mumbai Metro project worth Rs 380 crore
Rail Vikas Nigam Limited (RVNL) has emerged as the lowest bidder (L1) for a Mumbai Metro project worth Rs 378.2 crore. RVNL has been selected for the design, manufacture, supply, installation, testing, and commissioning of various systems including substations, cabling, and overhead catenary system for Mumbai Metro line 2B of MMRDA (Mumbai Metropolitan Region Development Authority).
Read more here.
Mazagon Dock Shipbuilders' turnover jumps 32% in 2022-23
Mazagon Dock Shipbuilders has reported a 32% increase in revenue from operations in the financial year 2022-23, reaching Rs 7,547 crore. It is one of the few shipyards in India capable of building Destroyers and Conventional Submarines. The company's primary customers are the Indian Navy and the Indian Coast Guard, and it has delivered several major warships in the past.
Read more here.
Religare Enterprises to acquire MyInsuranceClub to expand offerings
Religare Enterprises Limited (REL) has signed a Share Purchase Agreement to acquire MyInsuranceClub (MIC), an insurance web aggregator, from iGear Holdings Private Ltd. This acquisition is part of REL's strategy to democratize the insurance business in India and expand its offerings in the insurance distribution space. MyInsuranceClub is the first IRDAI-approved web insurance distribution and comparison platform.
Read more here.
Post your comment
No comments to display