RBI Monetary Policy Committee Meeting: Major Highlights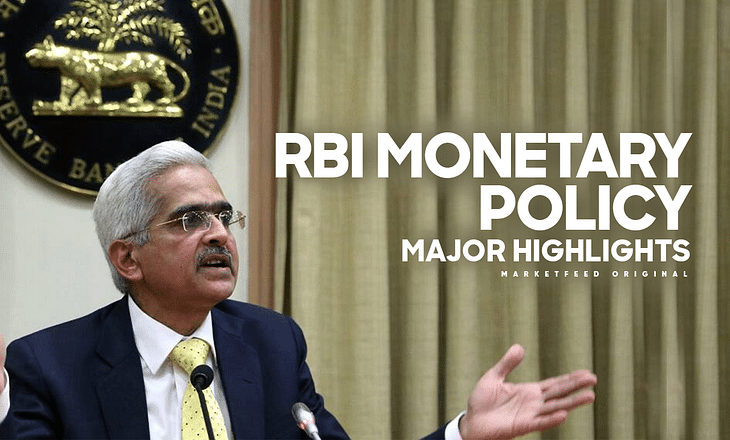 The Reserve Bank of India's six-member Monetary Policy Committee (MPC) held its first meeting of the new financial year (FY23). Here are the key takeaways from RBI Governor Shaktikantha Das' conference held today:
The MPC has decided to keep the repo rate unchanged at 4% for the eleventh consecutive time. Repo rate is the interest rate at which a central bank (like RBI) lends money to all the other banks in the country.
The committee has also decided to keep the reverse repo rate unchanged at 3.35%. Reverse repo rate is the interest rate at which commercial banks lend money to the central bank.
The RBI Governor said the MPC had voted unanimously to maintain the accommodative stance. It means the central bank is prepared to inject more money into the economy to boost growth.
The RBI will focus on withdrawal of the accommodative stance to ensure that inflation remains within the target of 2-6%. It aims to withdraw excess liquidity over a multi-year period.
The RBI has restored the Liquidity Adjustment Facility (LAF) corridor with standing facilities— one to absorb liquidity and the other to inject liquidity. The Standing Deposit Facility (SDF) rate will be 3.75% to reduce/absorb excess liquidity. The Marginal Standing Facility (MSF) rate stands at 4.25% to pump more money into the economy.
Meanwhile, the RBI has cut India's real gross domestic product (GDP) growth projection to 7.2% for FY23. It had earlier projected GDP growth at 7.8%.
The consumer price inflation (CPI) for FY23 is projected at 5.7% (from the earlier projection of 4.5%). The break-up of projected inflation is as follows:
The effect of Russia's invasion of Ukraine has added to the rise in inflation. It has also caused a downside pressure on economic growth. However, Domestic economic activity continues to show recovery even as contact-intensive services remain below pre-pandemic levels. Investment activities may gain traction with improved business confidence, credit growth, and favorable financing conditions. The economy is supported comfortably by large foreign exchange (forex) reserves.
Post your comment
No comments to display