RBI Keeps Repo Rate Unchanged at 6.5% - Top Indian Market Updates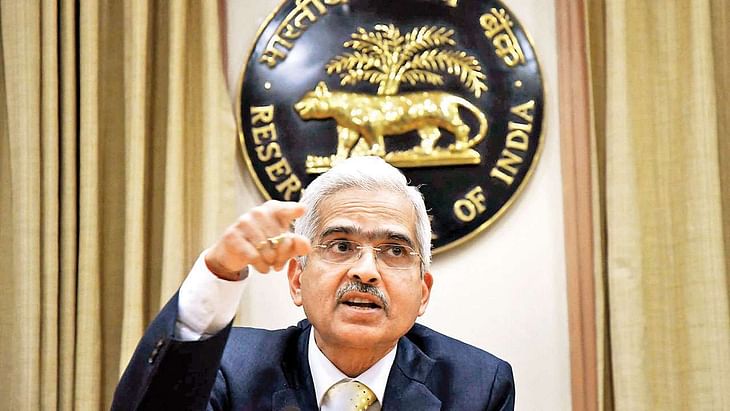 Here are some of the major updates that could move the markets tomorrow:
RBI keeps repo rate unchanged at 6.5%
The Reserve Bank of India (RBI) has decided to keep the repo rate unchanged at 6.50%. The decision was made by RBI's Monetary Policy Committee (MPC) unanimously, with a majority vote on withdrawing accommodation to tackle inflation and prioritise growth. The RBI has maintained India's GDP growth estimate for the financial year 2023-24 at 6.5%.
Read more here.
Mahindra forays into dual-fuel small commercial vehicle segment with Supro CNG Duo
Mahindra & Mahindra has ventured into the dual-fuel segment for small commercial vehicles by introducing the Supro CNG Duo, priced at Rs 6.32 lakh. This model can operate on both CNG and petrol, providing flexibility. With a payload capacity of 750 kg and a CNG tank capacity of 75 litres, it offers a range of 325 km. Additionally, it includes a five-litre petrol tank to address concerns about range anxiety.
Read more here.
SpiceJet partners with FTAI Aviation to restore fleet
SpiceJet announced a lease agreement with FTAI Aviation to obtain up to 20 engines. The company plans to reactivate some of its grounded aircraft within 2-3 months. This partnership aims to reduce maintenance costs, minimize aircraft downtime, and improve the airline's overall performance. SpiceJet had previously initiated the revival of 25 grounded planes using its own funds and a $50 million credit line from an Indian government scheme.
Read more here.
Dilip Buildcon secures order worth Rs 780 crore from NHAI in Andhra Pradesh
Dilip Buildcon Ltd has announced that its subsidiary has signed a concession agreement with the NHAI for a Rs 780.12 crore road project. The project involves constructing a six-lane access-controlled greenfield highway in Andhra Pradesh as part of the Bharatmala Pariyojana Phase-I. It will be completed within 24 months from the appointed date and have a 15-year operation period from the commercial operation date (COD).
Read more here.
L&T Finance Holdings recommends final dividend of Rs 2 per share for FY23
L&T Finance Holdings Ltd announced that its board of directors has proposed a final dividend of Rs 2 per equity share for the fiscal year 2022-23. If approved at the Annual General Meeting, the dividend will be disbursed within 30 days from the AGM. The company's consolidated net income for the March 2023 quarter increased by 46% YoY to Rs 501 crore.
Read more here.
Titagarh Rail's board to consider raising funds
Titagarh Rail (previously Titagarh Wagons) has announced that it will convene a board meeting on June 10 to discuss raising funds. The company is considering various options, such as issuing equity shares, securities, or a combination of methods, including preferential issue, Qualified Institutional Placement (QIP), and rights issue. The purpose of the meeting is to deliberate and decide on the best approach for raising the necessary capital.
Read more here.
Zydus receives final approval from USFDA for esomeprazole magnesium
Zydus Lifesciences Ltd has obtained final approval from the US Food & Drug Administration (USFDA) for esomeprazole magnesium. It is an oral suspension used to treat stomach and oesophagus issues. The medication aids in healing acid damage, prevents ulcers, and may reduce the risk of esophageal cancer. Zydus Lifesciences will manufacture the product at its formulation manufacturing facility in Moraiya, Ahmedabad.
Read more here.
Tanla Platforms to acquire ValueFirst for Rs 346 crore from Twilio
Tanla Platforms has announced its acquisition of ValueFirst from Twilio in a Rs 346 crore ($42 million) all-cash deal. The company has signed a definitive share purchase agreement, with the acquisition set to close in July 2023. Additionally, Tanla has signed a binding term sheet to acquire ValueFirst Middle East FZC for Rs 20 crore, aiming to enhance its global presence. This acquisition is projected to be completed by September 2023, pending closing conditions.
Read more here.
Aether Industries signs LoI with US-based global oilfield services company
Aether Industries has signed a Letter of Intent (LoI) with a US-based global oilfield services company, establishing them as a strategic supplier and contract manufacturing partner. The LoI sets the stage for the execution of a Strategic Supply Agreement (SSA) within three months, as stated in Aether Industries' regulatory filing. Under this agreement, Aether will be responsible for manufacturing four specific products for the new customer, with a combined monthly volume of 1,325 metric tons.
Read more here.
GAIL completes insolvency resolution process of JBF Petrochemicals in 15 months
GAIL (India) Ltd has completed the corporate insolvency resolution process (CIRP) for JBF Petrochemicals Ltd (JBFPL) within a remarkable 15 months. The payment has been released to all stakeholders of JBFPL, marking one of the fastest transaction closures in the post-COVID period for the National Company Law Tribunal (NCLT). GAIL has already invested Rs 2,101 crore in the resolution plan and now holds a 100% stake in JBFPL.
Read more here.
Tata Power Renewable Energy arm bags contract to set up 966 MW renewable project for Tata Steel
Tata Power Renewable Energy, via its subsidiary TP Vardhaman Surya Ltd, has secured a contract to establish a 966 MW round-the-clock hybrid renewable power project for Tata Steel. The project consists of a combination of 379 MW solar and 587 MW wind power capacities. Tata Steel aims to meet a significant portion of its green energy requirements through this project. This leads to a reduction of 23.9 lakh tonnes of CO2 emissions annually.
Read more here.
Post your comment
No comments to display