Ratan Tata - The 'Accidental' Startup Investor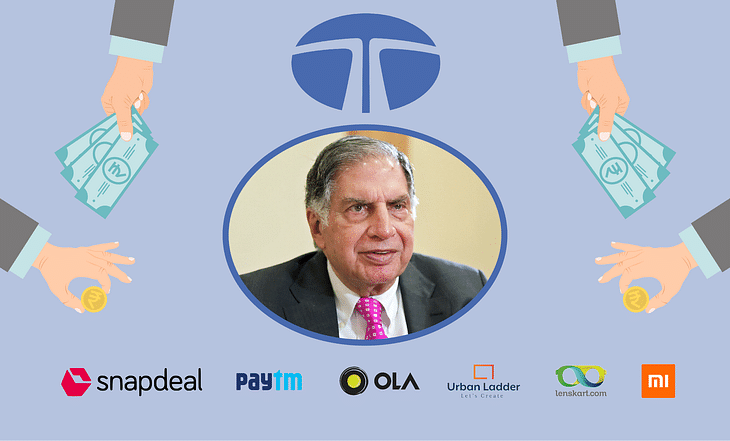 One of India's most influential and successful industrialists that we respect and look up to is Ratan Tata. The stories behind his vision for the Tata Group is truly inspiring. His passion for addressing the concerns of all types of sectors is exactly what made the Tata Group so successful. Even after stepping down as the Chairman of the Group in 2012, he continues to amaze us with his intuition for doing business. Ratan Tata has turned into an angel investor for more than a dozen startups. Many people state that he has a 'Midas Touch'. This means that any firm he invests in turns out to be very successful in their respective fields. Let us take a look at some of the prominent startups that Ratan Naval Tata has invested in.
Snapdeal
The first e-commerce company that Ratan Tata invested in was Snapdeal. In 2014, he made a personal investment in the company. Once he resigned from the chairman post at Tata Group, he saw a huge potential in the virtual or e-commerce world. He wanted to become a part of India's digital revolution and Snapdeal was the entry point for him. During that period, he became the most high-profile individual investor in India's highly competitive e-commerce industry.
With investors such as Tata backing them, Snapdeal was able to raise enough funds to undergo a major rebranding process in 2016. The company was able to attract more customers to its website and mobile application through special offers. Tata's investment in the company not only helped it from losing its market share but also prevented Flipkart's potential attempt to become a monopoly in the e-commerce segment (after the acquisition of Myntra).
UrbanLadder
The Bengaluru-based online furniture website, UrbanLadder, was launched in 2012. Two years later, they received a major investment from Ratan Tata. This was the second e-commerce venture that he invested in, after Snapdeal. An investment from a business legend such as Ratan Tata gave the company a major boost. The founders of the furniture retail firm stated that Tata, who has a degree in architecture, loved the designs of their products.
UrbanLadder currently has 3 stores in Bengaluru and distributes its products across 75 cities in India through its website. On November 15, Reliance Retail acquired a 96% stake in the company from its existing investors such as Ratan Tata. However, Reliance was able to buy out UrbanLadder for just Rs 182 crore, which is nearly 1/6th of what it was worth in 2019.
CarDekho
In 2015, Ratan Tata invested an undisclosed amount in Jaipur-based Girnar Software and acquired shares of the company. GirnarSoft is the parent company of CarDekho.com, BikeDekho.com, and PriceDekho.com. Out of these 3, Cardekho is the most popular one. It is one of India's leading car search ventures that helps users buy cars. The company has tie-ups with many auto manufacturers, more than 4000 car dealers, and numerous financial institutions to facilitate the purchase of vehicles.
It has been reported that Tata's entry into CarDekho has helped it to scale up geographically. In 2019, the company also launched InsuranceDekho, which was its entry into the motor and health insurance sector. The interest shown by Ratan Tata has allowed the company to raise funds very easily for its expansion plans.
PayTM
Since its launch in 2010, PayTM has had a huge user base. This was due to its features such as multiple payment options. It was a major platform that helped in India's shift towards digital payments. One97 Communications, the parent company of Paytm, had received support from major investors such as Alibaba in 2015. During the same year, Ratan Tata understood the potential of the company and picked up a stake in One97. This was Ratan Tata's 5th investment in an e-commerce platform. He even worked as an advisor for the firm.
After 10 years of Paytm's launch, it has become one of the most widely used applications by Indians. It is also the country's first payment bank. They have introduced a large number of features such as Paytm Mall, and even has a platform for trading in stocks. Paytm has become a one-stop destination for all payment and shopping needs.
Lenskart
Lenskart, the online retailer that sells eyewear, was able to secure funding from Ratan Tata in 2016. He was inducted as an advisor and mentor for the company. As we know, Lenskart sells sunglasses, eyeglasses, contact lenses, and eyewear accessories. This company was able to improve upon its sales from both online and offline modes. From various sources of funding, the company was able to launch stores in almost all cities in India. They also introduced advanced technology and special offers on its website and mobile application. Thus, they have been able to attract more customers over the years.
Cure.fit
Cure.fit is a health and wellness startup that was launched by the co-founder of Myntra, Mukesh Bansal. Ratan Tata was one of the initial investors of the firm. In 2017, after a year of its launch, the company was able to raise a total of Rs 19.2 crore from Ratan Tata's UC-RNT Fund and many others. The UC-RNT Fund is a partnership between the University of California and RNT (Ratan Naval Tata) Associates.
Cure.fit has a chain of fitness centers (under the 'Cult.fit' brand), a food delivery platform called 'Eat.fit', a chain of healthcare clinics called 'Care.fit', and an online mental wellness platform called 'Mind.fit'.
Tork Motors
As we know, electric modes of transport will become the future of commuting in India. This is exactly what Ratan Tata strongly believes as well. In 2019, he chose to invest in Mumbai-based Tork Motors. The e-bike startup had initially raised funds from Bharat Forge and Bhavish Aggarwal (the co-founder of Ola Cabs). Tata analysed the research and development (R&D) activities of the company and was impressed by the work conducted by the team. After Tata invested in Tork Motors, it has received a lot of interest from other investors and bike enthusiasts.
Tork Motors is gearing up to launch its flagship motorcycle, the T6X soon. It reportedly has a top speed of 100 km/h, and a range of 100 km on a single charge. The company has the potential to become one of the best electric vehicle (EV) manufacturers in our country.
Ola Electric
Ratan Tata was one of the first investors in Ola Cabs' parent company, ANI Technologies Pvt Ltd. However, in 2019, he invested an undisclosed amount in Ola Electric Mobility Pvt Ltd. As mentioned above, he believes in the growth and evolution of the electric vehicle ecosystem in India. The CEO of Ola had stated that Ratan Tata has been an inspiration and a mentor for him in shaping Ola's journey over the years.
Ola Electric has announced that they will roll out 10 lakh electric vehicles in India by 2021.
What We Can Learn from Ratan Tata
Ratan Tata, in an interview in 2019, said that he became an investor in these new-age startups "by accident". Whether it was an accident or not, he has helped in providing a major boost to every company he has invested in. We can now see that many of the startups mentioned above have become very profitable over the years.
His ability to analyse and select these highly interesting companies, since its very inception, is indeed commendable. He invests in those products or services that drives or excites him. He has also invested in popular discount-broker Upstox, which recently hit 2 million users. Tata always looks into how passionate a company's founders are. He makes it a point to draw conclusions from their attitude and their seriousness towards their company. Moreover, he believes in his own business intuition. 
Despite what background we come from, Ratan Tata has an important lesson for all of us: While making any sort of investment, do remember that each point will be a learning experience. Even while selecting stocks to invest in, make sure that the company and its products excite you. Learn to build trust on your own analysis and become better stock market participants. Thus, your journey towards obtaining financial freedom will become a strong and exciting one.
Post your comment
No comments to display