Rakesh Jhunjhunwala: The Big Bull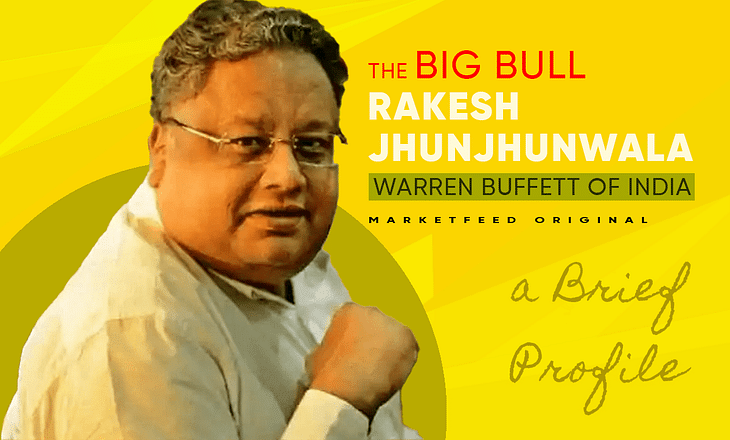 The "Warren Buffett of India", "King of Bull Market", and the "Investor with a Midas touch". These are all used to describe one of the most successful investors in our country today— Rakesh Jhunjhunwala. From a humble beginning in Mumbai to becoming a self-made billionaire through investments and trading, he has inspired many to start a career in the stock markets. Most of us follow his recommendations and advice religiously. In this article, learn more about Rakesh Jhunjhunwala and his investment strategies.
Rakesh Jhunjhunwala - A Brief Profile
Rakesh Jhunjhunwala (RJ) was born in 1960 into a middle-class family in Mumbai. Ever since he was a teenager, RJ used to constantly hear his father discussing the stock market with his friends. He became curious about the world of stocks and how people made money from them. Soon after his schooling, RJ expressed his wish to pursue a career in the stock market. However, his father suggested he get a graduate degree and secure his career. Thus, in 1985, Rakesh Jhunjhunwala graduated as a Chartered Accountant. He was still passionate about the stock markets and wanted to try his luck.
At the age of 25, he entered Dalal Street with an investment of just Rs 5,000. At that time, Sensex was at 150 points! He was not permitted to ask for initial capital from his father or any of his friends and relatives. Nevertheless, RJ was able to generate sufficient returns from the small capital and build confidence. Around the same time, he approached some of his close friends to raise funds with the promise of generating higher returns compared to fixed deposits.
In 1986, RJ got his first "big" profit. He was able to catch a good momentum in Tata Tea. He bought 5,000 shares of the company at Rs 43 per share. Within just three months, the stock surged to Rs 143, giving him a profit of Rs 5 lakh. Over the next few years, he was able to make good profits on multiple stocks. He was able to earn Rs 20-25 lakh between 1986 and 1989 by investing in Tata Power at a time when the market had gone into a depression.
Major Stocks in His Portfolio
Over his 36-year career in the stock market, Rakesh Jhunjhunwala has invested in several multi-bagger stocks. Interestingly, he bought Titan Company Ltd at an average price of just Rs 3 in 2002-'03. It is currently trading at Rs Rs 2,435! As per the latest corporate shareholding reports, Rakesh Jhunjhunwala and Associates publicly hold 39 stocks with a net worth of over Rs 24,237.8 crore. 
According to Forbes, Rakesh Jhunjhunwala's net worth stands at $5.9 billion (~Rs 44,340 crore). He is the 48th richest person in India as per Forbes' Rich List. RJ is also on the Board of Directors of large companies such as Viceroy Hotels, Geojit Financial Services, Praj Industries, and Concord Biotech. His privately owned stock trading firm, Rare Enterprises, derives its name from the first two initials of his name and his wife Rekha's name. Rakesh Jhunjhunwala is also well-known for his love for Bollywood films and has even produced multiple movies.
Earlier this year, the ace investor announced plans to launch his own airline— Akasa Air. He will invest $35 million (~Rs 260 crore) and hold a 40% stake in the company. Akasa Air aims to be India's most dependable, affordable, and greenest airline. You can read more about it here.
Important Lessons from His Life & Career
Rakesh Jhunjhunwala is highly bullish on India's growing economy and its success as an emerging market. In fact, he credits his entire success in wealth creation to his strong belief in our country's growth potential. In a recent interview, he said India is in a long bull market, and retail investors should invest at home and not in the US markets for better returns. Currently, he is bullish on the Indian metal, banking, and pharma sectors.
RJ often advises investors not to go for stock recommendations in the newspapers and media. People buy shares of a company when it becomes popular and often end up in losses. Instead, one must study the fundamentals of different businesses and take responsibility for their own actions. More importantly, always make a deliberate effort to learn from the mistakes you make in the stock market. Never worry about short-term corrections as they are natural. Never let emotions be your enemy. Simply buy in dips and wait patiently! Seek investments for longer time horizons, and let your investment mature.
We would advise our readers not to jump into buying a particular stock just because Rakesh Jhunjhunwala has added it to his portfolio. Instead, we can analyse the logic and reasoning behind why he chose that company and find its true potential. This will help us become intelligent stock market participants.
"Whatever you can do or dream you can, begin it. Boldness has genius, power, and magic in it." - Rakesh Jhunjhunwala.
Post your comment
No comments to display