Rakesh Jhunjhunwala-backed Nazara Technologies Comes Up With IPO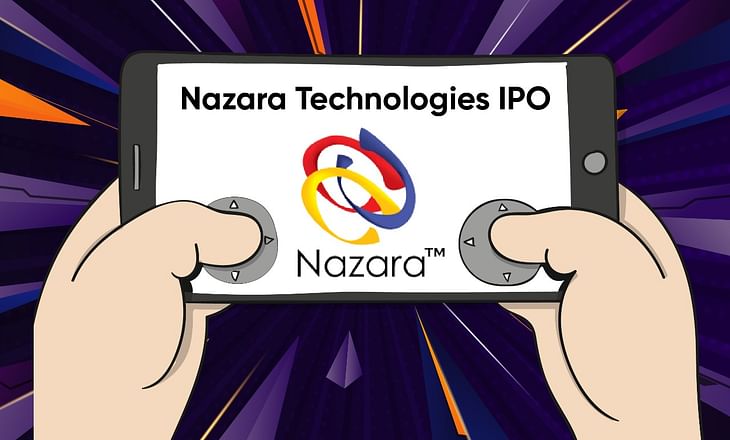 Nazara Technologies, a Mumbai-based gaming, and e-sports company has come up with its IPO starting 17th March 2020. Nazara's products comprise Subscription, Freemium, eSports, Skill-Based Games. It has expanded its operations in Africa, North America, and the Middle East as well.
The company is backed by High Net Investors like IIFL, Rakesh Jhunjhunwala, Westbridge Capital, and a few more. The company doesn't have any 'listed' competitors and will be the first of its kind to debut in the Indian Stock Market. In this piece, we explore what Nazara Technologies' role is in the IPO Bull run.
IPO Review
| | |
| --- | --- |
| IPO Opening Date | Mar 17, 2021 |
| IPO Closing Date | Mar 19, 2021 |
| Issue Type | Book Built Issue IPO |
| Face Value | Rs 4 per equity share |
| IPO Price | Rs 1100 to Rs 1101 per equity share |
| Min Order Quantity | 13 Shares |
| Listing At | BSE, NSE |
| Issue Size | 5,294,392 Eq Shares / upto Rs 582.91 crore |
| Offer for Sale | 5,294,392 Eq Shares / upto Rs 582.91 crore |
Business Model
The Indian gaming industry works differently from abroad. PC gaming was fairly successful in India, yet there was a low-penetration of high-end 'personal computers' due to the high costs involved. Subsequently, 'box gaming systems like the PlayStation and Xbox didn't have much success. India directly transitioned to mobile gaming. Mobile phones were inexpensive, the internet was cheap, and had a good penetration rate. PUBG mobile is a perfect example of how these factors were monetized.
Since the company operates in the virtual space, it has an asset-light business model. It has tie-ups with various telecom operators, including but not limited to Airtel, Vodafone, and Idea in India and Etisalat and Ooredo in the Middle East for gaining subscription-based users. Apart from this, the company has tied-up with over 113 telecom operators in 61 countries. It offers a catalog of over 1,000 android games on its subscription service through different content aggregators across the globe.
The company essentially deals in the online gaming space and e-sports. The company generates cash flows from the following elements:

Freemium – Game can be downloaded for free but the user may have to watch ads or pay for full access
Gamified Early Learning- approaching early level education by using video
game design and game elements in learning environments.
Esports – Competitive online multiplayer gaming.
Subscription –One-time payment of a monthly or annual fee to gain unlimited access for the duration
Apart from this, the company gains cash flows from advertisements and paid/premium use games.
The company has newly entered the 'gamified early learning' segment. The segment targets kids between ages 2-6 years of age. The subscription for this segment increased during the COVID-19 pandemic. This was since remote accessibility of educational content became a necessity during the pandemic. From contributing 7% to total revenue in March 2020, this segment now contributes ~39%, the highest of all segments.
The company also works on competitive online multiplayer gaming or esports. The company's subsidiary Nodwin Gaming specializes in it. Nodwin Gaming partners with other brands to create multiple gaming events and intellectual properties in India, such as Mountain Dew Arena, Indian Gaming Show, and Asus ROG Masters. It has partnered with ESL, the biggest esports organizer in the world. It handles gamers, events, broadcasting, prizes, and other aspects of the segment.
The company faces competition from companies like Sony Interactive Entertainment, Reliance Jio, Tencent, and Microsoft Game Studios to emerging gaming start-ups such as Dream11, Mobile Premier League (MPL), Games 24x7
Financials
| | | | | |
| --- | --- | --- | --- | --- |
| . | 30-Sep-20 | 31-Mar-20 | 31-Mar-19 | 31-Mar-18 |
| Total Assets | 7,986.55 | 7,768.29 | 5,145.83 | 4,707.59 |
| Total Revenue | 2,070.06 | 2,621.46 | 1,860.98 | 1,819.40 |
| Profit After Tax | (101.07) | (266.15) | 67.13 | 10.23 |
The company was profitable in the past. However, in the past year, the company has made many acquisitions in the gaming industry in order to expand its domain in the field. In FY20, the company acquired Paper Boat Apps Pvt Ltd, AbsoluteSports Pvt Ltd, CrimzonCode Technologies Pvt Ltd, Halaplay Technologies Pvt Ltd. These acquisitions have eaten into the profit books.
The company's assets and revenue have grown constantly. Its revenue has grown ~69.8% in the past 2 years.
Nazara has borrowings worth Rs 1.64 crore. The company operates on a low level of debt.
India and North America businesses contribute an equal proportion of ~41% each to the revenue stream. The remaining 18% is contributed by Asia Pacific and Middle East countries.
After the COVID-19 pandemic, the consumption of online content increased. Nazara did eventually benefit from it. It is going to be the first listed company in the online gaming segment. It has a grey market premium of 77% as of 16th March, 2020. The company was in profits 3 years ago, but has been recording constant losses for the past 2 years because of its high number of acquisitions.
Krafton, the company behind PUBG Mobile has acquired 15% stake in Nodwin Gaming, a subsidiary of Nazara. There might be a possibility of Nodwin Gaming playing a part in PUBG Mobile's operations after its relaunch in India. The company's long term prospects on profitability and operations are a little tricky, but the company can definitely make a good one for listing gains.
You can check out the Red Herring Prospectus for fine details on Nazara Technologies IPO over here.
Post your comment
No comments to display