Railway Stocks that you Should Know: An Analysis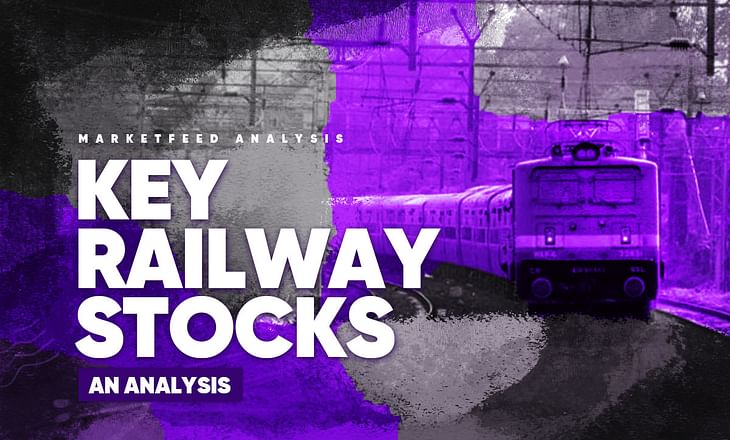 As Amazon founder Jeff Bezos said, "21st century is going to be the Indian century". Our country is striving towards becoming a global hub for the manufacturing and services sectors. With the help of various government initiatives, the Indian manufacturing sector could grow into a $ 1 trillion market by 2025. To achieve this goal, raw materials and finished goods need to be transported extensively across India. This is where the world's 4th largest railway network comes in— the Indian Railways.
In this editorial, we shall analyse the key stocks that may benefit from the advancement of the Indian railway ecosystem.
IRFC
Indian Railway Finance Corporation (IRFC) is the financing arm of the Indian Railways (IR). The company raises capital by issuing bonds to banks and financial institutions. The Indian Railways approaches IRFC whenever it requires capital for new or existing projects. In the financial year 2021, the lender has provided 67% of the total capital outlay of IR.
The key metric used to track IRFC's performance is Net Interest Income (NII). It is the difference between the interest received from borrowings and the interest paid to depositors. The lender reported a 43% YoY growth in NII from Rs 2,747 crore in FY20 to Rs 3,943 crore in FY21. Interestingly, IRFC has no bad loans or Non-Performing Assets (NPAs) in its books. The company is essentially lending to the government, which means that default risks are minimal.
The lender reported a 17% increase in total revenue to Rs 15,770 crore in FY21, compared to Rs 13,421 crore in FY20. Net profit increased 38% year-on-year (YoY) to Rs 4,416 crore in FY21. IRFC's revenue has grown at a Compounded Annual Growth Rate (CAGR) of 11.7% over the past five years. Profit has grown at a 5-year CAGR of 36.4%, which defines the efficiency of the lender. The company's Assets Under Management (AUM) stands at Rs 3,66,155 crore. It has grown at a 5-year CAGR of 18%.
IRFC's return on equity (ROE) can be considered decent compared to similar financial institutions.
IRCON & RVNL
Indian Railway Construction Company Limited (IRCON) and Rail Vikas Nigam Limited (RVNL) are the two infrastructure wings of the Indian Railways. They undertake projects such as the construction of new rail lines, gauge conversion, railway electrification, major bridges, etc.
IRCON was incorporated in 1976 by the Central government. Other than railway projects, the company also undertakes general infra projects like highway construction, flyovers, signalling, and telecom. IRCON has an order book worth Rs 34,312 crore, out of which Rs 32,605 crore (~95%) are of railway projects. The company also has exposure in 21 countries, which covers 4.5% of its total order book.
IRCON's profit after tax (PAT) margin has been declining and was recorded at 7.1% in FY21. The company's revenue has been increasing over the years, but profits have not grown at the same pace.
Meanwhile, RVNL is relatively a new company. To overcome the lag in infrastructure progress in the railway sector, the government incorporated RVNL in 2002 (as part of the National Rail Vikas Yojana). The company undertakes operations and maintenance services of different rail projects.
We can see that RVNL's revenue has consistently increased over the years. It has posted a 5-year CAGR of 20.3%. PAT has underperformed the growth rate of revenue, resulting in a CAGR of 15.7% over the past 5 years. RVNL's PAT margin declined to 5.8% in FY21, compared to 7.3% in FY17.
Both IRCON and RVNL have registered a decline in profit margins over the past few years, meaning that the railway infrastructure is a low-margin business. However, these companies can benefit from the government's target of 100% electrification of broad gauges by the end of 2023.
RailTel Corporation
RailTel Corporation of India is a telecom infrastructure provider that has an optic fibre network along railway tracks, covering 67,415 km across 7,321 stations. The company is well-diversified in its business operations.
National Long Distance (NLD) is the license for a telecom player to communicate over a long-distance network. The competitors in this segment are BSNL, Bharti Airtel, Reliance Jio, and Vodafone Idea (Vi).
Internet Service Provider (ISP)- RailTel offers internet and broadband services to banks, educational institutions, and government departments. Railnet is a special intranet connecting every zonal, divisional, sub-divisional office with the headquarters.
Infrastructure Providers Category-1 (IP-1) is the authorization given by the Department of Telecommunication through which the company can monetise its towers, bandwidth, and optic-fibre systems.
RailTel is also planning to leverage its expertise in communication networks to foray into new spaces. The company aims to digitalise 125 railway hospitals and 650 health units of the Indian Railways to create a Hospital Management Information System. It is also working on web-based administration systems for government departments and educational institutions.
Coming to RailTel's financial performance, the firm reported a 20% YoY growth in total revenue to Rs 1,411 crore in FY21. PAT margin of the company has declined from 14% in FY17 to 10% in FY21.
IRCTC
Indian Railway Catering And Tourism Corporation Ltd (IRCTC) is the services wing of the Indian Railways. The company has direct business operations with end customers (B2C). Let us look at its business verticals:
The Covid-19 pandemic has severely impacted the company's operations. While analysing the revenue split-up in FY20 (pre-Covid period), the catering segment contributed the largest share of the revenue. However, the vertical contributes only 16% to the Earnings Before Interest & Tax (EBIT). The internet ticketing vertical of the player has contributed 74% to EBIT.
IRCTC's Internet Ticketing service has the highest profit margin. From 69% in FY19, it has increased to 78% in FY21. It means that for every Rs 100 the company earns as revenue through this segment, they are able to keep Rs 78 as profit. This makes it one of the most profitable businesses in the industry.
Conclusion
Apart from the companies mentioned above, there are other firms that contribute to different wings of Indian Railways. BEML, Titagarh Wagons, and Texmaco are some of the engineering companies that help build coaches, locomotives, engines, etc. However, these are small-cap companies whose financial performances have been poor.
| | | | |
| --- | --- | --- | --- |
| Stock | Govt/Promoter Holding | Market cap | 1-year return |
| IRCTC | 67% | Largecap | 210% |
| RVNL | 78% | Midcap | 103.5% |
| IRCON | 73% | Smallcap | 19.95% |
| Railtel | 72% | Smallcap | 21.33% |
| IRFC | 86% | Midcap | 1.4% |
Rail stocks performance
Investing in stocks related to railways has a reliable advantage. These companies conduct normal businesses, but their audience is different from others. Catering to the railway sector makes them monopolistic.
Have you included rail stocks in your portfolio? Let us know through the comment section of the marketfeed mobile app.
Post your comment
No comments to display