RailTel IPO: Should You Invest?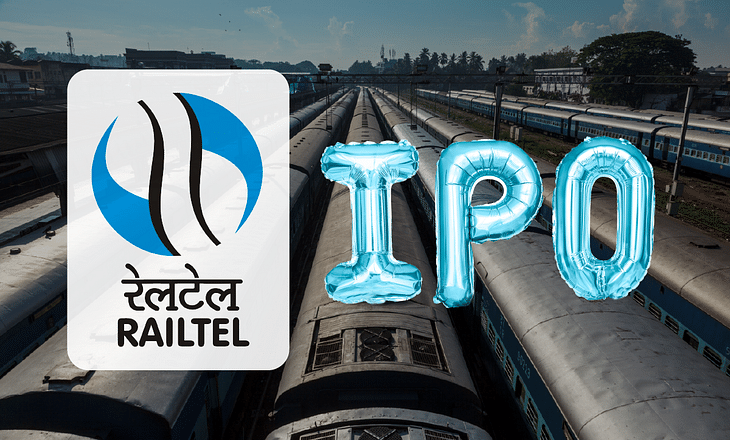 RailTel Corporation of India Limited has come up with an IPO. The issue opens on February 16, 2021, and closes on February 18, 2021. RailTel Corporation of India Limited is an Information and Communications Technology (ICT) company. You might have heard about RailTel broadband near your houses. It is a Mini Ratna (Category I) PSU, wholly owned by the Government of India and run by the Ministry of Railways. Let us find out more about the IPO.
The Business of RailTel
RailTel was incorporated on Sept. 26, 2000, in order to modernize the existing telecom infrastructure for train control, operation, and safety. It also aimed to generate additional revenue by creating a nationwide broadband and multimedia network by laying optical fiber cable by using the right of way(ROW) along the railway tracks. It intends to host telecom players at railway stations and assist them in disbursing 5G networks.
The company provides a number of services such as:
Telecom Network Services: National Long Distance to carry long-distance telecommunication services and includes various teleservices including voice, data, fax, text, video, and multimedia. Also, act as an internet service provider(ISP) and offer retail broadband services through the 'RailWire' platform.

Telecom Infrastructure Services: To provide storage, power, cooling, and physical security for servers and networking equipment of our customers and connect them with a variety of telecommunications and network service providers.

Projects (System Integration Services): National Knowledge Network and Bharat Net (formerly, the National Optical Fiber Network).

Data Center and Managed Hosting Services: Data Centre and Managed Hosting Services: It offers a variety of data center services including Infrastructure as a Service or IaaS, dedicated hosting, managed services, cloud computing, managed e-Office services, disaster recovery services, Aadhar authentication services, and other IT related services such as load balancing services, application hosting, bandwidth services, and advanced firewall services

ICT Hardware, Software, and Service System Integration Projects

To Provide Digital Services To Customers
Financial Position of RailTel
The company revenue has grown at ~7.5% CAGR for FY20. Earnings Before Interest, Tax, Depreciation, and Amortization(EBITDA) has grown at ~4.5% over 3 years. The company's net worth has grown ~3.6% over the past 3 years.
The company holds a net profit margin of 13% and close to zero-debt.
It has right of way along 67,145 route km of railway track connecting 7,321 railway stations for laying optical fiber cables. As of now, It has an optical cable network of 59,098 route km connecting 5,929 railway stations.
Risk and Rewards
The company will help set up internet and broadband services in rural areas. The Indian Railways' connectivity even in the remotest corners of the country will be an added advantage to its revenue source. At the same time, the company will not have to pay for fixed land assets as it will be using the railway track's right of way to lay cables.
It has helped the Indian Railways in implementing payroll system, ticketing system, freight operations information system and is currently involved in the execution of various other projects. RailTel is required to share 7 percent of its gross revenue with Indian Railways.
The company will also have an added advantage with the upcoming 5G infrastructure. Telecom companies might prefer using RailTel's infrastructure because of its efficiency and geographic reach.
It holds regulatory risks like changes in laws, license terms, and government policies that can potentially affect the business. The company needs to keep pace with growing technology, it can lose customers and subscriber base.
The company has a high dependence on PSU customers. For FY20, close to 25% of its income from Indian Railways. The Government prefers RailTel as a service provider in telecom and network-infra related services for other PSUs. If the PSUs were to have a change in investment plans, the company might take a dip in revenue. It needs to increase its private customer base.
The IPO in a Nutshell
| | |
| --- | --- |
| IPO Opening Date | Feb 16, 2021 |
| IPO Closing Date | Feb 18, 2021 |
| Issue Type | Book Building |
| Face Value | Rs 10 per equity share |
| IPO Price | Rs 93 to Rs 94 per equity share |
| Lot Size | 155 Shares |
| Min Order Quantity | 155 Shares/ Rs 14,570 |
| Listing At | BSE, NSE |
| Issue Size | 87,153,369 Eq Shares of ₹10(aggregating up to Rs 819.24 Cr) |
| Offer for Sale | 87,153,369 Eq Shares of RS 10(aggregating up to ₹819.24 Cr) |
The entire issue is Offer for Sale, that is, promoters getting money. No extra funds are being raised by RailTel from this IPO. Do not apply for more than 1 lot, as the issue will be oversubscribed anyway.
Will we Invest?
RailTel Corporation of India Limited has had a grey-market premium of 50%. It has seen more interest in the market than its competitor IRFC, which had a not-so-good IPO listing. It is the 6th railway company to go for an IPO. RailTel has shown a fairly good financial performance, but very innovative and strong growth potential. It had shown a good interest from retail investors.
The company needs to look out for private clients, currently, the company only serves major PSUs including the Indian Railways. This is reflecting in its slow but positive revenue growth. The consumer-facing side of the business has also been gaining a lot of buzz recently for the good service being provided, but it is still small. Hopefully, this is sustained in the long term.
Considering the strong financials, good valuation and market sentiments, the IPO can give a good return both for short term and long term and I will be investing.
Post your comment
No comments to display