PV Wholesales Rise 13.54% in May - Top Indian Market Updates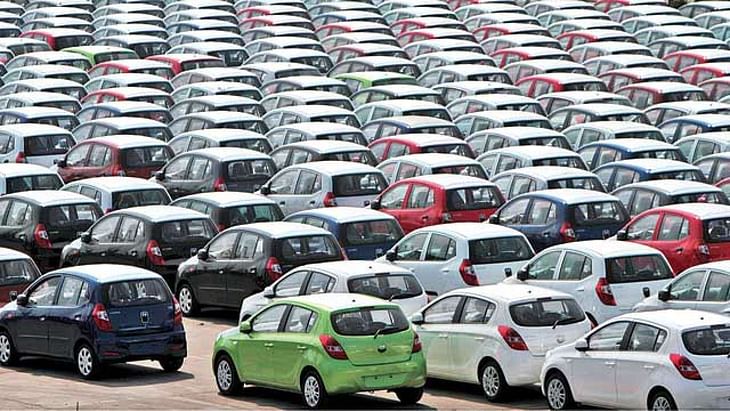 Here are some of the major updates that could move the markets tomorrow:
Passenger vehicle wholesales rise 13.54% in May at 3.3 lakh units
According to the Society of Indian Automobile Manufacturers (SIAM), wholesale domestic passenger vehicle (PV) sales in May increased by 13.54% YoY to 3,34,247 units, compared to 2,94,392 units in May FY22. Domestic two-wheeler sales rose 17.42% YoY to 14,71,550 units in May FY23. Overall, total vehicle dispatches across categories in May were recorded at 18,08,686 units, up from 15,32,861 units in May 2022.
Read more here.
MRF hits Rs 1 lakh per share
Tyre major MRF Ltd. saw its share price climb above the ₹1 lakh mark in intraday trading on the BSE and NSE today, making it the first Indian stock to trade above the six-figure mark. On the NSE, MRF touched an intraday peak of ₹1,00,439.95. As of Tuesday, the market capitalisation of MRF stood at ₹42,390 crore.
Read more here.
Adani Group's wind power project in Sri Lanka to be ready by Dec 2024
Adani Group is set to complete its renewable energy project in Sri Lanka, generating 500 MW in the north and eastern regions by December 2024. Energy Minister Kanchana Wijesekara discussed the project's progress with Adani Group's MD & CEO and project management team, focusing on challenges, roadmaps, and timelines. The Adani Group received approval in August last year to commence wind power projects in Pooneryn.
Read more here.
India set to start mega hydropower project near China border
India is all set to commence the Subansiri Lower hydropower project in July. NHPC Ltd will conduct trial runs, with the first unit expected to be commissioned in December. By the end of 2024, all eight units will be operational. This 2-gigawatt project is crucial for grid stability as solar and wind power generation increases. Despite facing environmental concerns and protests, the project will help India tap into its significant hydropower potential.
Read more here.
Granules India gets USFDA approval for hypertension drug
Granules India Ltd has received approval from the US Food & Drug Administration (USFDA) for its Metoprolol Succinate Extended-Release Tablets. These tablets are bioequivalent to Toprol-XL Tablets and are used for the treatment of hypertension to reduce blood pressure. According to IQVIA, the present annual market for Metoprolol Succinate ER Tablets in the US is around $321 million.
Read more here.
L&T secures orders for hydrocarbon business
Larsen & Toubro's subsidiary L&T Energy Hydrocarbon (LTEH) has secured contracts worth Rs 1,000-2,500 crore. The contracts involve engineering, procurement, construction, and installation of new offshore structures. LTEH focuses on executing offshore projects domestically and internationally with a commitment to strengthening regional presence through investments in local skills, procurement from local vendors, and collaboration with local contractors for sustainable growth.
Read more here.
Adani Group in talks for major debt refinancing: Report
According to a CNBC-TV18 report, Adani Group is planning to refinance a loan facility of up to $3.8 billion taken for the acquisition of Ambuja Cements Ltd. The group is considering converting the original loan into longer-term debt and has initiated individual discussions with banks. Adani expects to conclude the process within 3-4 months, and most of the existing lenders are expected to participate.
Read more here.
Zydus Lifesciences gets USFDA approval to manufacture generic version of Varenicline
Zydus Lifesciences has received final approval from the US Food & Drug Administration (USFDA) to manufacture and market the generic version of Varenicline tablets, used to treat smoking addiction. The company plans to manufacture the product at its formulation manufacturing facility in Ahmedabad SEZ, India. According to IQVIA MAT data 2023, Varenicline tablets had annual sales of $501 million in the US.
Read more here.
HFCL receives Rs 80 crore order from DMRC for three priority corridors
HFCL Ltd has secured a new order worth Rs 80.92 crore from Delhi Metro Rail Corporation (DMRC). The order is for the implementation of a fibre optics transmission system in three priority corridors of Phase IV of the Delhi metro rail project. The contract includes the design, manufacturing, supply, installation, testing, and commissioning of the system. The project timeline is 156 weeks from the date of notice to proceed (NTP).
Read more here.
Aircastle files fresh plea against SpiceJet
Aircraft lessor Aircastle has escalated its legal battle against SpiceJet by filing a new plea on June 13. The plea accuses SpiceJet of unpaid dues and seeks insolvency proceedings. This comes after Aircastle's earlier attempt to initiate insolvency proceedings against SpiceJet. The NCLT has scheduled a hearing on July 17 to assess the validity of the new plea. Aircastle persists in its efforts to recover the unpaid dues from the struggling airline.
Read more here.
IndiGo gets DGCA nod to operate flight services to Nairobi
IndiGo has received permission from the Directorate General of Civil Aviation (DGCA) to operate flights to Nairobi in Kenya. This marks IndiGo's entry into the African region. The airline had previously announced its plans to expand internationally, including destinations like Nairobi and Jakarta. According to a DGCA official, the approval for IndiGo's operations in Nairobi will be effective from July 24.
Read more here.
Post your comment
No comments to display