PowerGrid InvIT IPO: All You Need to Know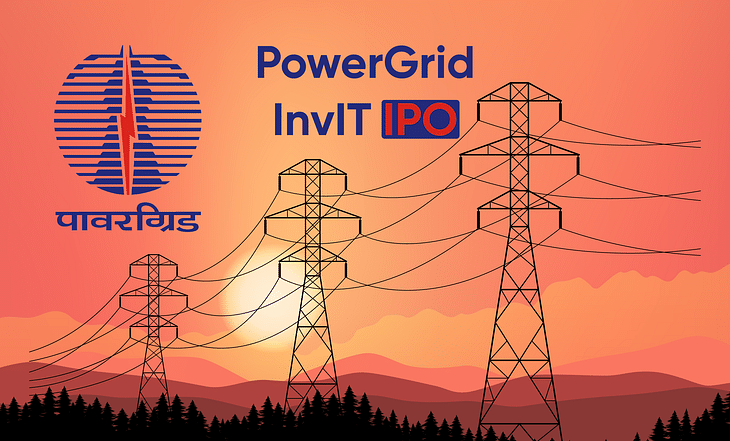 A new initial public offering (IPO) has hit the markets, and it is unlike anything we have covered in the past. PowerGrid Corporation of India has launched an InvIT IPO to raise funds for its power transmission assets. Let us take a closer look into PowerGrid InvIT, learn more about the IPO, and check whether you should subscribe or not.
What is an InvIT?
Firstly, we must understand what an Infrastructure Investment Trust (or InvIT) is. An InvIT is an investment scheme that allows institutional investors and small retail investors (like you and me) to directly invest funds in infrastructure projects. It is similar to the concept of mutual funds. Through InvITs, we can invest small amounts of money in specific income-generating assets such as transmission lines, gas pipelines, and road projects. Using this scheme, there are a few companies in India that monetise such infra projects in order to repay their debt obligations or to maintain a steady cash flow. marketfeed had published a detailed article on InvITs a while ago.
Company Profile - PowerGrid InvIT
PowerGrid Infrastructure Investment Trust (PowerGrid InvIT) owns, constructs, operates, maintains, and invests in power transmission assets in India. It was registered as an InvIT with market regulator SEBI on January 7, 2021. Power Grid Corporation of India Ltd (PGCIL or PowerGrid) is the sponsor of this particular InvIT. [A sponsor of an InvIT is similar to the promoter of a company] The state-owned firm is also the project manager of the trust and is responsible for the execution and competition of all transmission projects. Most of us are familiar with PGCIL, as it is the largest power transmission company in our country.
PowerGrid Corp is awarded specific projects under tariff-based competitive bidding (TBCB) by the government. Through its subsidiaries, PGCIL establishes and operates these transmission projects at various locations throughout India. Out of the projects secured by its sponsor, PowerGrid InvIT has initially acquired five projects with a total network of 11 power transmission lines. This consists of approximately 3,698.59 circuit km and three substations that have 6,630 megavolt amperes (MVA) of aggregate transformation capacity. The initial portfolio assets (IPA) of PowerGrid InvIT are PowerGrid Vizag, PowerGrid Kala Amb, PowerGrid Parli, PowerGrid Warora, and PowerGrid Jabalpur.
IDBI Trusteeship Services Ltd (ITSL) is the trustee of this InvIT. ITSL is certified by SEBI and inspects the performance of the trust. PowerGrid Unchahar Transmission Ltd (a subsidiary of PGCIL) is the investment manager of the InvIT. It supervises all the operational activities of the trust.
Dividend Policy of the InvIT
As a unitholder of the InvIT, you will essentially be investing in the transmission assets mentioned above. The income generated from these assets will be distributed to all unitholders. PowerGrid InvIT will distribute ~90% of the net cash available for distribution to the unitholders once at least every quarter in a financial year. [Net cash is all expenses subtracted from the total income] As a unitholder of the trust, you will be eligible to receive a dividend during all four quarters. The first dividend will be given out within six months from the date of listing and trading of PowerGrid InvITs' units.
About the IPO
PowerGrid InvIT aims to raise Rs 7,735 crore through the initial public offering (IPO). This will be the first InvIT IPO to be floated by a state-owned company in India. The public issue opens on April 29 and will close on May 3. The price band for the IPO has been fixed at Rs 99-100 per unit. Similar to shares of a company, you will be receiving or holding 'units' of the InvIT. The fresh issue of units aggregates to Rs 4993.48 crore. Individual investors can bid for a minimum of 1,100 units (1 lot). This means that you will have to pay Rs 1,10,000 to apply for the IPO.
The proceeds from the IPO will be provided as loans to initial portfolio assets for repayment or pre-payment of debt, including any accrued interest. The remaining amount will be utilised for general corporate purposes.
Ahead of the IPO, PowerGrid InvIT raised over Rs 3,480 crore from around 47 anchor investors on April 28. Some of these anchor investors are SBI Mutual Fund (MF), HDFC MF, Tata MF, Tata AIG General Insurance Company, ICICI Prudential MF, etc.
Structure of PowerGrid InvIT
The table below shows the proposed structure of PowerGrid InvIT after it gets listed on the stock exchanges.
Through the IPO, PowerGrid Corporation of India would maintain a 26% stake and offload 74% ownership of the InvIT.
Financial Overview
| | | | | |
| --- | --- | --- | --- | --- |
| * | 31 March 2018 (FY18) | 31 March 2019 (FY19) | 31 March 2020 (FY20) | 31 Dec 2021 (9M FY21) |
| Revenue | 344 | 977 | 1,324 | 992 |
| Profit After Tax | 114 | 248 | 379 | 337 |
| Net Debt | 5,958 | 5,765 | 5,216 | 4,996 |
(Values in Rs crore)
From the table, it is clear that PowerGrid InvIT has shown a stellar increase in revenue and profits over the past four years. Total revenue has grown at a CAGR of 96% from FY18 to FY20. During the same period, net profit has grown at a yearly rate of 82%. The trust has realised maximum revenue from mainly two of its IPAs— PowerGrid Warora and PowerGrid Parli Transmission. They have also been successful in steadily reducing their overall debt. After the IPO, we could see a sharp decline in total debt, as a major portion of the proceeds will be used to repay them.
An important point to be noted is that the InvIT will continue to receive fixed tariffs due to long-term transmission service agreements (TSAs). It would obtain a fixed rate for every unit of power transmitted to various entities. This ensures steady cash flows in the years to come. Moreover, the trust is well-positioned to capitalise on increasing power transmission capacities across India.
Risk Factors
PowerGrid InvIT is a newly settled trust with no established operating history. This makes it difficult to accurately assess its future growth prospects.
The revenue derived from payments by designated inter-state transmission system customers and delays in payments of such billed transmission charges can affect cash flows and operations.
Charges under transmission service agreements (TSAs) are fixed and may not be able to offset the increase in costs (such as operational and maintenance costs). This may impact its business and financial performance.
The success of the InvIT primarily depends upon the investment and project managers, and the management and personnel they employ.
The company intends to distribute at least 90% of the net cash available for distribution to its unitholders once at least every quarter in every financial year. However, such income can fluctuate due to various risk factors mentioned above.
IPO Details in a Nutshell
| | |
| --- | --- |
| IPO Date | April 29, 2021 - May 3, 2021 |
| Issue Type | Book Built Issue InvIT IPO |
| IPO Price | Rs 99 to Rs 100 per unit |
| Lot Size | 1100 units |
| Issue Size | Aggregating up to Rs 7,734.99 crore |
| Fresh Issue | Aggregating up to Rs 4,993.48 crore |
| Offer for Sale | Aggregating up to Rs 2,741.51 crore |
| Allotment Date | May 10, 2021 |
| Listing Date | May 17, 2021 |
| Listing At | BSE, NSE |
ICICI Securities, Axis Capital, Edelweiss Financial Services, and HSBC Securities are selected as the book-running lead managers to the public issue. PowerGrid Corporation of India had filed draft papers for the InvIT IPO earlier this year. You can read it here.
Conclusion
Due to a relatively large application amount, most retail investors are likely to stay away from this IPO. It received a very muted response from investors on the first day of bidding, with only 10% of the issue subscribed (so far).
However, even if you cannot apply for this IPO, it would be a great pick for the long term. PowerGrid and its InvIT are well-positioned to meet the rising power consumption demands of India in the years to come. The sponsor's experience provides the InvIT with a competitive advantage within the power transmission industry in India. Through the transmission assets it operates across our country, the InvIT has been able to post amazing financial performance over the years. They are likely to post even better revenues and cash flows in the future. Since transmission charges are fixed for a certain period (even up to 35 years), there is minimal price risk. This ensures stable and consistent cash flows. The prospects of a good yield (or dividend) for unitholders make it all the more favourable to invest.
As always, do consider the risks associated with PowerGrid InvIT and come to your own conclusion. What are your opinions on this IPO? Will you be applying for it? Let us know in the comments section of the marketfeed app.
Post your comment
No comments to display