Policybazaar IPO: All You Need to Know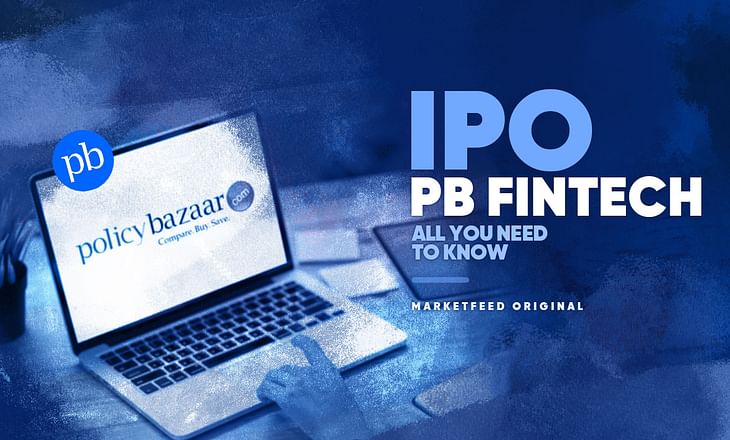 With Diwali just around the corner, multiple companies are lining up to launch their IPOs. PB Fintech Ltd., the parent company of online platforms Policybazaar and Paisabazaar, has launched its IPO today— Nov 1. The issue is the biggest and most popular among the three IPOs hitting the primary market today. Let us take a closer look into the company and learn more about its IPO.
Company Profile - PB Fintech Limited
PB Fintech Ltd (PBFL) operates the largest online platform for insurance and lending products in India. The company provides easy access to insurance and credit (loan) products among Indian households. Through a consumer-centric approach, PBFL enables research-based purchases of insurance and lending products in a transparent manner. It also allows insurers and lending partners to design customised products for customers by leveraging PBFL's extensive data analytics capabilities.
Policybazaar
PBFL's flagship platform, Policybazaar, allows users to compare and buy insurance plans. It is India's largest digital insurance marketplace with a 93.4% market share based on the total number of policies sold (as of FY20). In the previous financial year (FY21), the platform constituted 65.3% of all digital insurance sales in India based on the number of policies sold. Policybazaar had over 12.65 crore visits in FY21 and 2.7 crore visits in Q1 FY22.
Currently, 48 insurer partners offer 390 term, health, motor, home, and travel insurance products on the platform. The company's technology solutions are focused on automation and self-service-driven consumer experiences. Policybazaar receives a percentage of commission from its insurer partners. Moreover, it also generates income from telemarketing, sales and post-sales, account management, and premium-collection services.
Policybazaar is registered with and regulated by the Insurance Regulatory and Development Authority of India (IRDAI) as a direct (life and general) insurance broker.
Paisabazaar
PB Fintech facilitates borrowing through its Paisabazaar platform. It has partnered with 54 large banks, non-bank, and fintech lenders to offer personal loans, business loans, home loans, credit cards, and loans against property. Paisabazaar receives a commission from the lending partners listed on its platform. It also obtains revenue from credit advisory and related services that are offered to consumers and lenders. As of FY21, Paisabazaar is the largest digital consumer credit marketplace in India, with a market share of 53.7%. The platform is also widely used to access credit scores.
Additionally, PB Fintech generates revenue from online marketing, consulting, and technology services to insurers and lending partners.
About the IPO
PB Fintech's public issue opens on November 1 and closes on November 3. The company has fixed Rs 940-980 per share as the price band for the IPO.
The fresh issue of shares (of the face value of Rs 2 each) aggregates to Rs 3,750 crore. The offer for sale (OFS) from existing shareholders aggregates to Rs 1,875 crore. Individual investors can bid for a minimum of 15 equity shares (1 lot) and in multiples of 15 shares thereafter. You will need a minimum of Rs 14,700 (at the cut-off price) to apply for this IPO. The maximum number of shares that can be applied by a retail investor is 195 equity shares (13 lots).
PBFL will utilise the net proceeds from the IPO for the following purposes:
An amount of Rs 1,500 crore towards enhancing visibility and awareness of the company's brands, including Policybazaar and Paisabazaar.
Rs 375 crore for new opportunities to expand growth initiatives and increase the company's consumer base.
Funding strategic investment and acquisitions - Rs 600 crore
Expanding its presence outside India - Rs 375 crore
General corporate purposes
Financial Performance
PB Fintech has posted negative earnings till date. However, we can see that its losses are decreasing over the past few years. The company posted a net loss of Rs 150.24 crore for the financial year 2020-21, which is lower compared to a loss of Rs 304.03 crore seen in FY20. Meanwhile, revenue from operations rose 11.9% YoY to Rs 957.41 crore in FY21. The expenditure on advertising and promotional activities is high. The company may continue to incur losses in the future as they are focusing extensively on the growth of their business.
PBFL has posted negative cash flows from operating, investing, and financing activities over the past few years. Cash outflows over extended periods could affect the company's ability to undertake its day-to-day operations and implement growth strategies.
Risk Factors
PBFL has a history of losses and anticipates increased expenses in the future.
The company may be unable to retain existing customers or attract new customers if the insurers or lending partners fail to offer insurance or credit products in sync with the evolving needs of consumers.
The failure to maintain and enhance PB Fintech's brand recognition or reputation could adversely affect its business and financial performance.
The company operates in the dynamic and highly competitive fintech landscape, which makes it difficult to predict future prospects.
PBFL may not be able to ensure the accuracy of product information and the effectiveness of its recommendation of insurance products on its platform.
The insurance broking business is subject to strict laws and regulations. The inability to comply with such norms could severely harm its overall operations.
IPO Details in a Nutshell
The book-running lead managers to the public issue are Citigroup Global Markets India, HDFC Bank, ICICI Securities, IIFL Securities, Jefferies India, and Morgan Stanley India. PB Fintech Ltd had filed draft papers for its IPO in November 2020. You can read it here.
Ahead of the IPO, PBFL was able to raise Rs 2,569 crore from anchor investors. The marquee investors include Fidelity, BlackRock, Dragoneer Group, HDFC Life, Bajaj Allianz Life, etc.
Conclusion
PB Fintech's Policybazaar and Paisabazaar platforms address the highly underpenetrated online insurance and lending markets in India. The company has an asset-light capital strategy and does not underwrite any insurance or retain any credit risk on its books. As per a report from consulting firm Frost & Sullivan, the Indian insurance market is expected to grow at a CAGR of 17.8% to reach Rs 39 lakh crore by FY30. Despite heavy competition, PB Fintech could benefit from the growth in this sector, provided that they improve their offerings. Their focus on increasing consumer reach and boosting digital & technological infrastructure entails strong long-term growth prospects. They plan to expand and replicate platforms for small and medium enterprises (SMEs) and corporate clients.
Due to oversubscription and a favourable grey market premium (GMP), investors of the IPO could receive good listing gains. PBFL's shares are available at a GMP of Rs ~150 in the grey market today. As always, do consider the risks associated with the company and come to your own conclusion.
What are your views on this IPO? Will you be applying for it? Let us know in the comments section of the marketfeed app.
Post your comment
No comments to display