Pizza Hut and KFC Franchisee Devyani International Files for IPO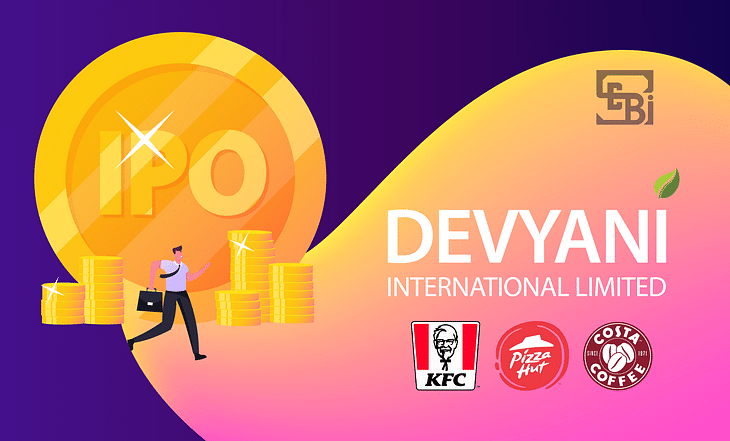 The IPO frenzy seems to have returned to the Indian markets. Large companies such as Zomato and GoAir (rebranded as Go First) have submitted the draft papers for their IPOs with market regulator SEBI. And now, Devyani International, the largest franchisee of some of our favourite fast-food chains such as Pizza Hut and KFC, has also decided to go public.
The food and beverages company proposes to raise Rs 1,400 crore through the initial public offering (IPO). This consists of a fresh issue of shares worth Rs 400 crore and an offer for sale (OFS) of up to 12.5 crore equity shares by its promoters. The net proceeds from the IPO will be utilised for repayment or prepayment of the company's borrowings worth Rs 357.7 crore and general corporate purposes.
Let us dive into their Draft Red Herring Prospectus (DRHP) and analyse certain interesting findings.
Company Profile - Devyani International
Devyani International Ltd (DIL) is one of the fastest-growing players in the quick-service restaurant (QSR) sector. The company is the largest franchisee (or operator) of popular fast-food chains such as Pizza Hut, KFC, and Costa Coffee in India. It also operates Vaango, a restaurant chain that offers South Indian food. In 2017, DIL acquired the retail and distribution rights in the Indian and UK markets for TWG Tea, one of the world's largest luxury tea chains. It also operates a food courts, restaurants, and bars (FRB) vertical, which can be found at airports and malls.
As of March 31, 2021, DIL operates 297 Pizza Hut stores, 264 KFC stores, and 44 Costa Coffee stores across India. According to the DRHP, the company's core brands (Pizza Hut & KFC) saw a CAGR growth of 13.58% from 469 to 605 stores over the last three years. The revenue from these core brands contributes up to 92.28% of DIL's total revenue. Amidst the Covid-19 pandemic, DIL continued to expand its store network and opened around 109 stores over the last six months.
Devyani International is an associate company of RJ Corp Group, which is the largest bottling partner of PepsiCo in India. The group has established a strong presence in the beverages, healthcare, real estate, and education sectors. The proposed IPO will provide a partial exit to RJ Corp and Singapore-based investment company Temasek. DIL is backed by a strong management team, led by Virag Joshi (former CEO of Jubilant Foodworks). 
A Loss-Making Company
The graph shown above explains DIL's financial performance over the last three years. The losses reported over FY19-FY21 have been primarily due to the high operating costs incurred towards the expansion of their store network. However, DIL has not been successful in recovering these costs. Their overall revenue from operations had increased by 15.7% YoY in FY20.
The strict lockdowns imposed during the first wave of the Covid-19 pandemic had caused major disruptions to all QSR companies. DIL's FRB segment, which operates through malls and airports, took a big hit. Revenues from its in-store dining also fell sharply. Interestingly, Devyani is the single largest QSR company in India that operates through food delivery apps such as Swiggy and Zomato. Also, KFC and Pizza Hut were amongst the earliest to roll out contactless delivery in May-June 2020. The company also cut costs by closing down 61 non-performing stores under its core brands. This has more or less helped them to post sufficient revenues and narrow their losses in FY21.
Cash flow is a key indicator of a company's overall financial health. Devyani International has posted negative cash flows (cash outflow) of Rs 17.29 crore and 13.47 crore in FY19 and FY20, respectively. The company had a cash inflow of Rs 26.73 crore in FY21. In the DRHP, the firm states that it may see negative cash flows in the future that could adversely affect its operations and implementation of its growth plans.
Future Plans vs Financials
Going forward, Devyani International plans to continue its growth prospects by opening new stores every year. This will lead to a further increase in operating costs and other expenses in the upcoming quarters. Thus, DIL expects to report losses till these new stores mature. At the same time, the second wave of the Covid-19 pandemic could continue to affect its overall sales and expansion plans. The DRHP states that if they are not able to open new stores or ensure store profitability, Yum Brands (master franchisee of Pizza Hut, KFC) could terminate their current arrangements with DIL. Since a major portion of their revenues comes from these two brands, DIL will have to focus on strategies to control the Covid-19 impact.
The company aims to use the net proceeds from the IPO to repay a large portion of its debt. This would help them to utilise their internal accruals (or operating income) specifically for investments in business growth and expansion. Devyani International certainly looks like an interesting company with ambitious plans.
Once they get listed, DIL will be directly competing with other prominent listed QSR companies such as Burger King, Barbeque Nation, Jubilant Foodworks, and Westlife Development. Do check out our detailed analysis of the QSR industry here.
What are your views on Devyani International? Are you excited about the future plans of the company? Do let us know in the comments section of the marketfeed app. We will bring you a detailed article about the IPO once DIL announces the price band and other details. Lastly, stay at home and take precautions. Be safe!
Post your comment
No comments to display