Pepsi India's Manufacturer: Varun Beverages Ltd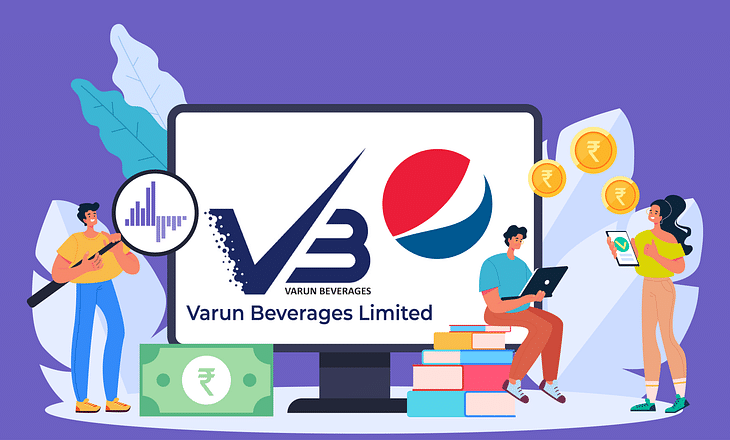 We are pretty sure that you may have tried out Pepsi, Tropicana, Mountain Dew, 7Up, Lipton Ice Tea, Aquafina, or Gatorade many times in your life. All of them are licensed drinks of PepsiCo, the multinational food and beverage company, with a presence in almost 200 countries. In India however, a single company creates and bottles these drinks on PepsiCo's behalf, and that is Varun Beverages Pvt. Ltd. (VBL).
With a market capitalization of Rs 26,214 crores, Varun Beverages Pvt. Ltd. has bottling plants in every corner of the country. It initially started out as a small franchisee of PepsiCo in India until 2019, when it bought out PepsiCo India's South and West business and also bagged the rights to distribute PepsiCo drinks across India.
A Little About VBL
Established in 1995, Varun Beverages (VBL) is the largest bottler of PepsiCo drinks outside the US. Till 2019, PepsiCo had partnered with VBL in its bottling and distribution till it completely handed over the bottling business to VBL. As of now, VBL looks after the manufacturing of the sweeteners as well as the bottling of its products. Apart from India, VBL also operates in Sri Lanka, Zambia, Zimbabwe, and Morocco. 

VBL's product segments include - Carbonated Soft Drinks (CSD), Juice, and Water. Of the company's total revenue, CSD contributes 75.6%. Non-carbonated beverages contribute 6.4% and Packaged drinking water 18.0%.

VBL has a robust supply chain with 90+ depots, 2500+ owned vehicles, 1500+ primary distributors all across India, Nepal, and Sri Lanka. 

Varun beverages got listed on BSE and NSE on November 08, 2016.
VBL's Operations Across India, Nepal and Sri Lanka(Source: Company Website)
Key Financials
Since VBL was listed on NSE and BSE in 2016, its share price has appreciated by ~231%(as of February 2021).

VBL's sales volume has grown with a CAGR of 19.7% over the past 5 years. COVID-19 lockdown impacted sales volume and was down by 50% in India. However, this fall wasn't peculiar to the company as the lockdown has impacted the global economy overall.

Its revenue has grown at a CAGR of ~20.8% over the past 5 years and the Profit After Tax has grown at 52.6% CAGR over the past ~52.6%.

The company's Debt/Equity ratio has decreased over the past 3 years, which means that the company is cutting down on its debt and optimally utilizing the borrowed money.

VBL's cash flow from operations increased by ~24% over the past 5 years and it can grow further, given the high potential for carbonated soft drinks in India.

The FII or Foreign Institutional Investors' stake has increased by 8% over the past 3 years. This shows confidence in VBL from the international market.
Why VBL?
Great Potential
India's consumption of soft drinks is 44 bottles per capita, whereas, for countries like the United States, the per-capita consumption is 1,496 bottles. India being a country with 1.3 Billion people has a larger market to penetrate which can surpass that of the United States. VBL is looking to expand into rural and semi-urban areas where the market penetration is less.
Recovering Demand
During the COVID-19 lockdown, due to curtailment of movement, people preferred buying larger bottlers of 1.25L of soft drinks which lasted longer. This added to the profit margin of VBL. Furthermore, as countries return to normalcy from the COVID-19 pandemic with the COVID-19 vaccine already in sight, demand is shooting up. There lies a great potential for the soft drinks market.
VBL has narrowed its loss to Rs 7 crore, the share prices did not react well, yet analysts suggest that there is huge upside potential. VBL is making a shift in production to the Non-Carbonated Drinks (NCD) segment. As electrification in rural areas increases and so does refrigeration capacity per household, the demand for cold drinks will also increase. VBL's share price has grown ~30%, while NIFTY FMCG had grown ~10% in the last 1 year. The stock has outperformed the index and is in a relatively better position than its other competitors.VBL is a company that is expected to grow strong in the future. Its polished supply chain, strong financial health, and increasing market coverage make it a well-polished company overall. 
Conclusion
So if you have always looked at brands like PepsiCo and wished to invest in them, this is the best thing you can get in India. Go checkout the annual reports of Varun Beverages Ltd, you will either invest in the stock or at least will walk away with a lot of new knowledge of the beverage industry. Definitely a win-win in my opinion!
Post your comment
No comments to display