Paytm Shares Are Up 32% From 52-Week Low. What Next?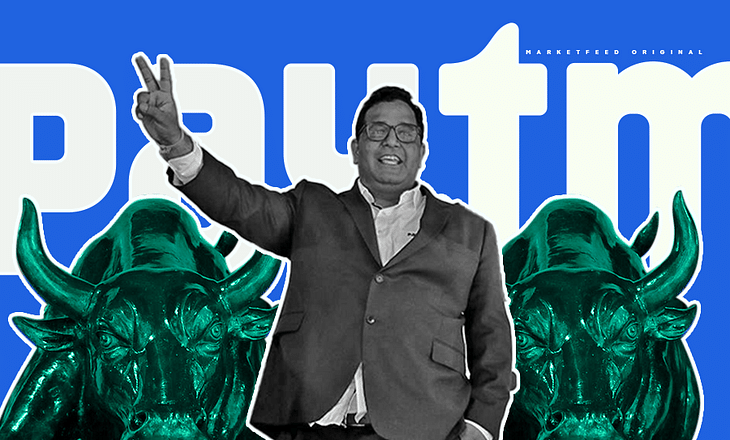 Shares of One97 Communications Ltd, the parent company of digital payments platform Paytm, have recovered ~32% from its 52-week low. Unfortunately, the stock is still down by Rs 1,280 or 65% compared to its IPO listing price of Rs 1,955! In today's article, we analyze the recent developments surrounding Paytm and its financial performance.
What Led to the Recent Rally in Paytm's Shares?
Market analysts have primarily attributed the stock's rally to a triangular pattern breakout above Rs 640-650, supported by large volumes. Let's look at the chart to understand this:
Reports of a share buyback by Paytm's promoters have also boosted the morale/sentiments of investors. CEO Vijay Shekhar Sharma had purchased 1.72 lakh shares of One97 Communications worth Rs 11 crore. A share buyback is a process wherein a company or its promoters buy back its own shares from shareholders at fair market value.
Fundamentals Remain Weak
One97 Communications reported a 41% year-on-year (YoY) increase in its consolidated net loss to Rs 2,392.9 crore for the financial year 2021-22 (FY22). However, the startup's revenue from operations grew 77% YoY to Rs 4,974.2 crore in FY22. They saw a healthy increase in consumer and merchant payments & loan disbursements through its partners on Paytm. Average monthly transacting users (MTU) rose 35% YoY to 6.08 crore during the same period.
Time and again, high expenses have been blocking the company's road to profitability. Paytm made huge investments in marketing expenses to grow its monthly transacting users (MTU) in FY22. Its employee costs rose due to investments to scale up its device deployment from 8 lakh per quarter to 10 lakh per quarter. [Paytm offers smart point-of-sale (POS) hardware devices for merchants.]
In the last quarter of FY22 (Q4), Paytm's net loss rose 72% YoY to Rs 762.5 crore, while revenue from operations grew 89% YoY to Rs 1,541 crore. Earnings before interest, tax, depreciation, and amortisation (EBITDA) remained negative during the quarter. However, it narrowed from Rs 420 crore in Q4 FY21 to Rs 368 crore in Q4 FY22. The startup declared it is on track to break even at the EBITDA level by the July-Sept quarter of FY23.
The Way Ahead
One97 Communications' shares have been on a free fall since it got listed in November 2021. It crashed over 70% from the IPO price of Rs 2,150. The company was highly overvalued, especially when the path to profitability was unclear. Many find Paytm's business model problematic as it generates very low revenue for every dollar spent on marketing. In a major blow, the Reserve Bank of India (RBI) directed Paytm Payments Bank (PPB) to stop onboarding new customers due to supervisory concerns in March 2022.
Paytm often dabbles in numerous business lines, and it has become difficult for them to work out a solid business model. A high level of competition in the fintech space is also weighing down on their operations. As a result, many global and domestic analysts had advised against buying the company's shares and slashed their target prices on the stock.
However, CEO Vijay Shekhar Sharma expects his company to achieve operational profitability by Q2 FY23. They are focusing on increasing consumer engagement and merchant base to achieve higher revenue from payment services. Paytm is also scaling up its loan disbursement business, where it offers Paytm Postpaid (Buy Now, Pay Later), personal loans, and merchant loans. Moreover, the proposal of linking credit cards to UPI is expected to benefit the full-stack payments and financial solutions provider.
Let us wait patiently and see how One97 Communications performs in the upcoming quarters. Have you invested in the company? Let us know in the comments section of the marketfeed app.
Post your comment
No comments to display