Paper Industry Giant: JK Paper Analysis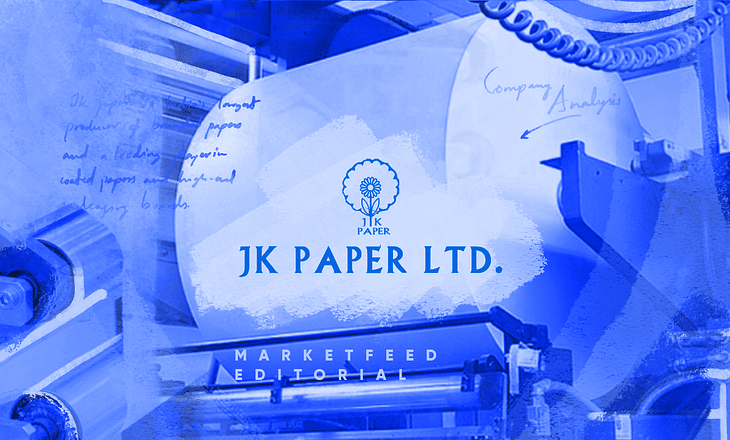 Had you invested Rs 10,000 in JK Paper stock a year back in July 2020, your investment would have become Rs 21,400, nearly doubled in a year. JK Paper has returned 114% in a year as of July 2021. Last day we talked about the paper industry as a whole, today let's talk about one of its largest players. A unique company that sells only one thing, paper. Let us explore JK Paper's business model and its financial performance.
About The Company
Established in 1960, JK Paper is a part of the legacy JK Group. The company is India's largest producer of branded papers and a leading player in Coated Papers and High-end Packaging Boards. Although the company has a nationwide distribution network, it operates out of 3 major factories, each based in Gujarat, Odisha, and Telangana respectively. The company also boasts healthy export volumes as compared to its peers and has an international presence in almost 62 countries.
JK Group is a conglomerate run by the Singhania Family, established by Lala Kamlapat Singhania in the late 1800s. The Singhanias are a BIG family of industrialists with their legacy spread across a century. JK Tyre, JK Cement, JK Lakshmi Cement, JK Jaykay Enterprises, even Raymond are some of the big names that are part of the JK Group.
Business Model
JK Paper makes any and every type of paper. It produces printing, glossy, coated papers to newsprint, packaging, and tissue papers. Apart from producing paper, it also produces paper pulp which it supplies to other companies and also exports it. According to the company's investor presentation, there are majorly three product segments. Based on production volume for Financial Year 2020-21, The company majorly deals in:
Coated Paper(~12% of production volume)
Uncoated Paper(~68% of production volume)
Virgin Fibre Board(~20% of production volume)
The Annual Report for FY 2019-20 states that the company majorly has for production segments-
Office and Copier Paper(Uncoated Paper) - Copier papers find their application in printers, fax machines, and photocopiers. This is the most produced segment in terms of volume of all other segments.
Packaging Boards- Mostly used for FMCG, food & beverage, e-commerce delivery boxes, pharmaceutical, and textile sectors
Coated Papers- JK Paper is one of only two Indian companies manufacturing coated papers. Coated papers are used in magazines, books, brochures, posters, and wedding cards.
Maplitho and Speciality Papers- Find application in MICR cheque paper, parchment, ledger, and bond varieties
The company has three major factories where it produces most of its products. They are:
JK Paper Mills(JKPM) in Rayagada, Odisha, with an installed capacity of 2,95,000 tons per annum. It is among the largest paper manufacturing facilities in the country and produces mostly both coated and uncoated paper.
Central Pulp Mills(CPM) in Songadh, Gujarat, with an installed capacity of 1,60,000 tons per annum and is specialized in the manufacture of paper and packaging boards.
Sirpur Paper Mills(SPM) (owned through its subsidiary) in Kagaznagar, Telangana, with an installed capacity of 1,36,000 tons per annum. JK Paper acquired Sirpur Paper Mills in 2018 because of the abundance of wood in Telangana and Andhra Pradesh close to the manufacturing facility. This facility is known to produce quality colored and coated paper.
JK Paper has a robust distribution network of over 300 trade partners and 4000 dealers with 15 pan-India depots, reducing the turnaround time in servicing customers. Being the largest player in the paper sector in India, a good distribution network can be a competitive advantage.
How Are The Finances Of JK Paper?
| | | | |
| --- | --- | --- | --- |
| . | March-21 | Dec-2021 | March-20 |
| Revenue | 935.1 | 770.5 | 766.6 |
| Profit | 135.8 | 65.9 | 92.7 |
All Amount In Rupees Crores
JK Paper is a financially healthy company, yet with very low-profit margins. The paper-making business is a capital-intensive and labor-intensive task. You can clearly notice the high difference between revenue and net profits, it is the cost that is eating into the profits. At the same time, JK Paper is not able to realize a better price because of the availability of imported paper that is relatively cheaper. The government has not imposed the right import duties to protect the domestic paper market. China plays a key role in the impact on the paper industry.
One can notice that the company was performing well till 2013, but faced potholes in 2014 and 2015, this was because the company was undergoing expansion and acquiring various assets which made costs eat up into profits. However, the company sharply recovered after the downturn and is now profitable. JK Paper has seen a consistent rise in profits from the past three quarters.
The company's Return On Equity(RoE)% has steadily increased and moved parallel to the company's profits. It has also managed to use its capital efficiently, which we come to know through its increasing RoCE or Return On Capital Employed. Return on Assets or ROA has also improved over the years. The company is financially healthy but has a LOT more potential provided the COVID-19 subsides, and the company manages to cut its costs.
Expenses are more than ~70% of the total revenue. ~50% of total expenses the company makes is for raw materials like hardwood and bamboo, pulp, chemicals, and packaging materials. Employee Benefit Expenses and Power/Fuel/Water Expenses are the other two major expenses that the company occurs.
Coming to the Debt aspect of the company. The company has managed to utilize its debt in an efficient manner. This is evident from the graph given below. The Debt-Equity ratio indicates how much leverage the company is using to operate its business. Lower debt would mean less risk for equity shareholders. The company however onboarded significant debt in 2021 to tackle and kickstart business post-COVID.
The stock price of JK Paper has seen a significant rise over the past year. As of July 2021, over a period of one year, the company returned more than ~120%, over 6 months the company returned close to ~100%.
What Lies Ahead?
Speaking of the present, the factories of JK Paper are not operating at full capacity. Material costs are high and digitalization is replacing the use of paper. From legal documents to college notes all have been digitized. Could this be a threat to the sector as a whole? Maybe not. Paper need not be the evil for the environment as it is propagated to be. The use of paper will not diminish for at least a century. When COVID-19 subsides, offices, schools, and colleges will switch back to paper. Paper will still be used for other industrial purposes such as the packaging of FMCG goods, food and beverages, advertising, and more.
JK Paper has beaten other companies such as Tamil Nadu Newsprint and Century Textiles & Industries Ltd. to the race in expansion over the years. It is a company with a turn-around potential looking at the past record. The triggers one can watch out for are the international pulp prices, import/export duties imposed on paper, regulation of paper and pulp industry in China(the largest paper producing country), and obviously, lifting of restrictions on corporates and schools.
Post your comment
No comments to display