Nykaa: The Evolution of India's Leading Cosmetics Retail Platform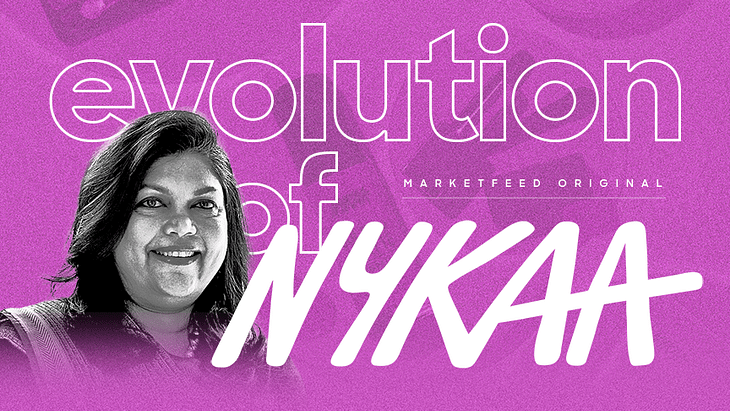 India is undoubtedly evolving as a global centre for entrepreneurs. With over 77,000 startups, India has emerged as the third-largest ecosystem for startups globally. India is home to 107 unicorns (startups with $1 billion valuation) as of September 2022! PayTM, OYO Rooms, BYJU's, Ola Cabs, and Zomato are all examples of companies you may know that are unicorns.
In today's article, we dive into India's first women-led profitable unicorn, which has now emerged as one of the leading e-commerce enterprises— Nykaa!
Nykaa's Origin
Falguni Nayar established FSN E-Commerce Ventures (the parent company of Nykaa) in 2012. The e-commerce platform housed only 3 employees and received a mere 60 orders when it was launched initially. With very little experience in the retail industry, technology, or even manufacturing, Nayar built Nykaa into one of India's leading companies in the cosmetics and personal care market.
It was the inconsistencies she witnessed in the beauty products market that gave an initial boost to Falguni Nayar to launch her company. Despite the massive demand, the beauty and cosmetics market in India could not match the product range compared to those in other countries like France and Japan. Many products were unavailable in several locations across our nation— all of which contributed to the creation of Nykaa.
Currently, Nykaa sells beauty, wellness, and fashion products across websites, mobile apps, and 100+ offline stores. It offers products that are manufactured in India as well as internationally. Nykaa aims to create a world where its consumers have access to a finely curated and authentic assortment of products & services.
Recent Acquisitions
Up until this point, Nykaa has successfully acquired six companies. The company recently bought digital content delivery platform Little Black Book (LBB) in an all-cash transaction. On April 22, 2022, it procured New Delhi-based Nudge Wellness and Kica. Nykaa also secured an 18.5% stake in Earth Rhythm (a beauty brand) for ₹44.83 crore and also acquired Dot & Key (a skincare brand).
Nykaa's IPO
FSN E-Commerce Ventures launched its initial public offering (IPO) on October 28, 2021. Shares of Nykaa made an amazing debut in the Indian stock markets and its market cap surged to almost ₹1,06,942 crore in November! The IPO made Falguni Nayar richer by almost $7 billion (₹52,315.55 crore), and she was crowned India's wealthiest self-made female billionaire. As of October 2022, Nykaa has a market cap of nearly ₹57,310 crore.
Financial Performance
Nykaa is one among the few profitable e-tailers in India. It posted its first net profit of ₹61.94 crore in FY21. The profit after tax stood at ₹41.3 crore in FY22, a decline of 33% year-on-year (YoY). Revenue from operations soared 55% YoY to ₹3,773.9 crore during the same period. Nykaa also grew its store count by 43% YoY to 105 physical stores.
A key indicator in the e-commerce space is the Gross Merchandise Value or GMV. For Nykaa, the GMV is the monetary value of orders inclusive of taxes and gross of discounts. The company's GMV grew 71% YoY to ₹6,933.2 crore in FY22.
During the quarter ended June 2022 (Q1 FY23), Nykaa's net profit rose 42% YoY (or 18% QoQ) to ₹5 crore. Revenue stood at ₹1,157 crore, up 41% YoY. It posted a GMV growth of 47% YoY to ₹2,156 crore in Q1.
The Challenges
Over the past few years, Nykaa has launched a range of new products that also incorporate celebrity endorsements. Alongside this, they have also launched fresh collections to include in their personal brand. The platform provides a large selection of beauty products, but its fashion business is not performing too well.
Analysts and industry observers consider Nykaa's fashion business the greatest distraction. Having entered the business in 2018, Nykaa is clearly a latecomer. It will have to battle it out with the likes of Myntra and Ajio, which have already made considerable inroads. It will also need to create a unique selling proposition (USP) in fashion. According to analysts, many customers say they are not aware that Nykaa has fashion offerings, or that there is anything different that the unicorn offers in fashion that others don't.
Cosmetics e-commerce company Purplle is Nykaa's biggest competitor. It is now valued at over a billion dollars after its $33 million fundraising round. With this, Purplle became the 102nd unicorn in India.
The Cosmetics Industry: An Overview
The global cosmetics segment is valued at $5.60 billion in 2022 according to a Statista report. The market is expected to grow at a CAGR of 5.22% during 2022-2026. This astounding expansion of the cosmetic industry is a result of both the industry's quick digitalization and the rising demand for cosmetic products, mostly driven by young adults.
One of the major companies in the cosmetics sector is Nykaa, which boasts of its extensive selection of items for beauty, fashion, and health that it offers to both physical and digital customers. Nykaa stands as a leading company in the cosmetics and personal care market with a revenue of ~₹3,800 crore in 2022. It estimates turnover to reach ₹2,74,185 crore by 2027. Its valuation is higher than some of the oldest and the largest Indian businesses like Coal India, Bharat Petroleum, SBI Card, and Godrej Industries.
The company is aiming to expand its offline business. An alliance between Nykaa and Dubai's Apparel Group too has been formed. The two entities will work together to develop a multi-brand beauty retail company within countries in the Gulf Cooperation Council. Nykaa will hold a 55% stake in the firm, while Apparel Group will hold 45%.
It plans to establish 180 outlets across India by 2024. To improve client experience, Nykaa is now eager to extend its fulfilment centres around the nation. Additionally, it intends to increase its warehousing capacity by 40%.
Nykaa's Mission!
Since its debut, Nykaa has not only revolutionised and redefined the art of e-retailing beauty and personal care in India, but it has also played a significant role in promoting the development of a still-emerging ecosystem. Nykaa wants all its customer to discover their unique identity and personal style.
Nykaa's founder, Falguni Nayar, is the richest self-made woman in India. She served with Kotak Mahindra bank for 18 long years. At the age of 50, she resigned to follow her entrepreneurial dream: Nykaa.com. Nayar's passion for her business, attention to detail, and engagement in every aspect of the firm can be defined as some of the qualities that made her an excellent leader. She has also set a big example for the entire world and validated the saying, "age is just a number" when it comes to entrepreneurship.
Nayar is a source of inspiration to everyone in Nykaa and beyond as she continues to strive hard and break stereotypes. Will this omnichannel consumer-tech company further smash all records and secure a prominent space in international markets, or will it be confined to its regional presence? Let us know your views in the comments section of the marketfeed app!
Post your comment
No comments to display