Nykaa IPO: All You Need To Know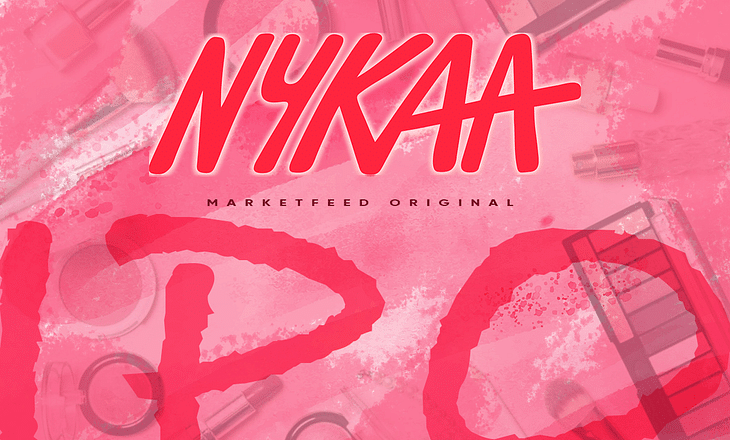 What a thrilling year for startups! After Zomato, companies such as Paytm, Oyo, and MobiKwik are lining up to launch their IPOs. FSN E-Commerce Ventures Ltd, the parent company of Nykaa, has launched its initial public offering (IPO) today— October 28. It is a unicorn (startup with more than $1 billion valuation) led by women with a lot of growth potential. In this article, learn more about Nykaa and its IPO.
Company Profile - FSN E-Commerce Ventures (Nykaa)
FSN E-Commerce Ventures Ltd is a digitally native consumer technology platform. It delivers content-led lifestyle retail experiences to consumers. The company has a diverse portfolio of beauty, personal care, and fashion products. It sells cosmetics, clothes, and grooming products.
The company operates under two verticals:
Nykaa: Beauty and personal care
Nykaa Fashion: Apparel and accessories
FSN E-Commerce Ventures (Nykaa) was established in April 2012 by Falguni Nayar, a former investment banker. She ventured into beauty and cosmetics products as it was an underpenetrated segment in online e-commerce at that time. Now, her company has grown multi-fold into one of India's top digital retail sites for beauty products. Nykaa is seeking a valuation of $7 billion (~Rs 52,315.55 crore)!
The company records ~1.5 crore average monthly unique visits and lists over 4,000 brands on its platform. They own six prominent brands— Nykaa Cosmetics, Nykaa Naturals, Kay Beauty, Nykd by Nyka, Twenty Dresses, and Pipa Bella. Apart from its online presence, Nykaa currently operates 80 physical stores across 40 cities in India. It has grown into one of the preferred destinations for certain luxury and prestige products in India for consumers and brands. The company also focuses on educating consumers via digital content, digital communities, and tech-product innovations, which is an integral component of its business model.
About the IPO
FSN E-Commerce Ventures' public issue opens on October 28 and closes on November 1. The company has fixed Rs 1,085-1,125 per share as the price band for the IPO.
The fresh issue of shares (of the face value of Rs 1 each) aggregates to Rs 630 crore. The offer for sale (OFS) of up to Rs 4.19 crore equity shares from existing shareholders aggregates to Rs 4,721.92 crore. Individual investors can bid for a minimum of 12 equity shares (1 lot) and in multiples of 12 shares thereafter. You will need a minimum of Rs 13,500 (at the cut-off price) to apply for this IPO. The maximum number of shares that can be applied by a retail investor is 168 equity shares (14 lots).
Objectives of the Issue
Nykaa will utilise the net proceeds from the IPO for the following purposes:
Investment of Rs 42 crore in subsidiaries FSN Brands and/or Nykaa Fashion for funding the establishment of new retail stores.
Rs 42 crore towards capital expenditure and investment in its subsidiaries Nykaa E-Retail, Nykaa Fashion, and FSN Brands for funding the set-up of new warehouses.
Rs 156 crore towards repayment or prepayment of outstanding borrowings availed by the company and one of their subsidiaries, Nykaa E-Retail.
Expenditure of Rs 234 crore for enhancing the visibility and awareness of its brands.
General corporate purposes.
The total promoter in the company holding will fall from 54.22% to 52.56% post the IPO.
Financial Performance
Nykaa has turned profitable in the financial year ended 2020-21 (FY21). Despite the Covid-19 pandemic hitting non-essential spending for more than a year, the company has reported a surge in revenues. It posted a net profit of Rs 61.94 crore in FY21, compared to a net loss of Rs 16.34 crore in FY20. The revenue from operations rose 38.1% year-on-year (YoY) to Rs 2,440.8 crore in FY21. Nykaa reported a 35.3% increase in total orders to 1.71 core over the previous year. Thus, it has a capital-efficient business model with a combination of strong growth and profitability.
The company's online business has been growing rapidly, with cumulative downloads of nearly 4.37 crore across all its mobile applications.
While the company's domain was the Beauty and Personal Care segment, it has made considerable progress in its Fashion segment. A key indicator in the e-commerce space is the Gross Merchandise Value or GMV. It indicates the value of goods and services that are sold on a marketplace at a given point in time. For Nykaa, the GMV is the monetary value of orders inclusive of taxes and gross of discounts. In FY21, the GMV in Beauty and Personal Care segment was Rs 33,804.10 crore, which is the amount of goods sold by the company inclusive of taxes and discounts before return or cancellation.
Risk Factors
The failure to acquire new customers in a cost-efficient manner may affect the company's profitability.
Nykaa's core business depends heavily on the growth of India's online commerce industry and its ability to effectively respond to changing user behaviour on digital platforms.
There are pending litigations against the company, its subsidiaries, and its directors. Any adverse decisions in legal proceedings may render them liable to penalties.
Failure to identify and effectively respond to changing consumer preferences, spending patterns, and changing fashion trends in a timely manner may harm Nykaa's overall operations.
Changing regulations in India could lead to new compliance requirements that are uncertain.
Any harm to the company's brand or reputation may adversely affect its financial condition and cash flows.
IPO Details in a Nutshell
The book-running lead managers to the public issue are BofA Securities India, Citigroup Global Markets India, ICICI Securities, JM Financial Consultants, Kotak Mahindra Capital, and Morgan Stanley India.
Ahead of the IPO, the company was able to raise Rs 2,396 crore from 184 anchor investors.
Conclusion
The first two weeks of November will be raining with IPOs. Mostly tech IPOs such as Paytm, PolicyBazaar, Nykaa, and MobiKwik. The IPOs are coming out all at once with extremely high valuations and buzz in the market. It might leave the market out of liquidity. Nykaa is the first IPO going up in November and might therefore have a first-mover advantage. The company has grown significantly in a very small period, much faster than its other tech-commerce peers.  
Nykaa scored two consecutive losses in the past financial years. According to SEBI regulations, the company needs to offer not less than 75% of the Net Offer to Qualified Institutional Buyers (QIBs). This will bring down the retail quota from 35% to 10% as is the requirement laid down by SEBI. Therefore, retail investors like you and me have a lesser chance of getting an allotment.
In today's trend and time, wherein tech startup giants have extremely inflated valuations supported by the post-COVID market boom, it is difficult to project where these stocks might be headed. Just like its tech peers, Nykaa too is on the same path. The company's growth has been good, it recorded a net profit last year despite the Covid-19 pandemic. Its key metrics hint towards a flourishing business. Even if one was to say that Nykaa is overvalued, one cannot question its growth metrics. Conclusively, there is considerable room for Nykaa's IPO to be a successful one.
What are your views on this IPO? Will you be applying for it? Let us know in the comments section of the marketfeed app.
Post your comment
No comments to display