Nykaa Eyes Total Addressable Market of $180bn by 2027 - Top Indian Market Updates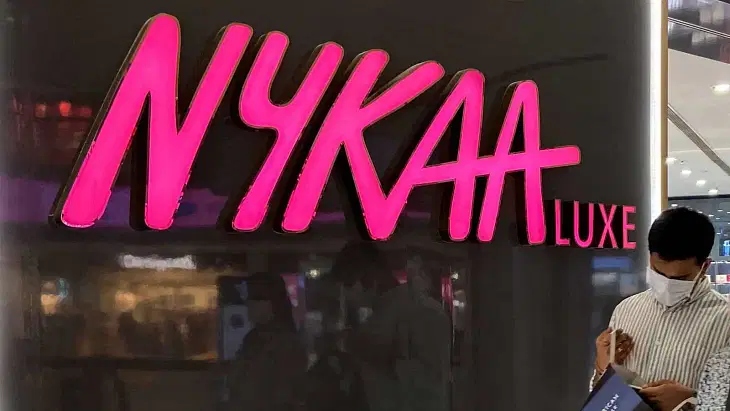 Here are some of the major updates that could move the markets on Monday:
Nykaa eyes total addressable market of $180 billion by 2027
During its investor day presentation, FSN E-Commerce Ventures Ltd (which operates Nykaa) said it sees a total addressable market of $100 billion and targets over $180 billion (~Rs 14.74 lakh crore) by 2027. Nykaa's premium fashion market in India is expected to grow 3.5 times by 2030. The company's store count grew from 350 in FY22 to 1000 in FY23, and it is projected to cross 2,000 in FY24.
Read more here.
Paras Defence secures order worth ₹53 crore from Defence Ministry
Paras Defence & Space Technologies secured an order worth Rs 53 crore from Defence Ministry for supplying Optronic Periscopes. The company will have to make partial delivery in the financial year 2023-24 (FY24) and the balance by FY25. The company's current order book stands at over Rs 550 crore.
Read more here.
India's forex reserves fall $1.32 billion to $593.75 billion
The Reserve Bank of India said India's foreign exchange (forex) reserves dropped by $1.31 billion to $593.749 billion for the week ended June 9. The overall reserves had jumped by $5.93 billion to $595.06 billion for the previous reporting week. The reserves have been declining as the central bank deploys forex to defend the rupee amid pressures caused majorly by global developments.
Read more here.
NTPC Vidyut Vyapar Nigam commissions first solar rooftop project at IIT Jodhpur
NTPC Vidyut Vyapar Nigam Ltd (NVVN) commissioned its first rooftop solar PV project at IIT Jodhpur, Rajasthan on June 14, 2023. The 1 MW Grid connected solar project has been implemented by the NVVN under the RESCO model with a Power Purchase Agreement duration of 25 years, the statement said. NVVN is an arm of state-run power producer NTPC.
Read more here.
Kotak Mahindra Bank approves issuance of NCDs of up to Rs 7,000 crore
Kotak Mahindra Bank's board has approved the issuance of unsecured, redeemable, non-convertible debentures (NCDs) worth up to Rs 7,000 crore on a private placement basis. NCDs are fixed-income instruments issued as a public issue to accumulate long-term capital appreciation. They are considered debt instruments during their tenure.
Read more here.
Jio, Airtel make AGR gains at Vi's expense in Q4 FY23: TRAI
Reliance Jio and Bharti Airtel reported sequential growth in their adjusted gross revenue AGR (including national long-distance revenue) in Q4 FY23 at the expense of loss-making Vodafone Idea (Vi). Jio and Airtel reported 1.7% and 1.3% sequential rises in AGR (including NLD revenue) to Rs 23,300 crore and Rs 20,400 crore, respectively, in Q4. Vi's AGR fell 1.1% quarter-on-quarter to Rs 9,300 crore.
Read more here.
RITES secures $81 million order from National Railways of Zimbabwe
RITES Ltd. has secured an order worth $81.17 million from the National Railways of Zimbabwe for the supply of rolling stock. The supply of rolling stock involves 3,000 HP Diesel Electric Locomotives and High-Sided Open Wagons. RITES is a Miniratna Central Public Sector Enterprise under the Ministry of Railways.
Read more here.
NLC India forms subsidiary to undertake renewable energy projects
NLC India Ltd announced the incorporation of its subsidiary, NLC India Renewables Ltd (NIRL), to oversee its existing renewable energy projects. The primary purpose of NIRL is to acquire and manage renewable energy projects and assets currently owned by its parent company. As an entity under the Ministry of Coal, NLC India Ltd is primarily engaged in lignite & coal mining and power generation activities.
Read more here.
CEAT eyes up to 5% market share gain in the PV segment
At its investor day meeting, CEAT India said it will focus on market share gains in passenger vehicles (PV) and maintain its leadership in the two-wheeler segment. For the financial year 2022-23 (FY23), CEAT had a market share of 15% in the passenger vehicle segment, which it plans on increasing to 18-20% over the next 3-4 years. Within the two-wheeler segment, CEAT aims to maintain its leadership position and the 28% market share that it had in FY23.
Read more here.
Warburg Pincus sells 6.2% stake in Kalyan Jewellers for Rs 724 cr
Highdell Investment, owned by private equity firm Warburg Pincus, has sold a partial stake in Kalyan Jewellers through open-market transactions. Warburg Pincus has offloaded 6.4 crore shares or 6.22% stake in the company at Rs 113 per share. Through the stake sale, Warburg has earned Rs 724 crore. BNP Paribas Arbitrage, Franklin Templeton MF, and Nomura bought the shares.
Read more here.
Post your comment
No comments to display