Nifty to Turn Bearish? - Post-Market Analysis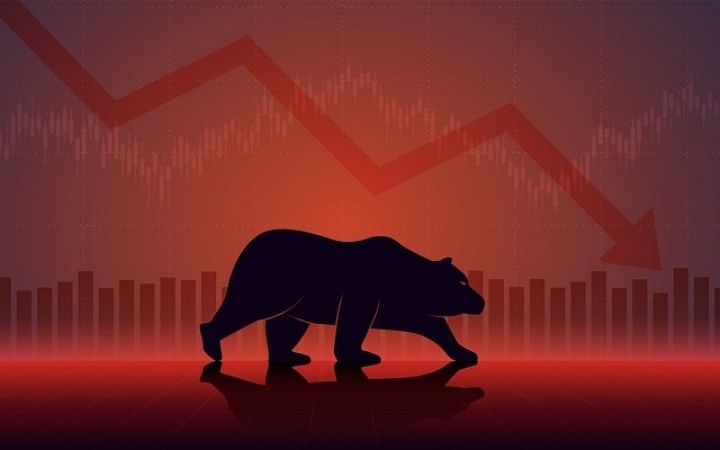 NIFTY started the day at 19,840 with a gap-down of 60 points.  After opening, the index continued the down move to 19,740 levels— a fall of more than 100 points. It then tried moving up, but the 19,800 round level acted as resistance, and the index continued the decline to 19,710 levels. Nifty closed at 19,742, down by 159 points or 0.8%.
BANK NIFTY (BNF) started the day at 45,179 with a gap-down of 205 points. After an initial attempt to recover, 45,300 (near yesterday's closing level) acted as resistance, and the index continued to move down throughout the day— falling nearly 680 points to 44,600 levels. BNF closed at 44,623, down by 760 points or 1.68%.
All indices closed flat-to-red. Nifty PSU Bank (-2.28%) fell the most.
Major Asian markets closed up to 1.3% in the red. European markets are currently trading in the red.
Today's Moves
Adani Ports (+1.6%) was NIFTY50's top gainer.
KSB (+13.54%) on the back of a strong business outlook, driven by a healthy order intake of ₹616.5 crore in the June quarter. [KSB is a leading supplier of pumps, valves and water systems.]
M&M (-3.08%) was NIFTY50's top loser. The automaker's Canada-based associate firm Resson Aerospace Corporation has ceased to exist.
Public sector banks Punjab & Sind Bank (-5.89%), UCO Bank (-5.13%), Central Bank (-4.19%), Union Bank (-3.2%), and others fell sharply today.
BLS International Services (-2.7%) fell amid reports that Indian visa services in Canada have been suspended until further notice.
SJVN (-13%) crashed following the government's decision to offload a 4.92% stake in the company via an offer-for-sale (OFS) route.
Markets Ahead
Nifty is at a very crucial support zone, which can decide the further trend in the index. On the other hand, Bank Nifty has breached the important technical supports and turned bearish.
Nifty: Nifty had made a strong 900-point rally from 19,300 levels to 20,200 recently. This has been followed by a 50% retracement now. In terms of price action, hitting the 50% retracement level could indicate a shift towards bearish sentiment. So today's low, which is the 50% retracement support, will act as a very crucial level. If that's breached, we can expect a sell-on-rise scenario with targets of 19,630 and 19,560.
If the index takes support, moves up, and breaks the resistance at 19,760, it may reach an initial target of 19,800, followed by targets at 19,840 and 19,900.
Bank Nifty: The index has breached the 50% retracement level and turned bearish. The next round level support is near 44,500. A breakdown from there can give us targets of 44,325 and 44,250. Meanwhile, the immediate resistance for BNF is near the 44,750 level. A breakout can give us targets of 45,000 and 45,100.
Markets have to hold these levels to continue the uptrend. If not, the indices can turn bearish in the coming weeks.
Being Nifty expiry today, premiums were well balanced and the spikes were minimal, despite the index falling. So it was an easy day for option sellers. The directional move would also have been favourable for option buyers.
How did expiry trading go? Let us know in the comments section!
Don't forget to tune in to The Stock Market Show at 7 PM on our YouTube channel!
Post your comment
No comments to display