Nifty Hits Fresh All-Time High Above 19,500! - Post-Market Analysis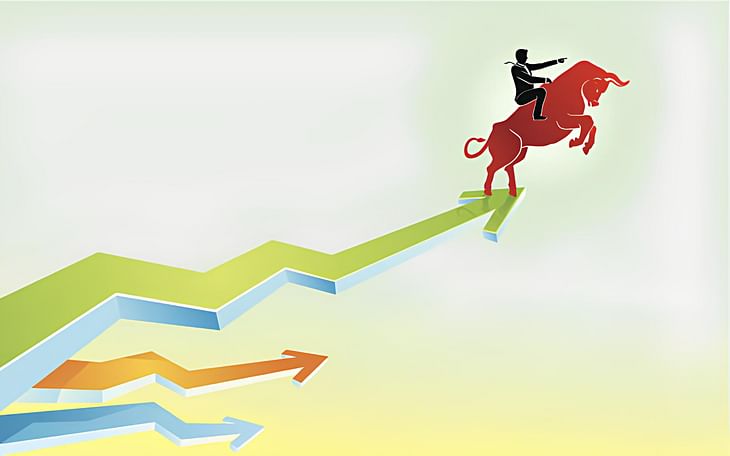 NIFTY started the day at 19,385 with a small gap-down of 12 points. The index showed strength right from the start, crossed the previous all-time high (ATH) and resistance zone of 19,440 levels and consolidated there for the most part of the day. It eventually gave a breakout after 2 PM and crossed 19,500 round levels. Nifty closed at 19,497, up by 98 points or 0.51%.
BANK NIFTY (BNF) started the day at 45,106 with a gap-down of 92 points (near the support zone of 45,000-100). Similar to Nifty, Bank Nifty moved up and faced multiple rejections from 45,400 zones. BNF closed at 45,339, up by 188 points or 0.42%.
All indices except Nifty IT (-0.12%) closed flat-to-green. Nifty Realty (+2.25%) and Nifty Media (+1.71%) moved up the most.
Major Asian markets closed deep in the red. European markets are currently trading over 1% in the red.
Today's Moves
M&M (+4.98%) was NIFTY50's top gainer.
Reliance (+2.1%) contributed most to NIFTY's up-move today.
CEAT (+18.7%) surged to hit a 52-week high of ₹2,512.20. As per reports, today's jump in tyre stocks can be related to the latest automobile launches in the premium segment.
Hindustan Zinc (+7.85%) moved up after the company said its board will meet on July 8 to consider and approve an interim dividend for FY24.
Eicher Motors (-2.65%) was NIFTY50's top loser. The stock has fallen 11% since Monday after Harley Davidson and Triumph launched affordable bikes in the premium segment.
JBM Auto (-12.65%) crashed a day after BSE said it will replace HDFC in the BSE 500 index.
Markets Ahead
As mentioned in yesterday's post-market report, Nifty could hit the 19,500 round level if the 19,440 resistance is crossed— and that happened today! In Bank Nifty, we said that 45,600 levels may be tested if the market sustains 45,000 zones. Today, the index went up till 45,400 zones and closed there.
NIFTY: The index has been moving with a lot of strength with the help of Reliance. Now, the major psychological resistance level is Nifty is the ATH (19,512) or the round level of 19,500. The immediate support to look out for will be 19,440 zones. If this support is breached, the index could come down to 19,350. If there's a breakout, there would be no technical targets as it's at an ATH. However, psychological targets could be 19,550 and 19,600.
BANK NIFTY: The index looks much weaker than Nifty. It is stuck in a zone between 45,400 and 45,100. A breakout or breakdown from these zones can give us targets of 44,700 on the downside and 45,600 on the upside.
Today's weekly expiry was more or less easy with good premiums for option sellers as the calls were not spiking and puts were compensating well.
Meanwhile, Asian and European stock markets are experiencing a decline today as traders analysed the slow economic growth.
How did expiry trading go? Are you in net profit or loss? Let us know in the comments section of the marketfeed app.
Post your comment
No comments to display