Nifty Closes Lower for 3rd Straight Session. SBI Falls 2% - Post-Market Analysis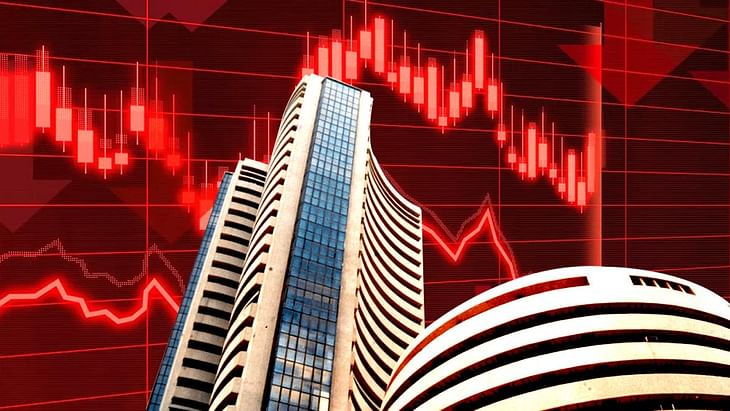 NIFTY started the day at 18,287 with a gap-up of 105 points, exactly coinciding with the 50% rejection levels of Fibonacci from the recent high of 18,400 and the low made around 18,110 levels yesterday.
The index fell right from the beginning. It made a double-top pattern near 18,250 and continued the fall to 18,100 levels (an important support zone from yesterday). NIFTY closed at 18,129, down by 51 points or 0.27%.
BANK NIFTY started the day at 44,006 with a gap-up of 308 points. It consolidated between 43,100 and 42,850 for most part of the day. In the second half, the index broke down from the consolidation and took support from the trendline it has been respecting since March 16. Bank Nifty closed at 43,752, up by 53 pts or 0.12%.
All indices except NIFTY Bank and NIFTY Finserv (+0.32%) closed in red. NIFTY Realty (-2.37%), NIFTY PSU Bank (-1.9%), and NIFTY Pharma (-1.2%) fell the most.
Major Asian markets closed in the green. European markets are currently trading in the green.
Today's Moves
Bajaj Finance (+1.26%) was NIFTY50's top gainer.
Restaurant Brand Asia (+14.2%) surged amid media reports that various private-equity firms and Jubilant Foodworks are among entities in talks to buy Everstone's stake in the company.
Honeywell Automation (+7.3%) jumped up to 9% intraday on heavy volumes following strong Q4 results.
Divi's Labs (-3.5%) was NIFTY50's top loser.
ITC (-1.85%) fell even after the company reported a 23% YoY increase in net profit to Rs 5,175 crore in Q4 (beating street estimates).
SBIN (-2.06%) moved down today. The bank's Q4 results exceeded analysts' estimates.
GNFC (-8%) fell sharply even after revenue hit a record high in Q4 and the board declared its highest-ever dividend.
Markets Ahead
Nifty clearly seems to be more bearish and is at an important support zone of 18,050 - 100 levels. If this level is breached, we can expect the index to correct till 17,800 levels. On the upper side, 18,250-300 can act as resistance.
Bank Nifty (BNF) seems to be sideways and has been moving in a range. It has taken support from a long-term trendline. If BNF breaches the important support level of 43,650, re-tests, and continues the fall, we can expect the index to fall further to 43,400 and 43,000. On the other hand, 44,050 can act as immediate resistance, and if that level is breached, BNF could even cross its all-time high.
There was SBI results-induced volatility in our markets today. The fall in SBI and ITC shares added to the pressure on investors to book profits.
The European markets are trading higher as US debt ceiling talks make progress. President Joe Biden and congressional leaders are inching closer to a deal to raise the debt ceiling and avoid a default.
How was expiry trading? Are you in net profit or loss? Let us know in the comments section of the marketfeed app.
Post your comment
No comments to display