Nifty Closes Below 19,000 On Monthly Expiry! - Post-Market Analysis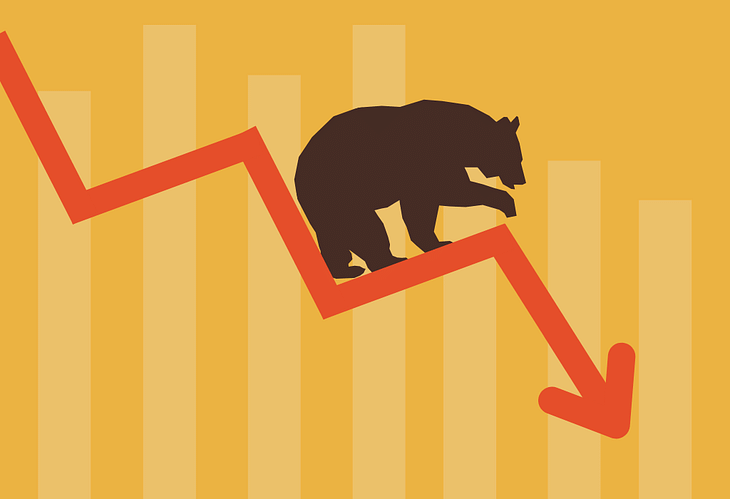 NIFTY started the day at 19,027 with a gap-down of 95 points. Then, it fell sharply by 195 points to 18,850 levels. Post 11:30 AM, the index mostly consolidated in a nearly 70-point range. Nifty closed at 18,857, down by 264 points or 1.39%.
BANK NIFTY (BNF) started the day at 42,708 with a gap-down of 124 points. Initially, the index crashed 610 points to 42,105. For the rest of the day, BNF traded in a 270-point zone (with a positive bias) to close at 42,280, down by 551 points or 1.29%.
All major indices closed in the red. Nifty Metal (-1.6%), Nifty Auto (-1.59%), and FIN NIFTY (-1.57%) fell the most.

Major Asian markets closed in the red (Japan's Nikkei fell 2.1%). European markets are currently trading up to 1% in the red.
Today's Moves
Axis Bank (+1.7%) was NIFTY50's top gainer. The lender reported a 10% YoY rise in net profit to ₹5,863 crore in Q2; beating street estimates.

Prism Johnson (+12.02%) jumped on the back of strong volumes.
Sonata Software (+8.2%) hit a 52-week high after the IT services provider announced its Q2 FY24 earnings.
Mahindra & Mahindra (-4.06%) was NIFTY50's top loser. It fell amid huge selling pressure in auto stocks.
Bajaj Finance (-3.54%) and Bajaj Finserv (-3.16%) fell today. Bajaj Finserv Mutual Fund launched its banking and PSU fund today.
Delta Corp (-5.45%) fell sharply after yesterday's strong up-move. The Bombay High Court provided interim relief to the company by retraining tax notices worth over ₹16,000 crore it received from the Directorate General of GST Intelligence (DGGI).
Markets Ahead
Nifty has fallen for the sixth straight session, its longest losing streak since February 2023! India VIX, a measure of market volatility, jumped by 10% on the monthly F&O expiry day, signalling a sense of unease in our markets.

As long as Nifty stays below 19,000, we can expect bearish sentiments to continue, possibly reaching levels between 18,800 and 18,725. However, if the index manages to break through the 19,000 mark, there could be a small bounce back, potentially pushing it towards 19,100-19,150.
The Israel-Hamas conflict remains a significant challenge for geopolitical stability, which can impact global stock markets. Elevated US Treasury bond yields are also posing a major threat.
Please join The Stock Market Show at 7 PM on our YouTube channel.
Post your comment
No comments to display