NIFTY Closes Below 17,000! Tricky Expiry Tmrw? - Post-Market Analysis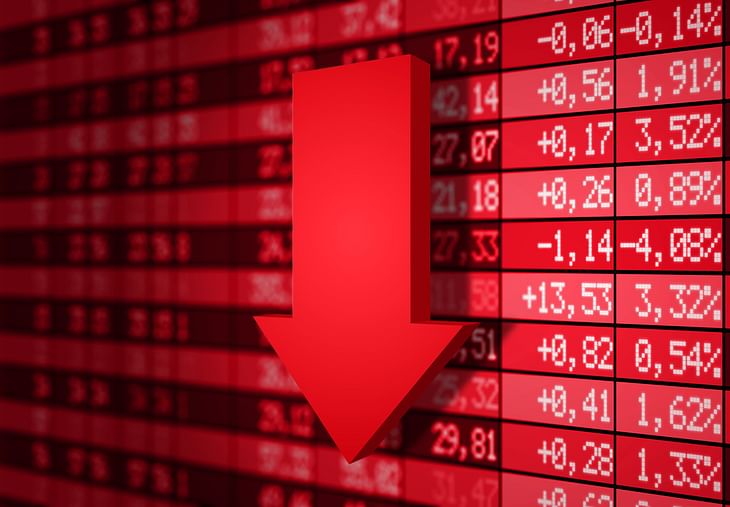 NIFTY started the day at 17,166 with a gap-up of 123 points. The index couldn't hold the opening gains and was in a clear downtrend for the rest of the day. After 3 PM, it broke the psychological support of 17k also. NIFTY closed the day at 16,972, down by 71 points or 0.42%.
BANK NIFTY started the day at 39,777 with a gap-up of 366 points. It moved down and tried to take support at 39,500. But it failed, and the index fell below 39,000. The index closed at 39,051, down by 359 pts or 0.91%.
NIFTY Metal (+1.8%) and NIFTY Pharma (+0.31%) were the only indices that closed in the green. NIFTY Media (-1.2%), NIFTY PSU Bank (-1.2%) & NIFTY Realty (-0.85%) fell the most today.
Major Asian markets closed deep in the green. European markets are currently trading 2-3.5% in the red.
Today's Moves
Adani Enterprises (+5.7%) was NIFTY50's top gainer. Adani Ports (+3.8%) also moved up. On Monday, the Finance Ministry told Lok Sabha that volatility in stocks of Adani Group had no "significant" impact at the systemic level.
Asian Paints (+2.98%) gained after crude oil prices slumped to three-month lows. (Crude oil is a primary raw material for manufacturing paints).
Nazara Technologies' (+1.2%) subsidiaries Kiddopia and Mediawrkz were given unrestricted access to the entire amount of Rs 64 crore held in Silicon Valley Bank (SVB).
Bharti Airtel (-1.96%) was Nifty50's top loser even after multiple brokerages said they are positive on the telco's growth amid a stronger digital portfolio and maintains a 'buy' rating.
Max Financial's (-1.6%) proposed promoter stake sale has reportedly hit a roadblock over a mismatch in expectations.
Markets Ahead
At the time of writing, global investment bank Credit Suisse's shares are down 25% on the London Stock Exchange as its major investor, Saudi National Bank, said that it won't provide any more funding.
Credit Suisse shares fell 20% yesterday in NASDAQ, and the fall may continue today as well. Because of this, US Futures are now down 1.5%. If a bloodbath happens in the US markets today, it won't be good for us.
There is a high chance that Nifty would go to 16,800 tomorrow if today's low is broken. Nifty is nearing the lower band of the downtrending channel and let's keep an eye on the 16,750 level.
In Bank Nifty we can watch two levels as supports- 38,615 and 38,395.
What levels are you watching out for expiry tomorrow? Let us know in the comments section of the marketfeed app.
Post your comment
No comments to display