Nifty Closes Above 18,500 Amid Heavy Volatility in a Range - Post-Market Analysis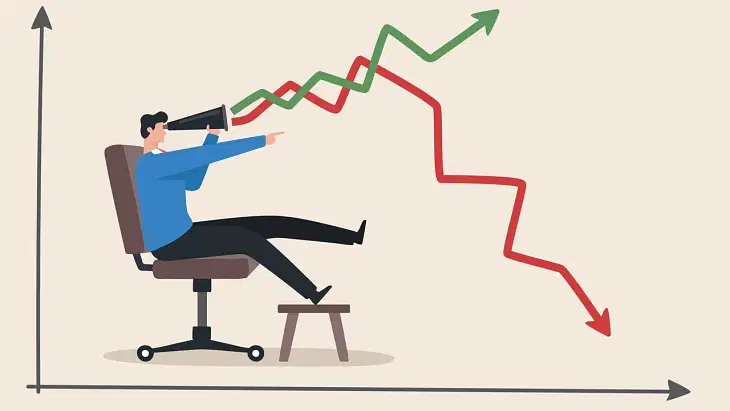 NIFTY started the day at 18,550 with a gap-up of 63 points. The index initially took resistance from 18,580 zones (which was also yesterday's resistance zone) and gave a sharp fall till 18,480 support. From there, it again shot up to the day's high, took similar rejection, and fell down to create a W pattern. The index moved nearly 350 points intraday! NIFTY closed at 18,534, up by 46 points or 0.25%.
BANK NIFTY started the day at 43,997 with a gap-up of 207 points. It took rejection from 44,100 resistance zones, and similar to Nifty, BNF fell to the important support zone of 43,800. The index shot back up again, breaking the day's high of 44,050. But as it was still in the rejection zone of 44,100, the index fell sharply down to 43,800 and again shot up to the 44,000 zones. Heavy volatility within a 200-point range! Bank Nifty closed at 43,937, up by 147 pts or 0.34%.
All indices except Nifty IT (-0.4%) closed in green. Nifty Realty (+1.4%) and Nifty Metal (+1.2%) moved up the most.
Major Asian markets closed 0.8-4% in the green! European markets are currently trading well in the green.
Today's Moves
Hindalco (+3.54%) was NIFTY50's top gainer on the back of strong volumes.
Zomato (+4.7%) jumped up to 8% triggered by news of an upcoming investor meeting.
Cyient (+6.3%) hit a 52-week high of Rs 1,524.75 on the back of a healthy business outlook.
Adani Ent (-1.89%) was NIFTY50's top loser. The company terminated the deal to buy Macquarie's road projects worth Rs 3,110 crore.
Shares of Edelweiss Financial Services turned ex-date for the spin-off of its wealth management business.
Markets Ahead
Volatility within support and resistance zones!
Nifty is stuck between the 18,480 support zone and 18,600 resistance zone! Meanwhile, Bank Nifty is moving between 43,800 support and 44,200 resistance zones.
On an hourly time frame, you can see that Nifty is stuck between 18,600 and 18,480. A breakout on the upper side can give us a target of 18,700 and eventually 18,900. But if the index breaks down on the lower side, the index can give a sharp fall to 18,250-200 support zones.
On the hourly time frame, Bank Nifty is still stuck in this consolidation zone. If today's low is breached, we can expect the index to come down to 43,400 zones. A breakout on the upper side can give a target of 44,500. As long as the index is in this consolidation zone, it can be volatile and might not give any directional moves. The 44,150 resistance level (which was the previous all-time high) also continues as a major resistance.
The global markets rallied after a positive update from the US Government regarding the debt ceiling issue. The US Congress has approved a deal to lift the country's borrowing limit, days before the world's largest economy is due to default on its debt. Investors are now awaiting US jobs data.
How did this week go? Are you in net profit or loss? Let us know in the comments section of the marketfeed app.
Post your comment
No comments to display