NDTV: Adani's Toughest Takeover Yet?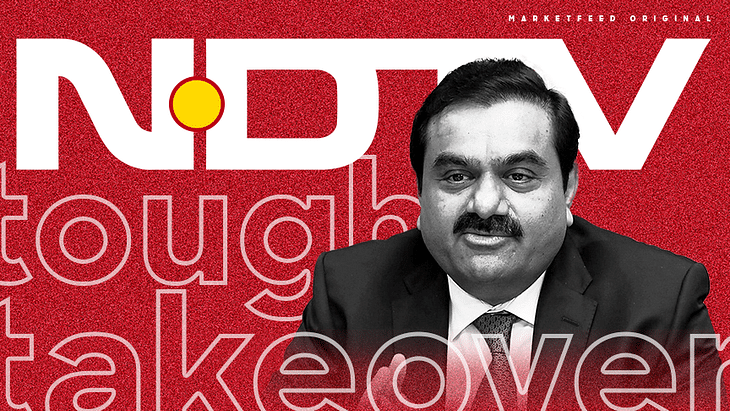 Last month, the Adani Group made a surprising announcement: It will indirectly acquire a 29.18% stake in New Delhi Television Ltd (NDTV)! They will also launch an 'open offer' to acquire an additional 26% stake in the news media company. Many consider this a hostile takeover, and NDTV claims there had been no discussions or consent regarding the matter.
In this article, we discuss the timeline of events that led to Adani Group's aggressive proposal to take over NDTV.
The Story…
NDTV is regarded as a legacy brand that pioneered independent news broadcasting in India. It is credited with launching the country's first 24x7 news and lifestyle channel. Way back in 2005, private equity firm General Atlantic (GA) Global Investments acquired an 8% minority stake in NDTV for ₹116 crore in a block deal.
The promoters of NDTV, Prannoy Roy and Radhika Roy, made an offer to buy back shares from the company's existing investors. Their initial plan was to acquire a 7.73% stake from GA Global Investments. However, this proposal triggered an open offer to other minority shareholders of NDTV.
What is an Open Offer?
Suppose you're a minority shareholder in a company. You have the right to exit an investment if you believe that a change in ownership structure could harm the company's future. Thus, the Securities & Exchange Board of India (SEBI) asks promoters/investors to make an additional open offer to minority shareholders when they acquire a sizeable stake in a company from select investors. The open offer will allow you to sell your shares at a specified price and walk away from the investment.
Coming back to the story, the Roys' did not have the money to buy back shares. So they established a firm called RRPR Holding Pvt. Ltd, which borrowed nearly ₹540 crores from Indiabulls Financial Services by pledging NDTV shares as collateral.
Unfortunately, their plans got derailed due to the global financial crisis of 2008. NDTV shares crashed, and the collateral backing the loan lost most of their value.
That same year, the promoters took another loan of ₹375 crores from ICICI Bank to repay Indiabulls Financial Services. This loan carried an interest rate of 19%!
After the economic slowdown, ICICI Bank settled the loan at ₹350 crore. This amount was funded through a loan RRPR Holding took from Vishvapradhan Commercial Pvt. Ltd. (VCPL) on an interest-free basis. In return, RRPR had to offer convertible warrants to VCPL.
What are Convertible Warrants?
They are financial instruments that will allow you to buy a company's shares at a fixed price if certain conditions are met.
According to the loan agreement, RRPR had to issue convertible warrants to VCPL representing 99.99% of its share capital when exercised. Thus, VCPL would hold a ~99% stake in RRPR Holding (promoter entity of NDTV).
Due to desperate circumstances, Prannoy Roy and Radhika Roy told VCPL that they would hand over RRPR's entire stake in NDTV (~29%) in the form of warrants.
This is Where Things Get Interesting…
VCPL was established in 2008. The only key transaction they had conducted was the loan made out to NDTV's promoters! In 2009, VCPL received ₹403.85 crore as an unsecured loan from Shinano Retail Pvt. Ltd. Meanwhile, Shinano received the same amount from various subsidiaries owned by Reliance Industries Ltd (RIL)! So RIL was slyly holding an indirect stake in NDTV as well!
In 2012, a firm called Eminent Networks obtained ownership of the loan VCPL took from Shinano Retail. This firm was owned by Mahendra Nahata, a Board Member of Reliance Jio Infocomm! As per company statements in 2012, the new owners of VCPL were NextWave Televenture and Skyblue Buildwell, both firms linked to Nahata.
Recent Developments
On August 23, 2022, AMG Media Networks Ltd, a wholly-owned subsidiary of Adani Enterprises Ltd, acquired VCPL for ₹113.74 crore. Interestingly, AMG Media Networks proceeded to exercise the warrants owned by VCPL to own 29.18% of NDTV! What a tactical move by the Adani Group!
AMG Media Networks is obligated to issue an open offer for an additional 26% stake in NDTV at a discount of ₹294 per share. This offer will be launched from October 17 to November 1. This is in compliance with the requirements of SEBI (Substantial Acquisition of Shares and Takeovers) Regulations, 2011.
Meanwhile, Prannoy Roy and Radhika Roy (promoters) still hold a 32.26% stake in NDTV, which was not a part of RRPR. They had recently issued a statement saying that the Adani Group had not sought their consent for the takeover. Now, NDTV and the Roys are definitely fighting back against Adani's takeover.
In a letter to the stock exchanges, NDTV mentioned that the Roys had been found guilty of insider trading in 2020, and were banned from dealing in financial securities. The ban will be lifted by November 26, 2022. So NDTV believes that VCPL can only acquire its shares by overriding the ban. A pretty complicated situation indeed! They even approached SEBI and the Income Tax Dept. to try and stop Adani Group's acquisition plans. However, Adani is ready with countermeasures to tackle any issues that may come their way.
What are your views on Adani Group's strategic takeover of NDTV? Let us know in the comments section of the marketfeed app!
Post your comment
No comments to display