Muhurat Trading Gains Lost! - Post-Market Analysis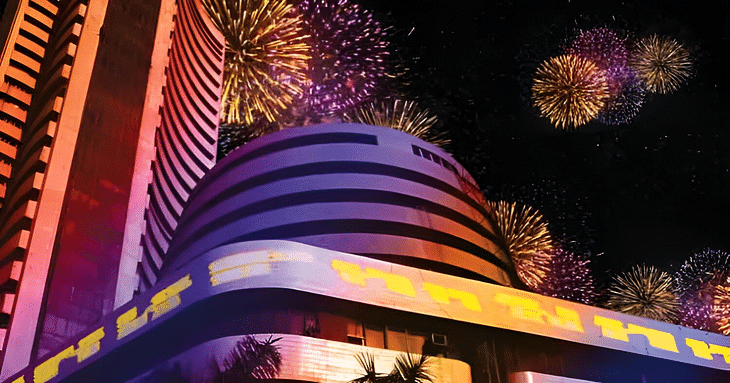 NIFTY started the day at 19,486 with a gap-down of 38 points. After opening, the index further fell nearly 80 points with volatility. Then, it consolidated throughout the day in a 25-point upward channel. Nifty closed at 19,443, down by 82 points or 0.42%.
BANK NIFTY (BNF) started the day at 43,915 with a gap-down of 81.5 points. Similar to Nifty, BNF fell more than 200 points with wild moves. Then, the index rebounded 200 points in just 20-25 mins and consolidated for the rest of the day. BNF closed at 43,891, down by 105 points or 0.24%.


All indices except Nifty PSU Bank (+2.64%) and Nifty Metal (+0.37%) closed in the red.

Major Asian markets closed in the green. Germany's DAX and UK's FTSE100 are currently trading in the green, while France's CAC40 is trading in the red.
Today's Moves
Coal India (+5.29%) was NIFTY50's top gainer. Jefferies India and other brokerages have upgraded the stock and raised their target prices on the back of strong Q2 earnings by the state-run miner.
BSE (+9.2%) hit a 52-week high of ₹2,350 after the stock exchange reported a 4x jump in its net profit to ₹118.4 crore in Q2.
Hindustan Copper (+8.07%) surged after the company's net profit more than doubled in Q2.
SBI Life (-2.2%) was NIFTY50's top loser.
Glenmark Pharma (-5.03%) fell sharply after the company posted a loss in Q2 on exceptional legal costs.
Markets Ahead
On the occasion of Muhurat Trading, the Indian markets opened with a gap up (above major resistance levels). However, today's opening brought the indices back into their original zones, suggesting the presence of selling pressure in the markets.
Nifty: Keep an eye on the resistance levels at 19,460 and 19,500. If there's a breakout, we might see the index aiming for 19,540 and 19,600. On the other hand, the critical support for Nifty is at 19,400. If it falls below this level, potential targets could be 19,360 and 19,330.
Bank Nifty: The resistance levels to keep an eye on are at 43,900 and 44,000. A breakout might set a target at 44,000 and a larger one at 44,500. On the downside, the key support levels are at 43,800 and 43,700. If there's a breakdown, potential targets could be 43,500 and 43,300.
Also, watch out for this channel in BNF!
The Indian market continues to consolidate due to various factors: the sudden slowdown in Industrial Production (IIP) growth in Sept 2023, and the declining manufacturing PMI mirror global patterns influenced by rising interest rates and inflation. The weakness in the Indian Rupee has made FIIs adopt a cautious stance. However, the market's potential decline is limited by robust Q2 earnings, economic stability, and consistent DII investments.

The markets will be closed tomorrow (Nov 14) on account of Diwali-Balipratipada! marketfeed wishes all our readers a Happy Diwali! 🪔

Please join The Stock Market Show at 7 PM on our YouTube channel.
Post your comment
No comments to display