Muhurat Trading 2021: All You Need to know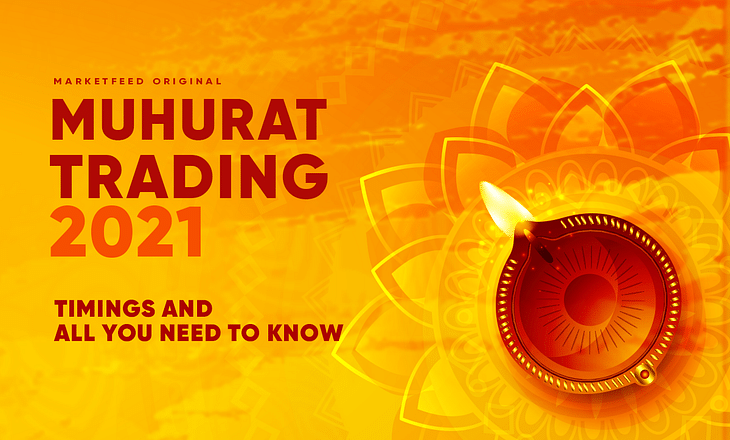 Diwali, the Festival of Lights, is widely celebrated all over India. It symbolises the spiritual victory of light over darkness or good over evil. It is believed to be an auspicious time and many traditions are followed during this period. One such special tradition in our stock markets during Diwali is Muhurat Trading. It is a very interesting concept that has been followed for nearly six decades. In this article, learn more about Muhurat Trading and how you can make use of it.
What is Muhurat Trading?
The term 'Muhurat' means an auspicious time. According to Hindu customs, Muhurat is a time when planets are aligned favorably to ensure positive results. Muhurat Trading is a one-hour special trading session on the day of Diwali approved by both the NSE and BSE. Muhurat is an occasion in which the investing and trading communities pay tribute to the goddess Lakshmi, the deity of wealth and prosperity. It also marks the celebration of 'Samvat' or the New Year.
Thus, according to traditions, it is believed that people who trade during the Muhurat session have a better chance of gaining wealth and prosperity throughout the year. This type of tradition is unique to our Indian stock markets only.
History of Muhurat Trading
When we look at the history of stock markets in India, many stockbrokers started their New Year from the day of Diwali. They would open new settlement accounts for their clients on the Muhurat, or "the auspicious time".
The concept of Muhurat Trading was officially established in India in 1957 when it was approved by the Bombay Stock Exchange. The main factor for this tradition has been attributed to two prominent business communities— the Gujaratis and the Marwaris. Interestingly, these communities have a century-old tradition of performing pooja of their ledgers and 'wealth chest' on the day of Diwali. When the National Stock Exchange was established in 1992, it also permitted trading for one hour on the evening of Diwali day.
Today, Muhurat Trading has become more of a symbolic gesture, and investors even conduct prayers when they purchase shares. It has also been found that during this period, people buy shares of strong companies that can generate good returns in the long run.
Muhurat Trading Timings for 2021
The Muhurat Trading session for this year will be held on November 4, 2021 (Thursday). The table below shows the Session Timings for Muhurat Trading. The timings are applicable on both NSE and BSE.
1. Block Deal Session - This is when two parties agree to buy/sell a security at a fixed price and inform the stock exchange about it.
2. Pre-Open Session - This is when the stock exchange determines the ideal opening price of a stock for the trading session.
3. Normal Market session - This refers to the one-hour session where the actual trading takes place.
4. Call Auction Session - This is a period when illiquid securities are traded. These are stocks that investors cannot find ready buyers for because of their limited trading.
5. Closing session - The period when traders can place a market order at a closing price.
Factors to Keep in Mind During Muhurat Trading
When we look at past records, the market has been usually bullish during Muhurat Trading. However, investors have to be careful while trading during this period. We must understand that most investors would prefer to buy stocks that have a potentially higher return on investment (ROI). As always, investors need to make sure that the fundamentals of a company are strong before investing in its stock.
Historical records have shown that fast-moving consumer goods (FMCG) companies and two-wheeler segments have a probability to show very high growth. This is mainly seen in rural areas, as the festive season is an auspicious time to buy new products. Offers and other incentives would also encourage a high demand for these goods. Keep a close watch on fundamentally strong companies, and try to add stocks at dips.
At the same time, investors need to keep a close watch on the resistance and support levels of stocks. Historically, it has been noticed that markets could be volatile during Muhurat Trading with no specific direction. Hence, better trading decisions can be made when the resistance and support levels are given high importance.
There could also be a lot of fraudulent activities such as free stock tip scams that could be very common during this period. marketfeed has prepared a very detailed article on this issue as well. You can read it here. Make sure that you do not fall into any such trap!
As intelligent stock market participants, make sure you watch out for those stocks which could show a potential boom during the festive season. marketfeed wishes all our readers a very Happy and Prosperous Diwali!
Post your comment
No comments to display