Much Needed Profit Booking! Nifty Closes Below 17,600 - Post Market Analysis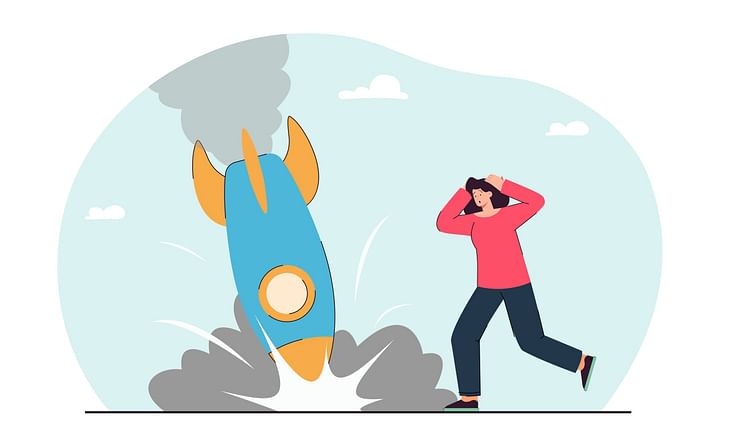 NIFTY opened the day at 17,796 with a gap-down of 80 points. After the opening, the index suddenly fell 100 pts and took support near 17,720. It couldn't take any major support and the fall continued till 17,500. Nifty closed the day at 17,530, down by 346 points or 1.96%. 
BANK NIFTY started the day at 40,977 with a gap-down of 232 pts. The index broke 41k in the morning itself and took support near 40,850 levels. It failed to make a recovery and hit a day low at 40,502. With the help of last hour's up move, Bank Nifty ended the day at 40,776 down by 432 points or 1.05%.
All the index fell more than 1% today. Nifty Auto (-2.7%), Nifty IT (-3.7%), Nifty Media (-4%), Nifty Metal (-2%), Nifty PSU Bank (-2.3%) and Nifty Realty (-3.7%) moved down the most. Nifty Bank closed 1% in the red.
Major Asian Markets closed in the red. European markets except for the UK are trading in the red. The UK is trading flat.
Today's Moves
Only two Nifty 50 stocks closed in the green- IndusInd Bank (+2.6%) and Cipla (+0.99%).
IndusInd Bank (+2.6%) closed in the green after the board reappointed Sumant Kathpalia as MD and CEO of the company.
Brokerage firms are having strong buy calls on Cipla (+0.99%) and also they are supported by product launches.
Agrochemical company UPL (-5.2%) continued the recent downtrend and closed as the Nifty 50 Top Loser.
Today's profit booking was wider and it entered FMCG stocks also. Britannia (-2.2%), Colpal (-4.1%), Dabur (-3%), Emami (-5.6%), GodrejCP (-4.1%), HUL (-1.2%), ITC (-0.84%), Marico (-2.8%), Nestle (-3.1%), and Tata Consumer (-5%) closed in the red.
IT stocks- Coforge (-4%), HCL Tech (-2.5%), Infy (-3.8%), MindTree (-4.7%), Mphasis (-3.8%), TCS (-3.8%), TechM (-4.6%) , and Wpro (-3.2%) continued its fall.
Vedanta (-7.4%) clarified that the proposed semiconductor project will be done by Volcan Investments, not under Vedanta Ltd.
Tyre stocks, Chemical stocks, Cement stocks, and many other sectors saw strong profit booking. 
Zomato's (-2.7%) subsidiary Blinkit announced its new plan to deliver Apple iPhones and accessories within minutes.
Tata Metaliks (+2.8%) moved up on plans to expand its Ductile Iron Pipe capacity as demand has tripled.

Markets Ahead
A perfect profit booking day after the recent rally. Strong red candles are much needed for a long-term rally. Nifty is now more than 15% up from the recent low and we have good support at 17,480, 300, 180, and 17k. So, everything is looking good from a broader view. 
Bank Nifty didn't see a profit booking like Nifty. They are trading well above 40,500. If they continue above 40k, we may see Nifty back above 18k in the coming weeks. On a weekly basis, Bank Nifty continued its winning streak, up by nearly 1%.
The question is, what if Bank Nifty also starts falling?
HDFC Bank closed below1500 level and it's not a good thing for the market.
Reliance broke 2525 support, which is also alarming.
Nifty IT fell 7% compared to the previous week, contributing to a lot of negativity in the market.
Nifty Midcap100 has formed a red weekly candle after 11 weeks.
China's industrial output rose by 4.2% compared to last year and was above expectations. But investors didn't have much confidence and the Chinese market fell 2.3% today.
With rising inflation in the U.S, global markets are expecting a higher interest rate hike from Fed. We have been fighting against the negative global cues for many days and finally, we had to take some rest.
Today, Adani Group beat Tata Group in terms of market capitalisation. Analysts were considering Adani Group as a balloon. What do you think? Who is your favourite, Adani or Tata?
Share your thoughts in the comment section of the marketfeed app.
Post your comment
No comments to display