MTAR Technologies IPO: All you need to know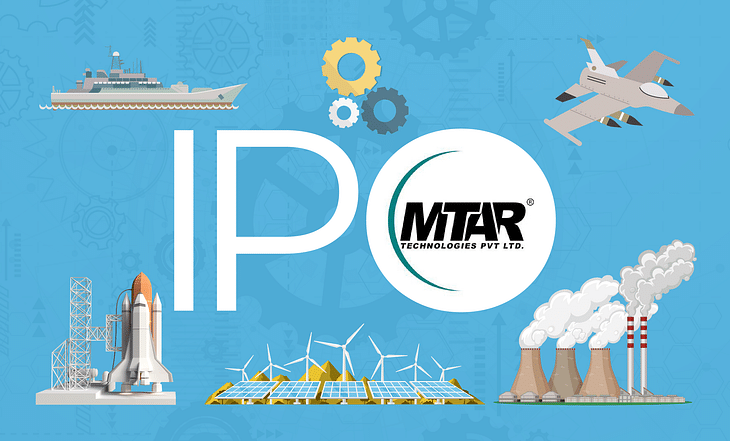 Covid-19 did initially decrease the pace of IPOs in 2020 but 2021 is proving to be completely opposite. Many companies are taking the public route this year and hopefully would have earned a lot in an oversubscribed IPO as well. Do tell us if you are one of those lucky investors who are enjoying profits and are investing in Railtel's IPO. For now, let's discuss a very unique company that has launched its IPO today and the market is already discussing it in length, which is MTAR Technologies.
About MTAR Technologies
MTAR Technologies are a leading national player in the precision engineering industry. The company is engaged in the manufacture of mission-critical precision components. Most of the projects in which MTAR Technologies deals are of very high importance to the nation in terms of security. They hold a rich history to contribute to the Indian Civilian Nuclear Power program, Indian Space program, Indian Defence and Global Defence.
Since the inception of the company in 1970, it has grown massively to aid government agencies and add them to its client list. Currently, MTAR Technologies cater to the needs of esteemed clients like ISRO, NPCIL, DRDO, Bloom Energy, HAL, VSSC, Rafael, Elbit and others.
Currently, MTAR Technologies hosts 7 modern state-of-the-art manufacturing facilities. Their key products include the manufacturing or assembling of Liquid propulsion engines to space programmes and defence programmes including GSLV Mark III, Base Shroud Assembly & Airframes for Agni programs, Actuators for LCA, power units for fuel cells and others. In all, they offer 14 kinds of products in the nuclear sector, six kinds of products in the space and defence sectors and three kinds of products in the clean energy sector.
About the IPO
The IPO of MTAR Technologies will open on 3rd March 2021 and will close on 5th March 2021. The total issue size of the IPO is Rs 596.41 crore. The fresh issue aggregates up to Rs 123.52 crore whereas the Offer for sale aggregates up to Rs 472.90 crore. The price band of the IPO is Rs 574 - Rs 575 per equity share. You have to apply for a minimum of 26 Shares which is one lot.
The upper limit to the number of lots you can apply for is 13, which means, 338 shares. The minimum an investor has to pay for this IPO of MTAR Technologies is Rs 14,900. Similarly, the maximum one can invest in is Rs 1,94,350. Currently, the promoters of the company have 62.24% of the total holdings. After the IPO, this will decrease to 50.25%. Just above the 50% mark so that they remain the highest stakeholder. The allotment date and listing date for the IPO are 10th Match 2021 and 16th March 2021 respectively.
MTAR Technologies plans to use the net proceeds from the IPO in three ways. Firstly, the amount will be used to partly or fully repay the company's borrowings. Secondly, to finance their working capital requirements. Lastly, the remaining sum will be used to meet general corporate purposes.
Financial Overview
| | | | | |
| --- | --- | --- | --- | --- |
| . | 30 December 2020 | 31 March 2020 | 31 March 2019 | 31 March 2018 |
| Total Assets | 381.91 | 346.27 | 305.15 | 281.03 |
| Total Revenue | 177.99 | 218.14 | 185.91 | 160.54 |
| Profit after Tax | 28.06 | 31.31 | 39.19 | 5.42 |
(Values in Rs Crore)

The table suggests that the company has consistently increased its revenue and total assets each year. In FY20, MTAR Technologies failed to generate profits as they did in FY19. One of the main reasons behind this is the lockdown initiated due to Covid-19 cases last year. Till December 2020, that is the third quarter of FY21, the company has done well to generate revenue and profits. If they can end FY21 on a high, they will beat their numbers from last year.
MTAR Technologies has a lower return on equity of 13.61% as compared to GMM Pfaudler's 23%, which can be considered as one of its indirect competitors. Both companies are into precision manufacturing of components but for different industries. But when it comes to Net Profit Margin(NPM) and Operating Profit Margin(OPM), MTAR Technologies beats GMM Pfaudler. The former has an NPM and OPM of 15.77% and 20.3% as compared to the latter's 12% and 19.48% respectively.
The primary reason for the company to take the public route is to repay its borrowings. But it has a very low debt-to-equity ratio of 0.18. After the IPO, this ratio will fall further. Lesser the debt on the company, the lesser the risk for the investors.
Risk Factors
As said before, MTAR Technologies features in the precision engineering industry which is used by a very limited number of customers. These are specially engineered products that are required by only some specific entities. Thus, the customer range is small.
The company's brand image and financials highly depend on the orders from the NPCIL, ISRO and DRDO. A decline in orders from these known government institutions or a change in policy from the government can highly impact MTAR Technologies business.
They don't have long-term contracts with their customers. Thus, if they choose to buy from an alternate seller, the company will face a reduction in total revenue.
As the company is engaged in highly secretive work for some sectors, they have to undergo strict quality standards. If they fail to make accurate and precise products, the company will lose its customers.
IPO Details in a Nutshell
| | |
| --- | --- |
| IPO Date | March 3, 2021 - March 5, 2021 |
| Issue Type | Book Built Issue IPO |
| Face Value | Rs 10 per equity share |
| IPO Price | Rs 574 to Rs 575 per equity share |
| Lot Size | 26 Shares |
| Offer for Sale (goes to promoters) | Aggregating up to Rs 472.90 crore |
| Fresh Issue (goes to the company) | Aggregating up to Rs 123.52 crore |
| Issue Size | Aggregating up to Rs 596.41 crore |
| Listing At | BSE, NSE |
| IPO Listing Date | March 16, 2021 |
Conclusion
MTAR Technologies revenue from the clean energy sector increased from 49% in 2018 to almost 65% in 2020. This shows that as the demand for clean energy will increase in the future, MTAR Technologies will benefit more. The rest of the revenue share comes from the defence manufacturing and nuclear sector.
As we all are aware that our national government is keen to bring manufacturing of defence within India rather than importing products. Thus, initiatives like this will surely benefit MTAR Technologies in the future. Also, with governments around the world once again pushing for dominance in space, companies like MTAR will
Yes, it has some cons but in my view, this company is expected to have a robust future. So we will be applying for the IPO. My gut feeling says that this IPO will be oversubscribed, but my guess is as good as yours! Do your own analysis about the company and let us know in the comments section if you find any other interesting information. MTAR Technologies filed its draft papers last December. You can find it here. Will you be applying for this IPO? Tell us in the comments section below!
Post your comment
No comments to display