Morgan Stanley Index to Push Markets Up - MSCI Rejig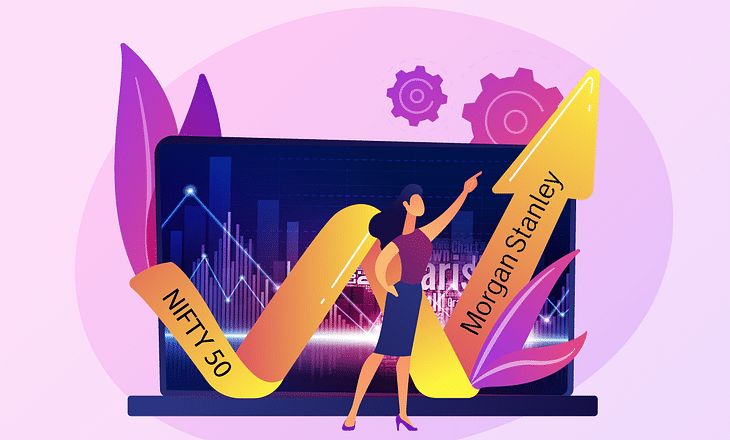 The last week of October began with a rocky start. On Monday, we saw that Nifty 50 was down by 162.60 points (or 1.36%), and closed at 11,767.75. The fall in Reliance Industries (RIL), decline in the auto sector, and the imposition of lockdown in Spain were three major reasons that caused a sharp fall in Nifty. Click here for our detailed post-market report for Monday. To make matters worse, the European and US market was down by 3% and 2%, respectively. Investors were asked to be very cautious while entering into a trade on Tuesday.
However, in a surprising turn of events, Nifty went up by 1.03% on Tuesday. Against all odds, Nifty saw a rise of 121.65 points, and closed at 11,889. Let us have a detailed understanding of one major reason as to why there was a great recovery in our Indian market.
The MSCI Index
On Tuesday, most of us did not get a chance to go through a major report that was published in the afternoon. However, the stocks mentioned in this report were the ones that showed a great performance in our markets. The report had details about Morgan Stanley's Emerging Market Index.
Morgan Stanley Capitals International (MSCI Inc.) is one of the largest investment banks and financial services companies in the world. The US-based firm is a major index provider and publishes three major indexes. An index usually measures or tracks the performance of a group of assets or securities.
Coming back to the point, the report mentioned that Morgan Stanley is going to restructure or reorganize its Emerging Market Index. What this meant was that India's weightage in this highly important index would be increased to 8.7%, from the current level of 8.1%. Ultimately, this would result in an additional indirect inflow of about $2.5 billion (~Rs 18,430 crore) to the Indian securities that are included in the index. According to Morgan Stanley, the major companies such as Asian Paints, Bajaj Finance, Britannia, L&T, and Nestle India would highly benefit from this change. These companies could see an increase in investment by approximately $200 million (~Rs 1,474 crores).
How Does this Process Work?
In order to understand this process more clearly, we shall look at an example. In India, we have the Nifty 50 index which includes Nestle India Limited. At a point in time, a major financial company or analyst might say that the weightage of Nestle is going to be increased in the Nifty index. Mutual funds and Exchange Traded Funds (ETFs) who are tracking this index will start pouring more funds into the stock. This confidence from big players will also make small retailers invest more money into the company. Eventually, the share prices of Nestle would have a high chance of increasing. This is exactly one of the major reasons as to why there was a rise in Nifty on Tuesday.
Top Gainers on Tuesday
Kotak Bank - 11.70%
Nestle India - 5.97%
Asian Paints - 5.69%
Bajaj Finance - 4.38%
Almost all the top gainers are companies that were listed on the report of Morgan Stanley. Certain financial analysts have also stated that companies such as Apollo Hospitals, LIC Housing Finance, Ipca Laboratories, and Kotak Bank may also be included in the MSCI indices.
Do bear in mind that the original results of the MSCI Emerging Market Index would be announced on November 11. It would also include the list of stocks that would be added, along with the changes in its weightage. These changes would finally be effective from 1st December 2020. So the point is that even the funds have not actually flowed into these stocks, the positive sentiment around them is what pushed them up.
An important takeaway from this would be to carefully go through relevant market news. Very specific and highly important news (such as this report from a giant like Morgan Stanley) would have a huge impact on how markets perform on a specific day. It is also encouraging to understand how our Indian companies are performing, and would help us achieve handsome profits in the long term and win in the stock market.
Update on November 11:
The revisions to the MSCI Emerging Markets Index was announced on November 11. The following table shows the list of stocks that are added, and the stocks that have been excluded from the standard index.
| | |
| --- | --- |
| Stocks that are Added | Stocks that are Excluded |
| 1. Kotak Mahindra Bank | 1. LIC Housing |
| 2. Adani Green | 2. Bosch |
| 3. Yes Bank | |
| 4. Apollo Hospitals | |
| 5. MRF | |
| 6. IPCA Labs | |
| 7. Balkrishna Industries | |
| 8. L&T Infotech | |
| 9. Trent | |
| 10. PI Industries | |
| 11. Muthoot Finance | |
| 12. ACC | |
Post your comment
No comments to display