Momentum Lost in Nifty and Bank Nifty! - Post-Market Analysis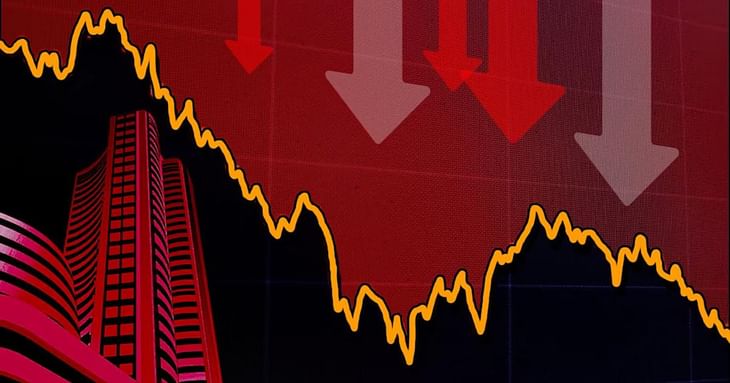 NIFTY started the day at 19,674 with a gap-down of 91 points. After opening, the index made a strong recovery of more than 130 points to 19,800 levels. For the rest of the day, it consolidated in a range with a negative bias. Nifty closed at 19,731, down by 33 points or 0.17%.
BANK NIFTY (BNF) started the day at 43,656 with a gap-down of 504 points (below the 44,000 support zones). After initial volatility, 43,800 acted as strong resistance, and the index consolidated with a negative bias. BNF closed at 43,583, down by 577 points or 1.31%.


Other indices except Nifty PSU Bank (-2.39%), FIN NIFTY (-0.9%), and Nifty IT (-0.25%) closed in the green.

Major Asian markets closed mixed. European markets are currently trading in the green.
Today's Moves
SBI Life Insurance (+3.97%) was NIFTY50's top gainer. The stock extended gains for the third day in a row.
Tata Investment Corp (+20%) surged on account of value unlocking opportunity with Tata Technologies IPO. The public offer opens for subscription on November 22.
Varroc Engineering (+16.8%) surged on the back of strong volumes.
State Bank of India (-3.69%) was NIFTY50's top loser.
RBL Bank (-7.7%), Aditya Birla Capital (-5.6%), SBI Card (-5.14%), and other banking and NBFC stocks crashed after the RBI tightened the norms for personal loans and credit cards.
Markets Ahead
Markets gave a strong closing on a weekly time frame. Looking at the daily timeframe, there is a retracement of 38% in the Fibonacci levels for Bank Nifty. However, it's important to note that this retracement is for the uptrend from 42,100 levels. When examining the same retracement levels from 46,300 levels, it coincides with the 50% rejection zone. This suggests a bearish sentiment on an even larger time frame.
On the other hand, Nifty looks stronger than Bank Nifty, and no retracement was observed. So if Bank Nifty shows weakness, there is a possibility that Nifty might experience a slight dip as well.
Nifty: The key support levels for the index are at 19,600 and 19,500. If there's a breakdown from 19,630, potential targets could be 19,500 and 19,400. On the other hand, the major resistance level to monitor is around 19,860. A breakout from there might set a target of 20,000.
Bank Nifty: A vital support level to monitor is around 43,400. A breakdown from this level could confirm short-term bearishness, with potential downside targets at 43,000 and 42,500. On the other hand, significant resistance is evident near 44,800, while the immediate resistance lies at 44,000. A breakout from there could cause the index to rise to 44,400 and 44,800.
The Indian stock market displayed a mixed performance today, marked by a decline in financial stocks as RBI tightened consumer lending rules. Meanwhile, global markets have been strong due to the easing U.S. interest rate outlook and a decline in oil prices.
Please join The Stock Market Show at 7 PM on our YouTube channel.
Post your comment
No comments to display