Minda Industries: A Bright Investment Opportunity?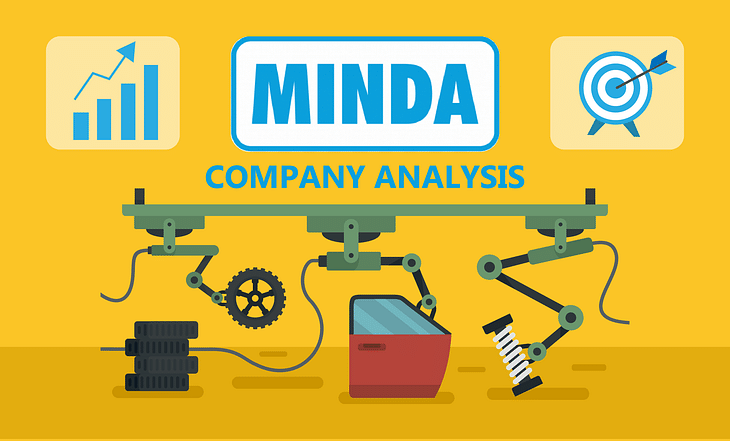 Minda Industries or Uno Minda is an automobile component manufacturer with companies like BMW, KTM, Honda, Ford, Royal Enfield, Toyota, and many more in its client list. Essentially, the company has almost all major automobile manufacturers on its client list. Recently, the company had announced that it was investing Rs 500 crore to expand its four-wheeler lighting and alloy wheels business.
Mind you, Minda Industries should not be confused with its namesake Minda Corp or Spark Minda. Pretty much like the Ambanis and Reliance, there was a split in business between brothers Nirmal K Minda and Ashok Minda. Nirmal Minda took hold of Minda Industries and Ashok Minda held Minda Corp. Both the companies are indeed excelling in their own paths.
Minda Industries posted a net profit of 168% and 34% in the last two quarters respectively. Between 2013 and 2019, the company posted a profit growth in all years except one. What makes Minda Industries a bright investment opportunity? Let us find out.
The Business
A motor vehicle has many fine tunings like noise control, ambient lighting, switches, wheel turning, alloys, sound systems, sensors, controllers, etc. Minda Industries manufactures and sells these to major automobile players for both 2/3 wheeler and 4 wheelers. Both segments contribute nearly equally to total revenue.
The Company has 16 direct subsidiaries, 12 step-down subsidiaries, 8 joint ventures, and 2 associates as of 31 March 2020. To know more about them, click here.
The company has a strong domestic as well as international presence. In FY2019-20, the international business contributed 19% to the revenue stream, the remaining 81% being a domestic business.
Segment-wise share of business by production volume. This shows how much amount of output for produced for each segment:

Passenger Vehicles: 13%
Commercial Vehicles: 3%
Three-wheelers: 3%
Two-wheelers: 81%
The company has 5 major divisions. Switch, Lighting, Acoustics, Light Metal(LMT), and Others. The Switch division contributes the most to the revenue stream and operates five plants in India and two overseas plants in Indonesia and Vietnam. The products are manufactured out of different locations across India viz. Manesar, Pune, Hosur, Aurangabad, and Pantnagar, catering to many domestic as well as international two-wheeler and four-wheeler manufacturers.
The company constantly keeps acquiring new technology to stay upbeat in the market. Over the past 5 years, the company has added and/or acquired close to 13 subsidiaries, 5 joint ventures(JVs), and 4 step-down subsidiaries estimating close to Rs 880 crore. Some of these include Minda Kosei for alloy wheels for Passenger Vehicles(PV), Minda TG Rubber for brake, and fuel hoses, Roki Minda for air intake systems, carbon canisters, Spain-based Rinder Group for lighting systems.
With more than 22,000 employees, Minda Industries has 62 manufacturing plants in India, Spain, Morocco, Mexico Colombia, Indonesia, Vietnam, Germany design centers in Taiwan, Japan & sales offices in North America, Europe, and other ASEAN countries.
People might delay accessorizing their vehicles or vehicle sales might go up during a festive season. Just like the rest of the automobile industry, Minda's business remains cyclical.
Finances
The company hasn't faced a net loss in a decade nearly. It has consistently grown its revenue and value of total assets.
For FY2019-20, the company had a Return on Equity(RoE) of 16.82%, which nearly halved in FY2020-21 to 8.5%. Return on Equity indicates the ability of a company to generate profits from what its shareholders invest in the company. A falling RoE indicates poor return or management of shareholder's investment in the firm.
The Return on Capital Employed or RoCE for FY2019-20 was 18.8% which reduced to 11.2%. A RoCE of 11.2% means that the company got Rs 11.2 in return for every Rs 100 of Capital Employed or the amount invested by the company with the intention of making a profit.
Mutual Funds' shareholding in the company has almost doubled since 2018 from 4.23% to 9.74%. While Public shareholding of the company has decreased by ~5% since 2018, Domestic Institutional Investors(DIIs) have jacked up shareholding by ~6% in the past 3 years.
The share price of Minda Industries has grown by 2438.9%, this means that had you invested Rs 1 lakh in the company 10 years ago, they would have become close to ~24 lakhs. Over the past year, the share price has increased ~113%.
Minda's debt or borrowings are increasing, but so are its revenue and cash flows from operations for the past 5 year. The company's liquidity position is fairly strong, sufficient to cover its short term debt.
The company has had a declining Inventory Turnover Ratio. It is a measure of the number of times inventory is sold or used in a given time period. A decline in the inventory turnover ratio highlights that the operations of the company have become more working capital intensive.
What Lies Ahead
Recently, the company had announced that it was investing Rs 500 crore to expand its four-wheeler lighting and alloy wheels business. The company has had a good history when it comes to rewarding its shareholders, be it healthy dividend payouts or good value returns. Apart from this, the company has a good project execution rate. Its debt position is in sync with its revenue growth and profitability. To know more about the company, you can check out their Annual Report 2020, over here.
The auto-sector had just managed to recover when India was hit with the Second-wave of COVID-19. What followed is a series of night-curfews, weekend curfews and partial lockdown like situation across many states. Auto sales are likely to go down and the company's position might be impacted again? Do you think the company offers a good return in the current financial year? Let us know in the comments section in the marketfeed App
Post your comment
No comments to display