Meet the Top 10 Richest Indians!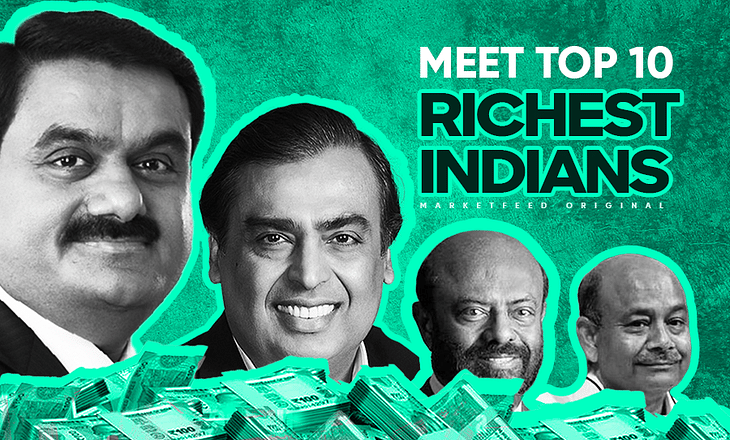 A recent report from Forbes showed that the total number of billionaires in India rose to a record 166 in the financial year 2021-22 (FY22). The combined net worth of these billionaires grew 26% to 750 billion! Their business empires have played a significant role in the economic growth of our nation. In this article, meet the top 10 richest Indians!
Gautam Adani
Gautam Adani, chairman of the Adani Group, has a net worth of $122.3 Billion (~Rs 9.31 lakh crore). With a meteoric rise in shares of group firms, Adani's wealth grew by Rs 6,000 crore every week over the past year! He is currently the sixth richest person in the world!
The Adani Group has interests in the infrastructure, logistics, power generation & transmission, and real estate sectors via Adani Enterprises, Adani Ports, Adani Green Energy, Adani Transmission, and other group firms. The group also operates some of the major airports in our country. Adani has announced plans to become the world's largest producer of green energy. They will invest up to $20 billion in renewable energy projects over the next decade.
Mukesh Ambani
Mukesh Ambani is the chairman of Reliance Industries Ltd (RIL), India's largest company. RIL's subsidiaries are involved mainly in petrochemicals, oil & gas, telecom (Jio Platforms), and retail (Reliance Retail). Reliance is also pivoting into green energy. The company aims to invest $80 billion over the next 10-15 years in renewable energy.
With a net worth of $98 Billion (~Rs 7.46 lakh crore), Ambani is the 10th richest person in the world!
Shiv Nadar
Shiv Nadar co-founded HCL Technologies, one of India's largest IT companies. He is also known for his philanthropic activities. In July 2020, Nadar stepped down as chairman of HCL Technologies, handing over the position to his daughter, Roshni Nadar Malhotra. He is currently the Chairman Emeritus and strategic advisor of HCL Tech.
Shiv Nadar's net worth stands at $28 Billion (~Rs 2.12 lakh crore).
Cyrus Poonawalla
Also known as the 'Vaccine King', Cyrus Poonawalla is the world's richest billionaire in the healthcare industry. His company, Serum Institute of India (SII), manufactured the Covishield vaccine last year. SII produces over 1.5 billion doses of vaccines per annum, including those for measles, polio, and flu. Poonawalla's assets include a majority stake in listed financial services firm Poonawalla Fincorp.
Cyrus Poonawalla's net worth stands at $26 Billion (~Rs 1.98 lakh crore).
Radhakishan Damani
Veteran investor and founder of Avenue Supermarts (popularly known as DMart), Radhakishan Damani has a net worth of $20 Billion (Rs 1.52 lakh crore). His company operates over 250 DMart stores across India. Also known as the 'Retail King', Damani holds stakes in VST Industries, India Cements, and Tata Trent.
Savitri Jindal & Family
The Jindal Group is chaired by Savitri Jindal, widow of founder Om Prakash Jindal. Their four sons run the business empire now. The conglomerate has interests in mining, power, industrial gases, cement, and steel manufacturing. The group's listed firms include Jindal Steel & Power, Jindal Steel, JSW Steel, and JSW Energy.
Savitri Jindal and her family have a net worth of nearly $20 Billion (~1.52 lakh crore).
Lakshmi Mittal
Lakshmi Mittal serves as the executive chairman of ArcelorMittal, one of the world's largest steel and mining companies in terms of output. The company operates steel manufacturing units in 17 countries. Even though he is based out of London, Mittal holds an Indian passport. His net worth stands at $18 Billion (~Rs 1.37 lakh crore).
Kumar Mangalam Birla & Family
Kumar Birla is the fourth generation head of the Aditya Birla Group. The group companies include UltraTech Cement, Hindalco, Aditya Birla Fashion & Retail, Aditya Birla Capital, and even the failed Idea Cellular. Birla's net worth stands at $17 Billion (Rs 1.29 lakh crore).
Dilip Shanghvi
Dilip Shanghvi founded Sun Pharmaceutical Industries, one of India's most valuable pharma companies having significant sales across the world. He grew Sun Pharma through a series of acquisitions, including the 2014 purchase of rival Ranbaxy Laboratories for $4 billion. He has personally invested in renewable energy and oil & gas projects. His net worth stands at $16.2 Billion (~Rs 1.23 crore).
Uday Kotak
Uday Kotak is the executive vice-chairman and managing director of Kotak Mahindra Bank. His company is now among India's top four banks in the private sector. The company offers banking products and financial services for corporate and retail customers in the areas of personal finance, investment banking, life insurance, and wealth management. Kotak's net worth stands at $14.7 Billion (Rs 1.12 lakh crore).
Source: Forbes Real-Time Billionaires List (as of 13/4/2022)
Post your comment
No comments to display