Maruti Suzuki's Net Profit Jumps 43% YoY to Rs 2,624cr - Top Indian Market Updates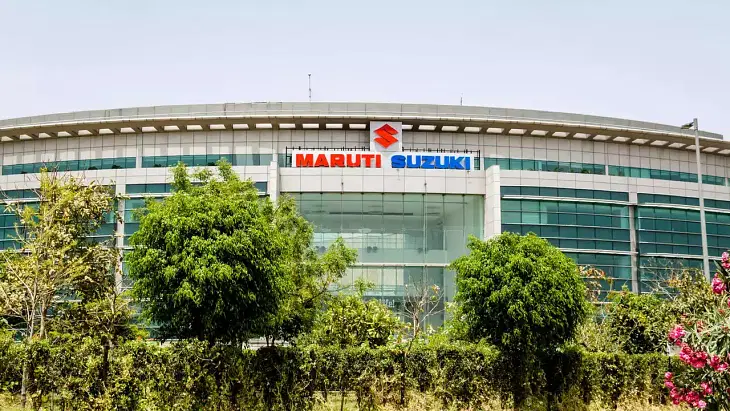 Here are some of the major updates that could move the markets tomorrow:
Maruti Suzuki Q4 Results: Net profit jumps 43% YoY to Rs 2,624 crore
Maruti Suzuki reported a 43% YoY increase in net profit to Rs 2,624 crore and an operating revenue of Rs 32,048 crore, up 20% YoY, for Q4 FY23. The company sold a total of 514,927 vehicles in Q4 and sales in the domestic market stood at 4,50,208 units, up 7.1% over Q4FY22. The company's board has approved a dividend of Rs 90 per share.
Read more here.
Patel Engineering JV bags irrigation projects worth Rs 841 crores
Patel Engineering Joint Venture (JV) has secured irrigation projects worth Rs 841 crore in Maharashtra. The JV received a Letter of Award (LoA) for the Krishna Marathwada Irrigation Project - Lift Irrigation Scheme 01 and 02 from the Water Resources Department. The EPC contracts are valued at Rs 841 crore and are to be executed within 36 months. Patel Engineering's share in the projects is Rs 451.28 crore.
Read more here.
Bajaj Finance Q4 Results: PAT jumps 30% YoY to Rs 3,158
Bajaj Finance reported a 30% YoY increase in consolidated net profit to Rs 3,158 crore for Q4 FY23. The company's net interest income (NII) rose 28% YoY to Rs 7,771 crore. New loans grew by 20% to 7.56 million and assets under management rose 29% to Rs 2.47 lakh crore. The gross non-performing assets (NPAs) and net NPAs declined during the quarter at 0.94% and 0.34%, respectively. The board has recommended a dividend of Rs 30 per share.
Read more here.
KPI Green commissions 26.1-MW wind-solar hybrid power project in Gujarat
KPI Green Energy has commissioned a 26.1 MW wind-solar hybrid power project in Bhavnagar, Gujarat. The project comprises 16.1 MW wind and 10 MW solar capacity. It was established under the Gujarat Wind-Solar Hybrid Power Policy 2018, and power purchase agreements have been made with commercial and industrial clients.
Read more here.
KEC International bags orders worth ₹ 1,017 crore
KEC International won new orders worth Rs 1,017 crore in various segments. The transmission and distribution (T&D) business secured an order for a 765 kV transmission line from a private developer in India, while the civil business received orders for industrial and residential projects. The company's cable business secured orders for the supply of various types of cables in India and overseas.
Read more here.
ONGC plans to invest Rs 1 lakh crore by 2030 to boost petchem capacity
Oil & Natural Gas Corp (ONGC) plans to invest Rs 1 lakh crore by 2030 to double the combined petrochemicals capacity of its subsidiary Mangalore Refinery and Petrochemicals Ltd (MRPL) and joint venture ONGC Petro additions Ltd (OPaL) to 8 million metric tonnes per annum. The plan will involve the construction of two mega projects on the east and west coast that will either directly use crude to produce chemicals or take other feedstocks.
Read more here.
Dalmia Bharat executes definitive agreements with JAL to acquire cement assets
Dalmia Bharat has executed definitive agreements with Jaiprakash Associates Ltd (JAL) to acquire JAL's cement assets for an enterprise value of Rs 1,500 crore and costs and expenses of up to Rs 190 crore. The acquisition will be subject to various clearances and approvals related to JP Super plant and mines. Dalmia Cement (Bharat) Ltd (DCBL), a subsidiary of Dalmia Bharat, will acquire JP Super Cement Plant in Uttar Pradesh.
Read more here.
HDFC Life Q4 Results: Profit growth flat at Rs 359 crore
HDFC Life Insurance reported a net profit of Rs 359 crore for Q4 FY23, which is flat compared with the same period last year. However, net profit for the quarter rose 14% from Q3 FY23. The net premium income stood at Rs 19,426 crore, up 36% YoY. The first-year premium income for the quarter rose 73% to Rs 4,467 crore. The company's board has recommended a final dividend of Rs 1.90 per equity share.
Read more here.
Union Bank to raise funds up to Rs 10,100 crore via QIPs and Bonds
Union Bank of India is planning to raise up to Rs 10,100 crore in capital via public issue, Basel III compliant Additional Tier 1 (AT1) bonds, and Tier 2 bonds. The capital will be raised in tranches of up to Rs 8,000 crore through public issue, rights issue, and private placements, including Qualified Institutions Placements (QIPs). The remaining Rs 2,100 crore will be raised through Basel III compliant AT1 and/or Tier 2 bonds, including foreign currency-denominated bonds.
Read more here.
Post your comment
No comments to display