Maruti Suzuki to Hike Vehicle Prices from Jan - Top Indian Market Updates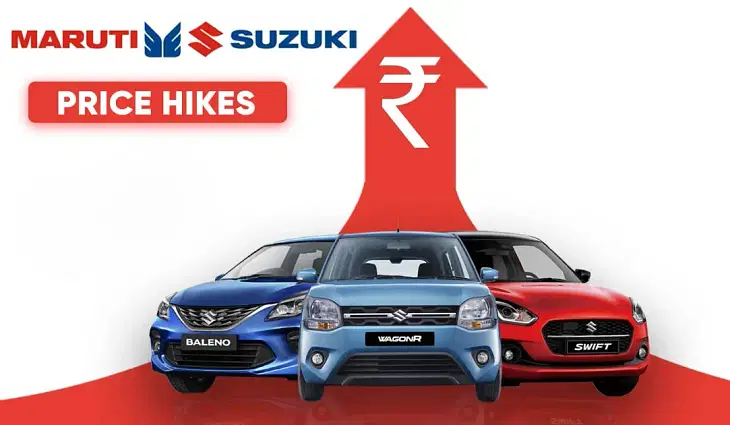 Here are some of the major updates that could move the markets on Monday:
Maruti Suzuki to hike vehicle prices from January
Maruti Suzuki India Ltd (MSIL) will increase the prices of its vehicles 'substantially' from next month (Jan 2023). The automaker aims to offset the impact of rising input costs and make provisions to update the model range to conform to stricter emission norms which kick in from April 2023. MSIL continues to witness increased cost pressure driven by overall inflation and recent regulatory requirements.
Read more here.
RIL buys Russian naphtha, increases fuel oil imports
According to data from Refinitiv, Reliance Industries Ltd is purchasing Russian refined fuels, including rare purchases of naphtha (used for making petrochemicals), after some Western buyers stopped Russian imports. Western sanctions against Russia over its invasion of Ukraine have led to the rise of rare trade routes for Russian crude and refined products that were mainly sold to European countries.
So far, RIL's fuel oil imports from Russia have surged to a record 3 million tonnes (MT) since April-Dec of FY23, compared to 1.6 million for all of FY22.
Read more here.
Godrej Properties acquires an 18.6-acre land parcel in Mumbai's Kandivali
Godrej Properties Ltd has acquired an 18.6-acre land parcel in the Kandivali suburb of Mumbai. It is the company's 8th project in its development portfolio in the current financial year (FY23). The new project will have a developable potential of around 3.72 million sq. ft. with an estimated revenue potential of nearly ₹7,000 crores.
Read more here.
Adani Group seeks central forces protection at Vizhinjam port
The Adani Group moved the Kerala High Court, seeking the assistance of central forces to continue with construction at the Vizhinjam seaport in Thiruvananthapuram. There have been violent protests at the site recently, which are halting construction work. Justice Anu Sivaraman asked the state and central governments to discuss the possibility of deploying the central forces.
Read more here.
RBI gives approval to Carlyle, Advent to acquire a 9.99% stake each in Yes Bank
The Reserve Bank of India (RBI) has given conditional approval to private equity investors Carlyle Group and Advent to acquire a 9.99% stake each in Yes Bank. Both investors will infuse ₹8,898.4 crores into the bank. Each investor will first acquire 1,848 million shares (or 5.9% equity) of Yes Bank at ₹13.78 per share. Separately, the bank will issue convertible warrants at ₹14.82 per share after 18 months.
Read more here.
Tata Power to invest ₹6,000 crores in Odisha in five years
Tata Power CEO and MD Praveer Sinha announced a ₹6,000 crore capital investment by the company in Odisha. The company will also set up 1,000 electric vehicles (EV) charging points, 1,00,000 solar pumps, microgrids, and rooftop & floating solar plants in the next five years. The company has been engaged in power distribution across Odisha and is committed to ensuring ease-of-doing business through quality power supply.
Read more here.
Amara Raja Batteries to invest ₹9,500 crore in Telangana
Amara Raja Batteries Ltd plans to invest ₹9,500 crores over the next 10 years in Telangana to set up research and manufacturing facilities for lithium-ion batteries. The initial facilities would include an energy research and innovation center in Hyderabad, called the Amara Raja E-hub. It will be equipped with advanced laboratories and testing infrastructure for material research, prototyping, and product life cycle analysis.
Read more here.
Bank credit grows nearly 17% for the fortnight ended Nov 18: RBI
As per RBI data, the Indian banking system's outstanding credit grew by 16.96% YoY to ₹133.29 lakh crore for the two weeks ended November 18. The current financial year (FY23) has seen a steady rise in credit growth in FY23 driven by a variety of reasons, including strong economic growth and borrowers' shift to banks as against other credit substitutes amid rising interest rates. In FY 2021-22, bank credit rose by 8.59% and deposits by 8.94%.
Read more here.
NTPC coal mining output jumps 48% to 12.24 MMT in April-Nov
NTPC recorded 48% YoY growth in coal mining output at 12.24 million metric tonnes (MMT) for April-November 2022. The four operational coal mines, Pakri-Barwadih & Chatti Bariatu (Jharkhand), Dulanga (Odisha), and Talaipalli (Chhattisgarh) contributed to accomplishing the highest ever monthly coal production of 20.47 lakh metric tonne in November.
Read more here.
Post your comment
No comments to display