Maruti Suzuki Plans Capex of Rs 1.25 Lakh Cr Till FY31 - Top Indian Market Updates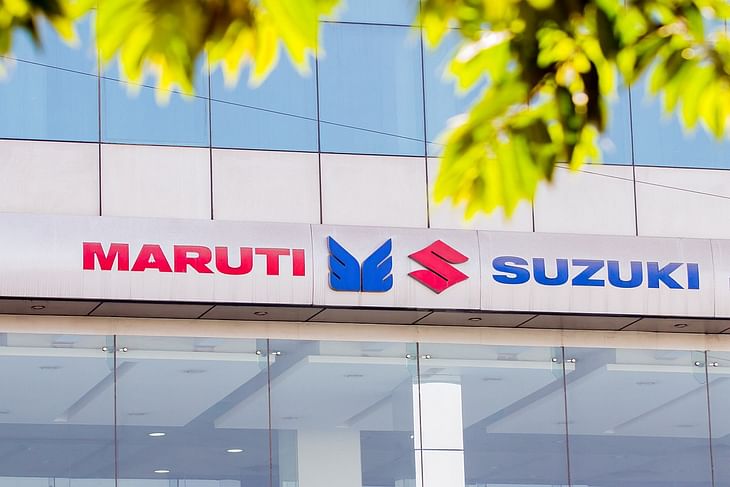 Here are some of the major updates that could move the markets tomorrow:
Maruti Suzuki plans total capex of ₹1.25 lakh crore till 2030-31
Maruti Suzuki India is planning capital expenditure (capex) of up to Rs 1.25 lakh crore until 2030-31. The company's strategy involves expanding its current product lineup from 17 models to 28 while increasing its production capacity. The automaker aims to have a total production capacity of 40 lakh units annually by 2030-31.
Read more here.
Prepared with business continuity plan for Haifa port: Adani Ports
Adani Ports & Special Economic Zone Ltd (APSEZ) said it is closely monitoring the conflict concentrated in south Israel, whereas its Haifa Port is situated in the north. The overall contribution of Haifa in APSEZ's numbers is relatively small at 3% of the total cargo volume. We remain fully alert and prepared with a business continuity plan that will enable us to respond effectively to any eventuality," APSEZ's spokesperson said in a statement.
Read more here.
Inox Green Energy to divest 100% stake in Gujarat wind farm
Inox Green Energy Services (IGESL) has signed a term sheet to sell its 100% stake in Nani Virani Wind Energy Pvt Ltd (NVWEPL) as part of a strategy to become debt-free. NVWEPL owns a 50MW operational wind farm in Gujarat. The wind farm was commissioned in May this year.
Read more here.
ITC Hotels brand 'Storii' to set up presence in West Bengal
ITC Hotels announced the signing of its first 'Storii' property in Kolkata, West Bengal. The property will be located near the metropolis and is expected to open in early 2024. It will have 30 keys/rooms. ITC Hotels has three 'Storii' properties present in Goa and Dharamshala.
Read more here.
Magenta Mobility partners with Tata Motors to deploy EVs
Magenta Mobility has signed a Memorandum of Understanding (MoU) with Tata Motors to deploy 500 Ace EVs for last-mile delivery services. With Tata Motors, Magenta aims to drive sustainability in intra-city logistics in India by reducing the carbon footprint in the last-mile and mid-mile freight segment.
Read more here.
Paytm introduces guest checkout solution
Paytm Payments Services Ltd (PPSL) has introduced an Alternate ID (ALT ID)-based Guest Checkout solution for merchants, enhancing cardholder safety and streamlining transactions. With this solution, customers can make purchases as guests without storing sensitive card information on e-commerce/merchant websites. PPSL is a wholly-owned subsidiary of One97 Communications Ltd (which operates Paytm).
Read more here.
SC to hear Jet Airways lenders' plea against JKC on Oct 12
The Supreme Court (SC) indicated it would hear the plea by grounded airline Jet Airways' lenders on October 12. The lenders are challenging the National Company Law Appellate Tribunal's (NCLAT) order granting Jalan Kalrock Consortium (JKC) more time to make payments to them. JKC is the successful bidder for Jet Airways.
Read more here.
Premium collection falls for life insurers in August
Premiums in the life insurance sector witnessed a drop of 13% year-on-year (YoY) to ₹30,716 crore in September 2023. Life Insurance Corporation's (LIC) premium collection in September dropped by 27% YoY. The life insurer's premium collection fell 25% YoY in the first half of FY24. LIC has lost 9.7% market share in the first six months of FY24 over last year.
Read more here.
Fitch upgrades Tata Steel rating to 'BBB-'
Tata Steel Ltd's (TSL) long-term issuer default rating was upgraded to investment grade by Fitch Ratings with a stable outlook, following less uncertainty and financial risk from its UK operations. Fitch Ratings upgraded the issuer default rating from BB+ to BBB -. It also raised the rating on Tata's $1 billion notes due July 2024 issued by unit ABJA Investment Co. to BBB- from BB+.
Read more here.
Cipla stake sale plan faces hurdle as promoters differ on valuation: Report
According to an ET report, the stake sale plan of Cipla Ltd has come across a hurdle as the promoters are reportedly not aligned with the common valuation. Differences among founders may lead to a delay in the deal until a common consensus is reached over the valuation. Cipla's promoter group currently controls around 33% of the company's shares. Reports have said that the family members could sell some or all of their stakes in Cipla.
Read more here.
Post your comment
No comments to display