Markets Getting Ready for a Down Move? - Post-Market Analysis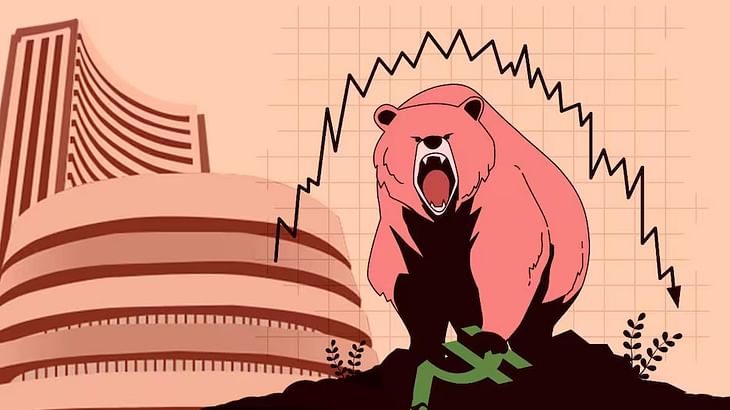 NIFTY started the day at 18,741 with a gap-down of 29 points. The index continued the bearishness to fall to 18,650 support levels. It then gave a sharp recovery back to near the day's high, took rejection from there, and slowly started moving down again to 18,650 levels. Nifty closed at 18,665, down by 105 points or 0.56%.
BANK NIFTY (BNF) started the day at 43,641 with a gap-down of 83 points. Initially, the index went down to 43,500 round levels and bounced back. However, it faced very strong resistance from the 43,800 levels and consolidated between 43,600 and 43,800 levels for most of the day. BNF closed at 43,622, down by 101 points or 0.23%.
All indices except Nifty Pharma (+0.15%) closed in the red. Nifty Metal (-2.48%) and Nifty Media (-2.13%) fell the most.
Major Asian markets closed deep in the red. European markets are currently trading in the red.
Today's Moves
IndusInd Bank (+2.8%) was NIFTY50's top gainer. Reports claimed that Hinduja Group (promoters) may get final approval from RBI to raise its stake in the bank from 16.51% to 26% by investing an additional ₹10,000 crore in the bank.
Natco Pharma (+7.5%) surged on the back of strong volumes.
Adani Ent (-6.8%) was NIFTY50's top loser.
Adani Transmission (-5.8%), Adani Power (-5.5%), Adani Ports (-4.2%), and other group stocks also crashed after a Bloomberg report said US regulators have initiated a probe on the conglomerate.
Markets Ahead
Both indices were trading in a range today. As we said in yesterday's post-market report, if yesterday's low is breached, Nifty can come down to the 18,650 support zone and we've seen similar price action today.
NIFTY
Now, the immediate support for Nifty is near the 18,650 zone. If it gets breached next week, we can expect markets to come down till 18,590 and 18,550 zones as well. The important resistances to watch are 18,750 zone— the earlier support that will now act as resistance.
If the market forms a gap-down on Monday, bearishness may continue. If it's a gap-up, markets could move sideways with a positive bias.
BANK NIFTY
Bank Nifty is still in our range between 43,350 and 44,200 zones. The index has been very volatile within this range. So as long as Bank Nifty is in this zone, the markets will be choppy (volatile) and no clear direction will be seen.
On Monday, if BNF forms a gap-down and crosses the 43,350 zones, the index may fall to 42,800 levels. If it moves to the upside, choppiness can continue.
VERDICT
Nifty has broken down the long-term trendline and is in a range. Bank Nifty is also in a range with negative bias. If there is a breakdown, there could be a good fall in the coming week.
How did this week go? Are you in net profit or loss? Let us know in the comments section of the marketfeed app.
Post your comment
No comments to display