Market Recovers Well After Roller Coaster Journey! - Post Market Analysis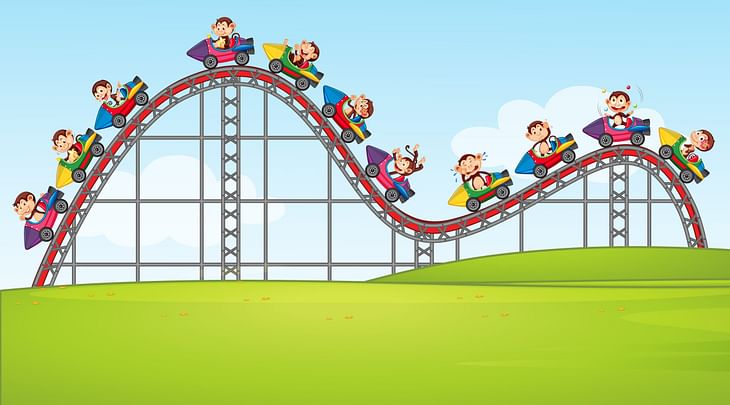 NIFTY opened the day at 17,094, with a gap-down of 220 points. After the initial volatility, the index took support from the 17,060 level and bounced back. The recovery was so beautiful with a movement of 200+ pts from the day's low. It couldn't break 17,280 resistance and fell 135 pts from the day high. Nifty closed the day at 17,241, down by 73 points or 0.43%.
BANK NIFTY started the day at 38,641 with a gap-down of 536 pts. Just after the opening, the index took support at 38,500 and tried to move back. Once it broke 38,800 resistance, the rally became strong, broke 39k and hit a day high at 39,315. Bank Nifty closed at 39,093 down by804 points or 0.22%.
All the indices except for Nifty IT (+1%) closed in red. Nifty FMCG (-1.1%), Nifty Media (-1%), Nifty PSU Bank (-1%) and Nifty Realty (-0.98%) fell around 1%.
Major Asian Markets closed in heavily in the red. European Markets are now trading mixed.
Today's Moves
Axis Bank (+2.8%) remained bullish throughout with a block trade in the morning and closed as Nifty 50 Top Gainer.
Tata Motors (-3.9%) closed as the Nifty 50 Top Loser after it reported lower-than-expected wholesale volumes for its Jaguar Land Rover business.
TCS (+1.7%) closed in the green ahead of its quarterly results today.
Tata Consumer (-3%) continued its fall from last week.
Paytm (+2.8%) moved up after posting strong Q2 business updates.
IDBI (+9%) moved up on divestment plan updates.
CAMS (+2.7%) moved up as it plans to consider raising investment in CAMS Financial Info Services on October 17.
Gravita (+4.1%) moved up as the company began commercial production of aluminium from a new recycling plant in Senegal.
Shree Renuka (+4%), Tejas Net(+2.9%), IDFC (2.6%), Tata Chem (+1.5%), CochinShip (+0.38%) hit fresh 52-week highs today.
Markets Ahead
Nifty starts the week with a lot of volatility!
Nifty opened with a gap down of 220 pts, then recovered 200+ pts, another fall of 120 pts, followed by a recovery of 110+ pts. One thing to note is that 17,060 acted as good support today and I will be watching this level along with 17,030 as immediate support.
Today, I really felt like institutions wanted Bank Nifty to close above 39k. Even when HDFC Bank and Kotak Bank were weak in the morning, we saw strong upside momentum in ICICI Bank and Axis Bank. and they were used to clear 38,800 resistance. Once it was cleared, HDFC Bank and Kotak Bank started moving up, taking Bank Nifty above 39k! I have witnessed a similar strategy many times in Bank Nifty.
Fin Nifty also closed with enough strength, even though we can't consider it as bullish confirmation. 17,700 is creating a lot of trouble for Fin Nifty.
UK Government is expected to announce a fiscal plan on Oct. 31
According to the AMFI data, September's net equity inflow was reported at Rs 14,077 crore vs Rs 5,942.2 crore in August.
Which quote has motivated or inspired you the most? You can even share your own words to inspire us. Share your answers in the comments section.
Post your comment
No comments to display