Market Falls Into Uncertainty. Waiting for Inflation Data - Post-Market Analysis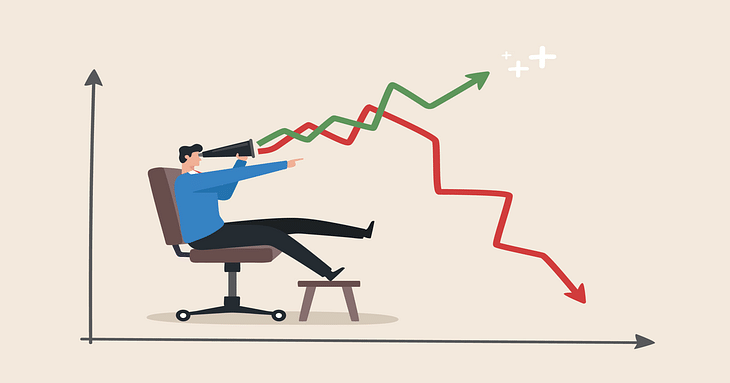 NIFTY opened the day at 17,859 with a slight gap-up of 2 points. The index fell 150+ pts from the opening high and took support from the 17,720 level. Nifty closed the day at 17,770, down 85 points or 0.4%.
BANK NIFTY started the day at 41,563 with a slight gap-up of 4 pts. The fall in the index had more momentum and every recovery was easily sold-off. It's a good relief that it was able to trade above 41k support. Bank Nifty closed the day at 41,282, down by 277 pts or 0.6%.
Nifty Media (-2.4%), Nifty PSU Bank (-2.5%), Nifty IT (-1.8%), & Nifty Realty (-1.6%) fell the most today. Only Nifty FMCG (+0.04%) closed in green today.
Major Asian markets closed mixed today. European markets are also trading in the green currently.
Today's Moves
Titan (+2%) moved up after it announced a 1:1 bonus share issue on Saturday.
Oil India (+7.8%) rallied today after it reported a record profit in the Oct-Dec quarter (Q3) on better pricing and higher production.
State-owned NTPC (+1.7%) said it will start generating 2,000 megawatts (MW) of nuclear energy by 2032, 4,200 MW by 2035, and eventually scale up to 20,000 MW by 2050.
SBI (-2.8%) fell after exchange filings revealed that three Adani Group companies pledged additional shares to SBICAP Trustee Company (a subsidiary of the bank).
Adani shares declined as the group cut its revenue growth target by 50%. Adani Enterprises (-7%), Adani Ports (-5.4%), Adani Green (-5%), and Adani Trans (-5%) fell heavily today.
Markets Ahead
Just after the opening, Nifty fell heavily for one hour, and it was a pretty scary movement. This is because the index easily broke the 17,780-800 support zone. Please remember it has been showing weakness for the last many days, and NIFTY falling below 17,780 again is not a good sign. Though it took support from 17,700, today's candles might bring uncertainty into the market.
In Bank Nifty, I will be watching 41,000 as the major support.
We have Fin Nifty expiry tomorrow. Mark 18,450, 18,400, 18,560, and 18620 as major levels for tomorrow.
India's CPI data will be out today at 5:30 PM.
Do you expect the inflation rate to fall below estimates, considering the fall in crude oil prices and rate hikes? Let us know in the comments section of the marketfeed app!
Post your comment
No comments to display