Marico's Saffola Oodles vs Maggi and Yippee. Can Everyone Win?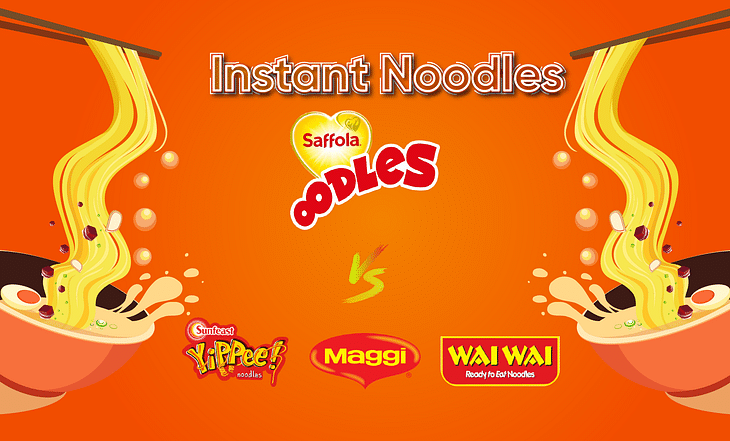 Most of us love to have instant noodles every now and then. It is very easy to make and comes in a variety of flavours. Brands such as Maggi have always been popular amongst youngsters due to their low prices, convenience, and taste. The instant noodles market in India is growing rapidly and is becoming more competitive than ever. Recently, Marico Limited announced its plans of entering this market with its highly promising 'Saffola Oodles'. Will the company be able to disrupt the market? Let us find out.
The Instant Noodles Market in India: An Overview
Hindustan Unilever Ltd (HUL) was one of the first companies that completely dominated the food market in India. Ever since its incorporation in 1933, HUL launched a wide range of high-quality packaged food items. Much later, firms such as ITC, Marico, Britannia, Godrej Consumer, and Dabur began to focus on expanding their presence in the food market as well. All these firms have established large portfolio brands or food products that have become a part of our daily consumption habits. These FMCG (fast-moving consumer goods) companies have spent crores on advertising and promotion activities, which have time and again worked in their favour. However, most companies mentioned above did not initially see the potential of the instant noodles market.
Instant Noodle Brands
An important company in the FMCG industry is Nestlé India, which has established itself as the market leader in the chocolate, coffee, and instant noodles segments. Since its launch in the 1980s, Nestlé Maggi Noodles has become the preferred brand amongst most Indian households. It had a 100% market share in India for almost two decades. You may recall that Maggi was banned in 2015 after tests revealed that it contained excessive lead. Despite this setback, Maggi made a strong comeback soon after the ban was lifted. It continues to contribute significantly to the overall sales revenues of Nestlé India.
Wai Wai is another major brand of instant noodles that was launched in India in 2003. It belongs to the Thai Preserved Food Factory and Nepal-based Chaudhary Group. During that period, Wai Wai became a strong competitor to Maggi. Later in 2010, ITC launched Sunfeast Yippee and caused quite a stir in the instant noodles market. Around 2013, HUL launched Knorr Soupy Noodles, which also became widely popular. All these brands offer a wide variety of flavours and healthy options. Each of them has a strong customer base in India.
Currently, the instant noodles market in India is a Rs 9,000-crore segment within the food category. Maggi controls more than half of this fast-growing market.
The Launch of Saffola Oodles
Marico Limited has been constantly expanding its product portfolio over the past year. The FMCG firm recently launched honey, kadha (a mix of herbs and spices used for boosting immunity), and chyawanprash in its food category. The company felt it was time to make an entry into the high-potential instant noodles segment as well. Thus, in February 2021, Marico announced the launch of instant noodles under its Saffola brand. With this launch, the company is looking to strengthen its presence in the healthy, ready-to-cook snacking category. Oodles has been differentiated from Maggi as it comes in the form of 'rings' and will take 5 minutes to make.
Marico has pitched 'Saffola Oodles' as a much healthier option compared to the present brands available in the market. Their noodles are made from wholegrain oats and wheat, and will not contain artificial preservatives. The company said its primary focus will be on building a healthy segment within the overall market. However, a point to be noted is that both Maggi and Sunfeast Yippee also come in wheat and oats versions.
Another important factor to be considered is pricing. Marico has priced Saffola Oodles at Rs 20 for a 46-gram pack. Notably, a 73-gram pack of Maggi costs only Rs 25, while a 70-gram pack of Sunfeast Yippee is sold for Rs 20. Thus, we can clearly see that Maggi and Yippee are cheaper. Moreover, Saffola Oodles will initially be launched only through e-commerce channels. It will be available on Saffola Stores, Amazon, BigBasket, Grofers, and Flipkart. This may work in their favour, as more consumers are buying groceries and essential items through online platforms (especially in cities).
Conclusion
As per a report from Euromonitor International, the instant noodles market is expected to be worth more than Rs 12,000 crore by 2022. Thus, there is no doubt that more players would want to obtain a share of this rapidly-growing market. We are likely to see more FMCG firms enter this market in the near future and launch competitive campaigns.
Factors such as the 'Saffola' brand name and Marico's strong distribution network are likely to help boost sales for their new product. The company is also relying heavily on the 'healthy' aspect of the noodles. However, its success would ultimately depend on taste and convenience. The quality of their promotions or advertising campaigns will also play a huge role in driving sales. Let us look forward to seeing if Marico becomes successful in their latest venture. FMCG is a market where everyone can win. So if it a good product, then Marico's new offering will surely help revenue numbers.
Post your comment
No comments to display